Fans Declare Four Weddings And A Funeral Reunion An Oscars "Highlight"
Hugh Grant and Andie MacDowell presented the award for Best Production Design.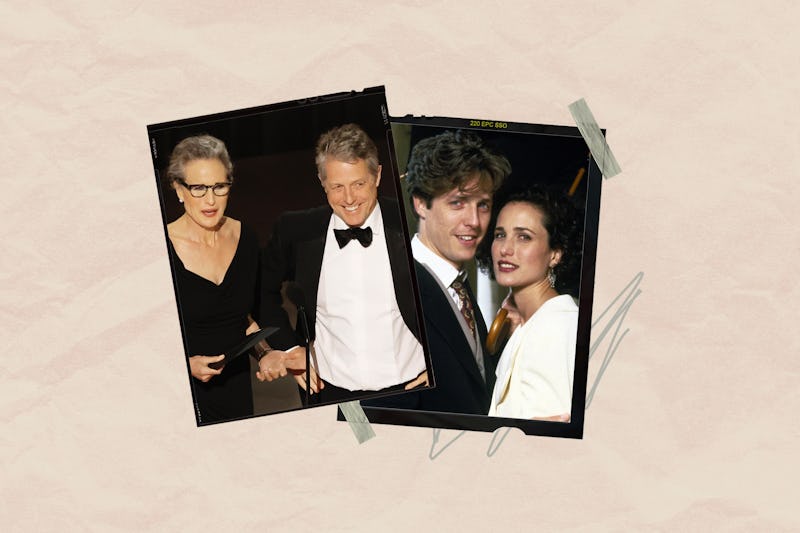 Kevin Winter/Getty Images / Polygram/Channel 4/Working Title/Kobal/Shutterstock
Almost 30 years since starring together in the classic '90s rom-com, Hugh Grant and Andie MacDowell treated fans to a Four Weddings and a Funeral reunion during the 95th annual Academy Awards. The duo, who played love interests Charles and Carrie in the 1994 favourite, appeared onstage to present the award for Best Production Design. "We're actually here to do two things," Grant explained to the star-studded audience. "The first is to raise awareness about the vital importance of using a good moisturizer. Andie's been wearing one every day for the last 29 years. I've never used one in my life."
After noting that MacDowell is "still stunning," Grant then joked: "I'm basically a scrotum." The pair subsequently announced Christian M. Goldbeck and Ernestine Hipper from All Quiet on the Western Front as this year's Best Production Design winners.
Fans of the '90s romantic comedy were quick to express their joy at the Oscars reunion, with one fan declaring it the "highlight" of the entire ceremony. "I want Hugh Grant to host the Oscars but completely in the character of Charles from Four Weddings," another user joked.
Their appearance at the 2023 Oscars comes 28 years after Grant and MacDowell last presented an award together at the Hollywood ceremony, when the former co-stars handed out the Best Original Score Oscar for The Lion King at the 67th Annual Academy Awards in 1995 — the same year Four Weddings and a Funeral was nominated for Best Picture and Best Screenplay.
Meanwhile, earlier in the night, Twitter had a lot to say about Grant's "deliciously awkward" red carpet interview with Ashely Graham on ABC. "Hugh Grant just gave the most dismissive interview I've ever seen, it was amazing," one viewer wrote on Twitter. "Ashley Graham interviewing Hugh Grant is the most awkward piece of television in 2023 and I'm living for it," another viewer said of the exchange.