The Best Memes & Tweets From The 2023 Oscars
"Congratulations to Andrew Garfield, front runner for reaction gif of the night."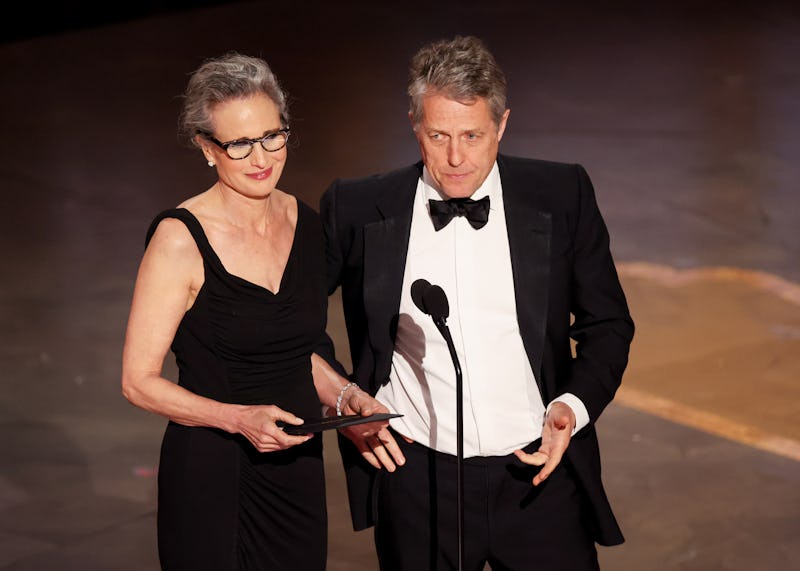 Rich Polk/Variety/Getty Images
Hollywood's biggest night had plenty for fans to talk about. The 2023 Academy Awards kicked off at the Dolby Theatre in Los Angeles on March 12, and as host Jimmy Kimmel mentioned in his Oscars monologue, all 23 categories were aired during the 2023 telecast. The year's most-nominated film, Everything Everywhere All at Once, led the pack with 11 noms and won seven awards, including Best Picture, Best Supporting Actor (Ke Huy Quan), Best Supporting Actress (Jamie Lee Curtis), and Best Actress (Michelle Yeoh). Meanwhile, The Banshees of Inisherin and Germany's All Quiet on the Western Front each scored nine nods, with the latter winning the Oscars for Best International Feature Film, Best Cinematography, Best Production Design, and Best Original Score.
Though she lost to Curtis, Black Panther: Wakanda Forever's Angela Bassett made history as the first Marvel actor to earn a nomination for her performance as Queen Ramonda. The Best Actor category, which Brendan Fraser won for his performance in The Whale, included all first-time nominees: Fraser, Colin Farrell, Paul Mescal, Bill Nighy, and Austin Butler.
Epic performances from Rihanna and last-minute addition Lady Gaga provided several viral moments — even if Will Smith's Oscars ban prevented another slap. Of course, viewers had plenty to say about all the buzzy moments — including Kimmel's monologue that didn't hold back from making jokes about Smith, and Andrew Garfield's reaction to his jokes. Plus, Jenny the Donkey and Cocaine Bear even made onstage appearances. Here are all the best memes and tweets from the 2023 Oscars.
Hugh Grant Gives A Cringe-Worthy Interview
Move over, Ben Affleck. The award for celeb least interested in being at the Oscars red carpet went to Hugh Grant, following his awkward interview with Ashely Graham on ABC. Twitter collectively cringed over their exchange.
Kimmel's Monologue Misses The Mark
Aside from tackling last year's Will Smith drama, Kimmel hit on other uncomfortable topics, including takedowns of Babylon and James Cameron, a Tom Cruise/Scientology joke, and a reference to the 2017 Oscars Best Picture envelope mix-up. While some embraced the chaos, several other Twitter users weren't exactly laughing.
Andrew Garfield Reacts To Kimmel's Monologue
After getting roped into a superhero bit, The Amazing Spider-Man star Andrew Garfield's face said it all, and some Twitter users quickly dubbed it the GIF of the night.
Jenny The Donkey Makes An Appearance
Later, Kimmel redeemed himself by trotting out everyone's favorite The Banshees of Inisherin companion, Jenny the Donkey. As one tweeter noted, Best Actor nominee Colin Farrell clutched his heart in pure joy upon seeing his co-star (and "emotional support donkey") on the Dolby Theatre's stage.
Grant Makes A Scrotum Joke
Grant's pre-awards show conversation wasn't his only notable moment of the evening. While presenting alongside Four Weddings and a Funeral co-star Andie MacDowell, Grant landed his second viral moment of the night. Joking that he's never used moisturizer a day in his life, the actor quipped that MacDowell is "still stunning," while his face is now "basically a scrotum." Given his earlier awkward red carpet exchange with Graham, some viewers thought it was an apt descriptor, while others simply enjoyed the laugh.
Cocaine Bear Trips Elizabeth Banks
No, this isn't a fever dream: Cocaine Bear director Elizabeth Banks (kind of) brought out her campy 2023 film's titular character who wasn't quite on his best behavior. Banks blamed the costumed Cocaine Bear for tripping her as she took the stage to present the Best Visual Effects Oscar, and the costumed actor even jokingly harassed Nobel Prize winner Malala Yousafzai in the audience afterward.