11 Times British Soaps Pioneered LGBTQ+ Representation On TV
From Brookside's Gordon Collins to the non-binary gender representation on Hollyoaks.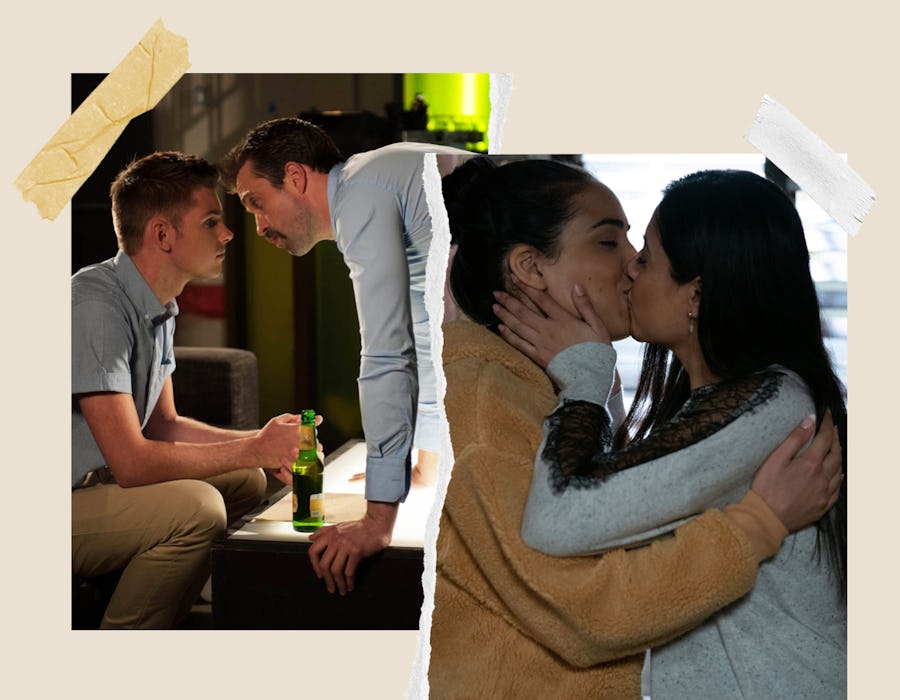 Channel 4 & BBC One
Nothing embodies British pop culture quite like a beloved soap opera. And whether you like keeping up with Corrie or following the drama over on Albert Square, true soap fans will know that these long-standing shows represent more than just entertainment. Soaps play an important role in shining a light on real-life experiences, including those of people within the LGBTQ community. To mark LGBT+ History Month 2021 2022, I've taken a look back at some of the most monumental LGBTQ moments in British soaps to understand the impact these shows have had.
Whether it be the first gay kiss broadcast on mainstream television, the introduction of PoC in gay roles, or the casting trans actors in trans storylines, soaps have been leading the charge when it comes to representation for decades. They have helped spotlight important topics that weren't being discussed elsewhere in mainstream media and humanise marginalised communities when society didn't give them such grace. That first kiss, for example, aired in 1989, one year after the introduction of Section 28, a homophobic piece of legislation that outlawed the "promoting the teaching of the acceptability of homosexuality as a pretended family relationship."
Of course it's important to acknowledge that soaps didn't always get it right. Much like the wider media landscape, not all LGBTQ storylines presented in soap operas are happy, healthy, or positive, and there has often been criticism over casting. Nonetheless, there's no doubt that soaps – with their millions of loyal fans from all different walks of life – have helped push LGBTQ narratives into public consciousness in a way no other medium could have.
This article was originally published on