Romesh Ranganathan's Avoidance Is Based On His Own "Maledom"
"I would like to think I hide it a bit better than Jonathan does."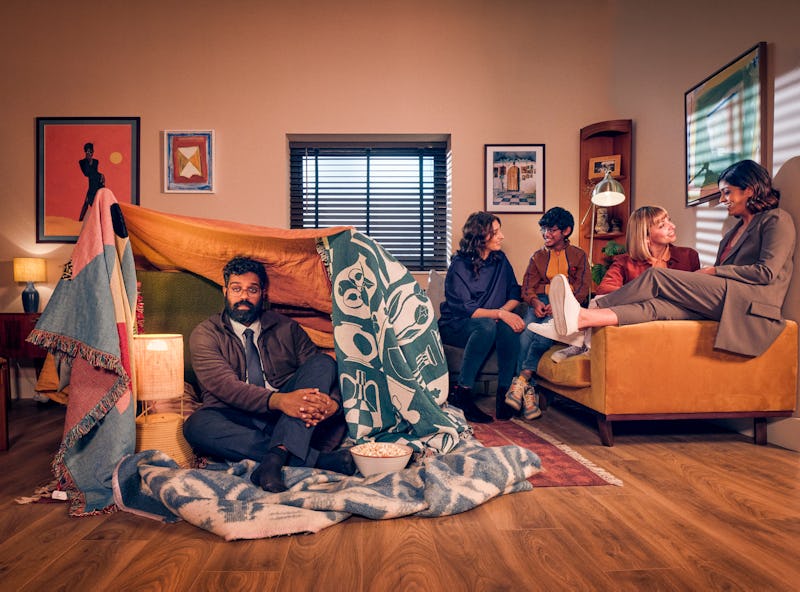 BBC
Romesh Ranganathan is known – and loved – for bringing his satirical humour to everything he works on. (And let's not forget his mum, Shanthi, who was the breakout star of his docuseries Asian Provocateur.) From his self-titled series The Misadventures Of Romesh Ranganathan, where he travels to different countries assisted by resident tour guides, to Just Another Immigrant, the maths teacher turned comedian and TV host has worked closely with the BBC over the years. And in his latest show, Avoidance, Ranganathan worked in front of and behind the camera: as the titular character and the sitcom's co-writer. But is Avoidance based on Romesh Ranganathan and is it a true story?
Ranganathan has not been shy about mining his personal experience for his work. As per the very first line of his memoir, Straight Outta Crawley, he was a "fat child", which, combined with a lazy right eye caused by an infection when he was three years old, was character-forming. "I genuinely don't think I'd be a comedian if I hadn't had it," he told the i in 2018. But his latest sitcom borrows a less (in some ways) than the likes of his previous roles.
Speaking to the BBC about whether the character he plays, Jonathan, is different from who he is in real life, Ranganathan explained that Jonathan's ''conflict-avoidant beta maledom is based on my own character, but I would like to think I hide it a bit better than Jonathan does.'' He added that, ''the fact that Ben [Green] agreed it would be a good starting point for a comedy suggests I don't.''
Ranganathan also went on to say that he and his co-writer Benjamin Green "had a version of this idea about five years ago and every now and then we would dip back into it and develop it further."
As you may have guessed by the title, Avoidance follows Ranganathan's Jonathan, a man with conflict avoidance problems, who is forced to change for the sake of his son, Spencer (Kieran Logendra). Jonathan's wife Claire, played by Jessica Knappet, confronts him insisting that he needs to tell their son that they are separating. Desperate and in denial, Jonathan deals with the situation by running away with nine-year-old Spencer, staying with his sister, Danielle (Mandeep Dhillon) and her wife Courtney (Lisa McGrillis).
Avoidance will air weekly episodes on Fridays on BBC One at 9:30 p.m.