Stephen Graham Did Serious Research For BBC's New Prison Drama
The gritty three-parter will see an inmate serving time for accidentally killing a man.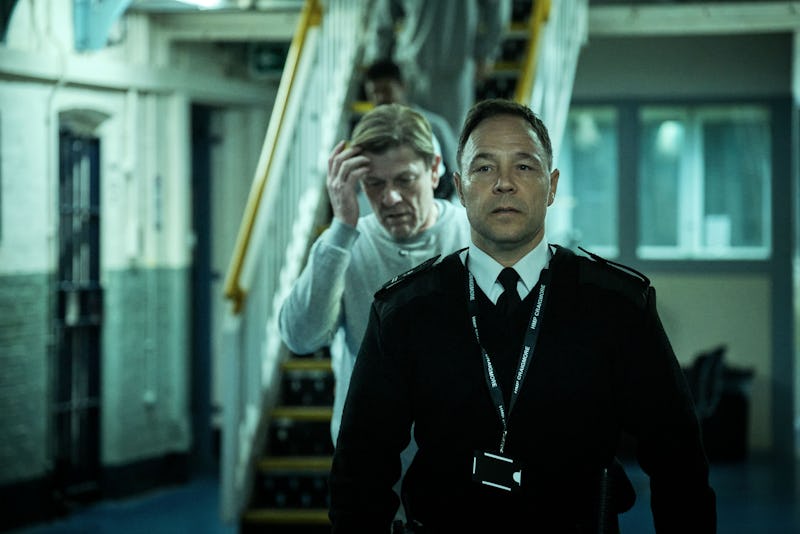 BBC/Matt Squire
Upcoming drama Time is set to be a "visceral, emotional and high-stakes portrayal of life in a British prison," promises the BBC. Starring Line Of Duty's Stephen Graham and Game Of Throne's Sean Bean, the gritty three-part drama will see an inmate serving four years for accidentally killing a man. Set in the British prison, it's said to be a harrowing story of guilt and forgiveness, punishment and penitence – but is Time based on a true story?
Written by Jimmy McGovern, Time is not based on a true story, however, the acclaimed writer enlisted Bean and Graham (who also worked on McGovern's The Accused) to portray prison life in as real and authentic way as possible.
In the new drama, Bean plays imprisoned Mark Cobden, a teacher, husband, and father, who is overcome with guilt following his crime, and even welcomes his sentence. According to the official synopsis, Cobden befriends caring cop Eric McNally (played by Graham), who is trying to protect those in his charge. Per BBC, things get dicey when one of the "most dangerous inmates identifies his weakness", and McNally "faces an impossible choice between his principles, and his love for his family."
"Getting to be involved in a Jimmy McGovern drama again is a real privilege," said Bean, ahead of filming. "Mark Cobden is another of Jimmy's complex and superbly written characters and I am looking forward to bringing him to life on screen."
Filmed in and around Liverpool, ahead of production Graham said: "It is an absolute honour to be working with Jimmy again, I'm feeling blessed. I'm excited to be working with Lewis as I have heard so many incredible things about him as a director, I can't wait to get stuck in. Of course, I am made up to be back on set with Sean."
No stranger to gritty police dramas, Graham revealed that he shadowed a real prison guard, with 30 years of experience, to gain more of an insight into how to portray his character.
Speaking to The Sun, Graham explained: "I absorbed this fella like a sponge. These prison guards, they're trying to do a job to the best of their ability. Their job is to protect themselves, protect the prisoners and make it a nice, reasonable, cohesive place where everyone can do their time, treated with respect."
Time airs weekly on BBC One at 9 p.m. from Sunday June 6, and will be available on BBC iPlayer.