The Big Sky Books May Reveal Blake's Fate
Things aren't looking good for him at the end of the April 20 episode.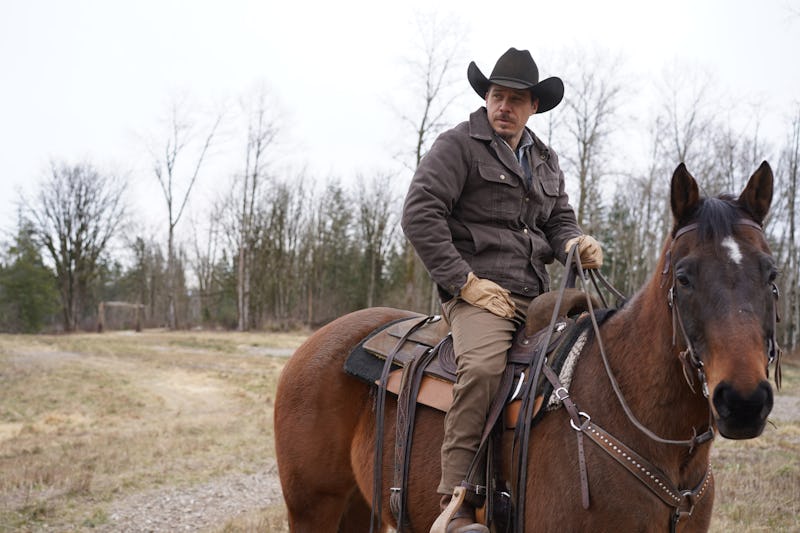 Darko Sikman/ABC
Spoilers for Big Sky Season 1, Episode 12. Big Sky isn't big on fake-outs: they killed off Ryan Phillippe's character in the first episode. So if it seems like Blake is dead after the April 20 episode, it's probably for real.
At the end of the episode, Blake's younger brother John Wayne caught Blake digging up a body buried on their ranch. It belonged to one of their workmen, Cole, who — according to Blake — Rand killed. John Wayne suggested that Cole's death could have been an accident, but Blake said that Rand admitted to doing it on purpose: after Cole made fun of him, Rand slashed his neck with a shovel.
It's also starting to seem like Rand may have been the one who beat up Rosie — an act that's been blamed on Blake. Cassie and Jenny spoke to Rosie in the April 20 episode, and while she admitted the night was fuzzy — she thinks she may have been drugged — she had flashbacks to Rand being in the room with her.
Nonetheless, John Wayne seems intent on keeping Rand's potential involvement in both crimes a secret. Blake said he wanted to tell Cole's family what happened, but John Wayne insisted that their family couldn't be saddled with that kind of bad reputation right now. And when Blake threatened to expose the truth, John Wayne decided to take Blake out. He hit him with a shovel and Blake fell backward into Cole's grave. Is it possible Blake survived the blow? Maybe, but it didn't look like the kind of hit someone comes back from.
The synopsis for the April 27 episode further hints that Blake didn't survive. "Cassie and Jenny hear that a body has been discovered on the Kleinsasser ranch and, fearing the worst, Jenny takes the investigation up a notch, but the Kleinsassers have a plan of their own," the description reads. The book that these episodes are based on, C.J. Box's The Bitterroots, also hint at Blake's fate. Major book spoilers ahead.
In the novel, Blake doesn't get out of jail like he does in the show. Instead, he's nearly beaten to death by four inmates who were hired to scare Blake into leaving town again. But instead of just roughing him up a little, they cause severe brain injuries that eventually lead to Blake's death. He never recovers from the attack, and the book closes with his funeral. However, the show has already changed some things from the novel, so perhaps Blake's fate will be different as well.
Something that could shake things up is that Cheyenne witnessed her brothers fighting and saw John Wayne hit Blake. Will she stay loyal to the family and keep the incident to herself? Or will she follow Blake's lead and expose her brothers? We're only two episodes into Big Sky's spring season, and things are already very messy.