Is Channel 5's Intruder Based On A True Story?
The crime drama centres on the aftermath of a burglary gone wrong.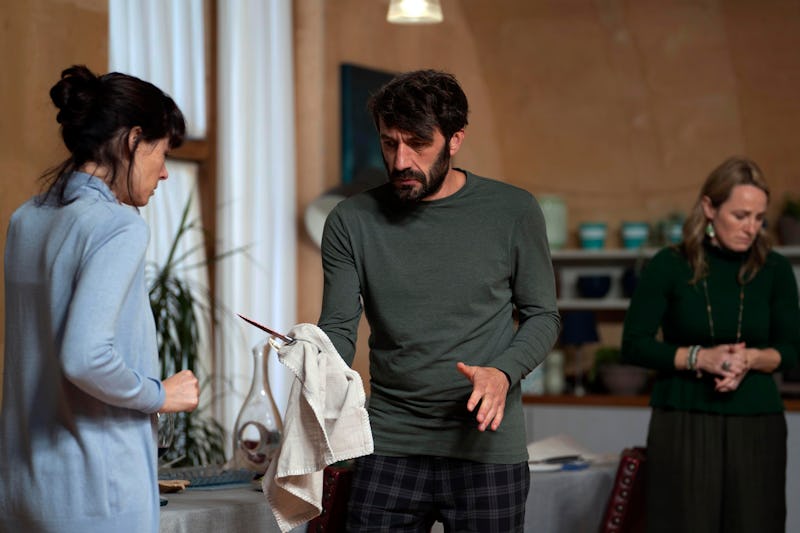 Chalkboard / Clapperboard
Channel 5's newest four-part drama Intruder centres on the aftermath of a botched burglary at the home of a high-flying couple. Coronation Street alumni Sally Lindsay leads the cast of the intense TV thriller as family liaison officer Karen Bailey, but what else is there to know about the new series, and is Intruder based on a true story?
As mentioned, the Channel 5 crime drama revolves around a wealthy married couple, Rebecca and Sam, who enlist the help of a friend to cover up the killing of a local teenage burglar who broke into their home. In a statement sent to Bustle, Channel 5 confirmed Intruder is not based on a true story and is a fictional plot written by Gareth Tunley.
Detailing the show's plot, Intruder's official synopsis reads:
"Sam and Rebecca Hickey lead an idyllic life in their custom-built house in the west country. But their paradise is broken one night when two teenagers break into their home. In a paranoid rage, Sam kills one of the intruders... Sam and Rebecca soon realise that Sam has committed murder, not self-defence. Along with their friend and guest Angela, they stage the scene to look like Syed attacked them."
Alongside Sally Lindsey, Fingersmith star Elaine Cassidy and The Ghoul's Tom Meeten lead the drama's cast as married couple Rebecca and Sam, respectively, with The Virtues' Helen Behan playing their close friend Angela. Elsewhere, the cast features newcomers Adam Richardson and Sonny Poon Tip as burglars Tommy and Syed, respectively. Simon Coury stars as Inspector Lilley and Kriss Dosanjh as Syed's father Haalim.
Commenting on the new series, Intruder's writer and director, Gareth Tunley, said the show's central theme of "upheaval" is something he believes viewers in an age of uncertainty can relate to. "We're living in a world where, over the last few years, it seems everything we thought was solid has dissolved into air." Per the Express, Tunley continued, "I think it's a story of upheaval that, while it contains some of our worst fears, we can all relate to on some level."
Elsewhere, the thriller's executive producer, Mike Benson, teased viewers should "prepare for a turbulent ride ahead," while Channel 5's Deputy Director of Programme, Sebastian Cardwell, confirmed that Intruder offers a taste of the direction in which the broadcaster is heading, Radio Times reports.
"Drama has increasingly become an important part of Channel 5's programming slate." Cardwell continued, "Intruder demonstrates our continued ambition to collaborate with talented indies such as Clapperboard to deliver punchy prime time drama."
Intruder continues tonight at 9 p.m. on Channel 5.