Martin Compston Stars As A Serial Killer In This ITV True Crime Drama
In Plain Sight is based on a series of murders in Scotland in the 1950s.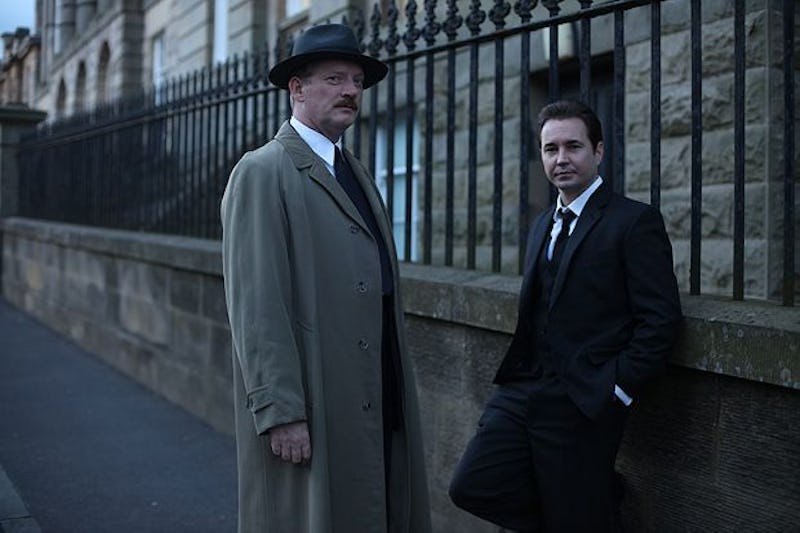 ITV / In Plain Sight
ITV is re-airing a hard-hitting serial killer drama In Plain Sight across three nights. Set in Scotland, the three-part series follows a local detective who enters a psychological game of cat and mouse as he hunts down a murderer, who as the name suggests, is hiding in plain sight. Starring Line Of Duty's Martin Compston as serial killer Peter Manuel, the mini-series gripped audiences when it first aired in 2016 but is In Plain Sight based on a true story?
In Plain Sight is in fact inspired by real-life events and charts the police efforts that took down one of Scotland's most prolific serial killers Peter Manuel, who murdered at least eight people during the 1950s. The series was written by Nick Stevens and sees Douglas Henshall play real-life detective William Muncie, who was taunted by murderer Peter Manuel with Christmas cards as he tried to track him down.
Manuel was already a known criminal when he first committed murder in 1956 and had served an eight-year sentence for sexual assault and rape before a horrific two-year killing spree.
As the Police Museum website states it, the body of a young woman (later identified Anne Kneilands) was discovered in a wooded area known as Capelrig Copse in January 1956, which would mark the beginning of "one of the largest police investigations Scotland has ever seen which would last for exactly two years."
That same year the killer murdered Marion Watt, 45, her daughter Vivienne, 17, and sister Margaret Brown, 41 in their Glasgow home. The horrifying incident caused Marion Watt's husband to become a prime suspect for the murders, however, Detective Muncie had long suspected Peter Manuel who was linked to a number of burglaries at the time. And yet, the killer managed to escape justice.
As In Plain Sight's writer, Nick Stevens told The Sun in 2016, "Long before anyone else, Muncie saw Peter Manuel for what he was — a psychopath. "Almost a decade before Manuel's first murder, Muncie arrested him for a slew of housebreakings. Manuel never forgave him."
During the two-year investigation, murderer Peter Manuel was said to have taunted the detective and sent him birthday cards to his door. "Manuel's case took up a huge chunk of [Detective Muncie's] life and he was derided by some in the force because he was so obsessed. But he knew Manuel was guilty and needed to put him away," said Douglas Henshall, vis The Sun, who plays Muncie in the ITV drama.
By the time Peter Manuel had finally been arrested for his crimes in 1958, he had sadly murdered at least eight people in total, including another family and teenage girl. It took the Jury "only two hours and twenty-one minutes of deliberations to convict him" recalls the Police Museum and is still "one of the most documented trials in the history of the Scottish Criminal Justice system."
The re-airing of the show is not without controversy. Families of the victims called on ITV not to re-show the program, however, as of writing, it is still set to go ahead.
In Plain Sight will air on ITV at 9p.m. on three consecutive nights; Monday 7, Tuesday 8, and Wednesday 9 June.