This Is *Exactly* Where The Border Between Fact & Fiction Lies In Line Of Duty
Turns out there's a real-life AC-12.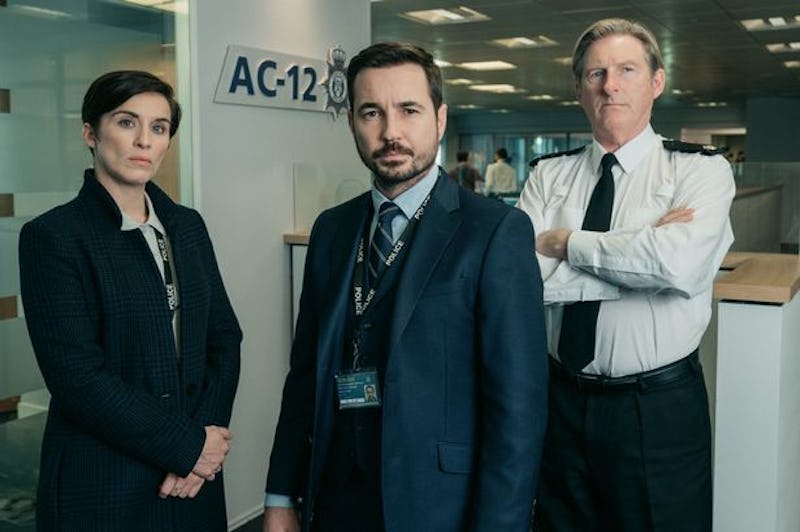 Starring Vicky McClure and Martin Compston, the long-running BBC crime drama Line of Duty centres around the AC-12 police unit, a department in which officers investigate corruption within their own force and uncover any dodgy goings on. But is Line of Duty based on a true story?
As the Express reports, Line of Duty is a fictional TV series. However, elements of the show's Anti-Corruption Unit 12 are inspired by existing police departments based around the UK. A real-life equivalent to Line of Duty's AC-12 unit can be found within the London Metropolitan Police force, which has its very own anti-corruption department known as the Directorate of Professional Standards (DOS). This particular unit was previously known as the "ghost squad" and officially called A10, before receiving a name-change to CIB1, and later CIB2.
Speaking to the Radio Times, show-creator Jed Mercurio previously revealed how he works alongside a team of advisors during production of the BBC series, and discussed how Line of Duty tries to stay as close to reality as possible.
"I think it's important to be as close to the right procedures as possible. The starting point is with our advisers and I always get excited if we can use something I haven't seen in any other series," Mercurio explained.
As the Mirror reports, a real life police officer, known only as John, has advised show-makers since Line of Duty's second season. Outlining his experience working on the BBC drama, he revealed that "day-to-day" aspects of his profession can be found throughout the series.
"The job can be a lot more complex and time-consuming than we're sometimes able to show in the series, but I've spoken to officers of various forces and ranks, and they recognise the fundamentals of day-to-day policing are there," he told the Independent.
As previously reported by Bustle,Line of Duty was confirmed to be returning for a sixth run in 2019. However, shortly after production kicked-off, filming was halted due to the coronavirus pandemic. Show-bosses are aiming to resume production on the BBC hit later in the year, and creator Mercurio hopes the series will begin airing sometime in 2021, the Radio Times reports.