Little Mix Revealed Their Biggest Regret Of The Last 10 Years
The band have taken a look back on their time together after announcing a break this month.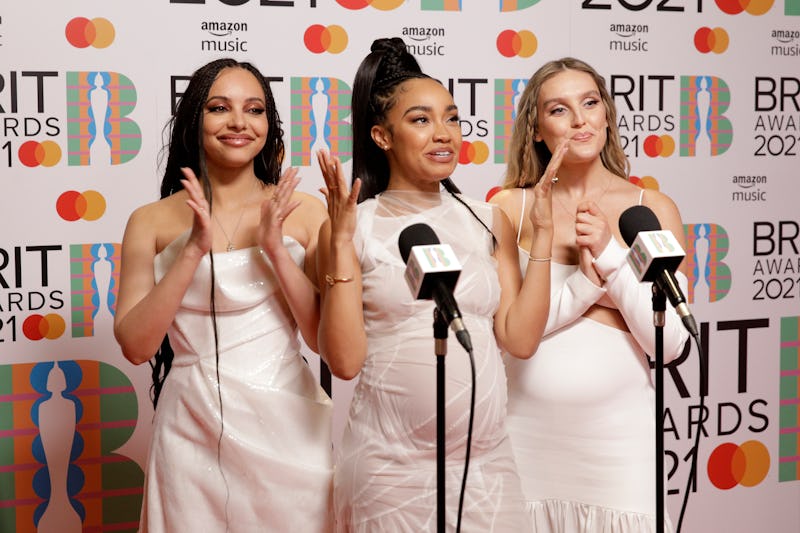 JMEnternational/Getty Images Entertainment/Getty Images
Little Mix recently celebrated their 10th anniversary as a group with their greatest hits record Between Us. Despite Jade Thirlwall quashing rumours about a split in a recent Gay Times interview — saying the trio were "stronger than ever" — news broke on Dec. 2 that the band will be taking a break for a while to focus on "other projects."
Rumours of a Little Mix split began circulating earlier this year, with suggestions that the band wanted to start thinking about solo careers. On Dec. 2, the band finally gave an update on their social media pages.
"We wanted to let you all know that after the Confetti tour in April/May next year we are going to be taking a break from Little Mix," band members Thirwall, Leigh-Anne Pinnock, and Perrie Edwards wrote. "It's been 10 amazing years, a wonderful non-stop adventure, and we feel the time is right to take a break so we can recharge and work on some other projects."
For fans worried this is the end of the band, the post clarifies, "We are not splitting up – Little Mix are here to stay. We have plans for more music, tours and performances in the future."
This echoes what Thirlwall told Gay Times in November. "I think no matter what happens, Little Mix will always be there," she said. "I think the past couple years, we have started to delve into doing our own little things. That's been really beautiful to see."
Thirlwall went on to add that fans "won't ever have to doubt that Little Mix will never have to end."
On Dec. 5, Little Mix looked back at 10 years together in a new YouTube documentary, At Home, which gave fans behind-the-scenes access to the highs and lows of being in one of the country's biggest girl bands. Among all of the amazing memories, it was revealed that the band's biggest regret was not focusing more energy on gaining global success.
During the At Home documentary, Pinnock said, "Internationally, it could have been a lot bigger than what it was. And it was amazing and like, we've got to travel the world, but I wish we'd spent more time doing that."
Thirlwall added: "I think it's important not to let things get to you. I think for a long time, I definitely had a sort of harbouring… not resentment, but a sort of upset that we didn't stick to America more and properly do it."
Thirlwall explained that she felt Little Mix "were so close each time we went and then the more we kept leaving, the less the hype happened." She explained that she couldn't "say too much" about exactly what the situation was but added, "I feel like if we'd had the right people at the time, it might have happened."
Little Mix: The Solo Albums
During an appearance on Steve Anderson's music show Such A Good Feeling, Little Mix's producer and co-writer Biff Stannard let slip that Thirlwall, Pinnock, Edwards, were planning solo projects once the Between Us tour comes to a close in the spring of 2022. "I'm so excited for all [of them]," Stannard said, adding that he thinks "they're all doing a solo record" as far as he knows.
When Can We Expect The Little Mix Solo Albums?
According to The Sun, "industry sources" said that the group has "been quietly negotiating new management and recording deals for 2022." While there's no word on actual album releases for each member, they could potentially drop around the same time. And that includes Jesy Nelson's debut album, too, the release date of which was pushed back to next year following the release of her first single "Boyz" in October.
What Can We Expect From Their Other Solo Projects?
While the band have yet to confirm potential solo records, they've already started to branch out with different projects. In March 2021, Pinnock announced that she'd signed to Taps music, stating her intent to pursue a solo career. "I will continue to work on my solo endeavours alongside my Little Mix commitments," she said in a statement at the time.
Pinnock also released the BBC documentary Leigh-Anne: Race, Pop and Power in May 2021, and is set to continue this on-screen trend with her acting debut on Boxing Day this December. She was recently a guest judge on the new series of RuPaul's Drag Race UK, too.
Edwards recently launched her clothing brand Disora in October 2021, which she reportedly came up with during lockdown. But according to a close source to her (via Birmingham Mail), Edwards has "by no means ruled out doing solo songs in the future."
In 2019, Thirlwall — along with Pinnock — signed as songwriters in a deal with Sony/ATV Music. The singer has also tried her hand at presenting, appearing as a guest judge on RuPaul's Drag Race UK in 2019, and the MTV web series Served!. Most recently, Thirlwall became the new face of Ellesse and launched her own Autumn/Winter collection in partnership with the sports brand for ASOS and JD Sports. In October 2021, she launched a 42-colour eyeshadow palette in collaboration with Beauty Bay.
This article was originally published on