Amy Manson Based Her Nevers Character On A Real Serial Killer
Maladie has a lot in common with Aileen Wuornos.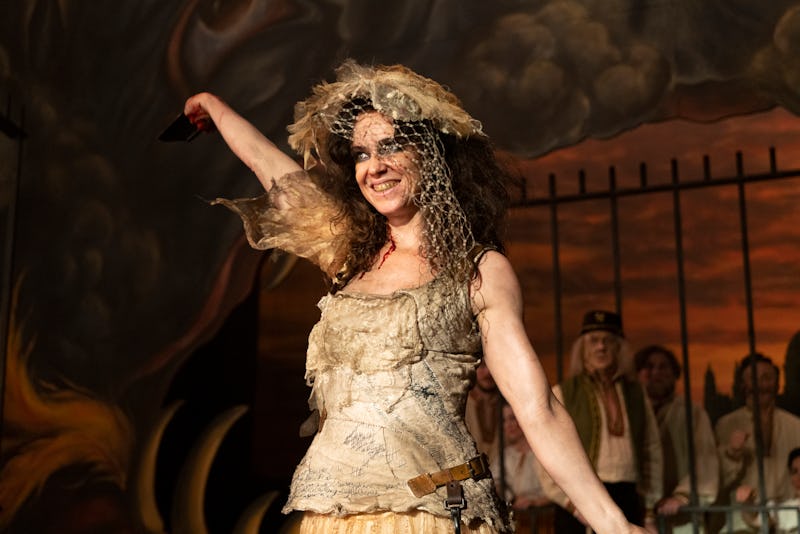 Keith Bernstein/HBO
Mild spoilers for The Nevers premiere. HBO's The Nevers takes place during Victorian-era London, when serial killer Jack the Ripper roamed the streets. But in the show, his crimes are eclipsed by the acts of another serial killer, Maladie (a name that means "illness" in French). She targets only so-called "respectable men," which puts fear into the hearts of the rich and powerful. In the show, she's often compared to Jack the Ripper, but actor Amy Manson based Maladie on the serial killer Aileen Wuornos.
Manson told Gizmodo that she read a lot about Wuornos' case when prepping for her role. She revisited Wuornos' infamous speech before she was executed and was struck by "how much she felt she was chosen or affiliated with God, and just how much she kind of believed that." Similarly, Manson says, Maladie "thinks she's Jesus in a way, you know, that she's had this pain inflicted on her and not on the cross for a certain reason."
Wuornos was the first woman the FBI ever profiled as a serial killer, and she confessed to seven murders. (She was only convicted of six, as the seventh body couldn't be found.) All of Wuornos' victims were men, whom she claimed she killed in self-defense. Wuornos was sentenced to death for her crimes, and was executed in 2002. The South Florida Sun Sentinel reported that her final words proclaimed that she would return one day like Jesus. "I'd just like to say I'm sailing with the Rock, and I'll be back. Like Independence Day with Jesus, June 6, just like the movie, big mother ship and all. I'll be back," she said.
Like with Maladie, who is committed to an asylum at the start of The Nevers, Wuornos' mental health was a frequent topic of discussion during her trial and afterwards. According to Vice, witnesses for the defense at her trial claimed that she struggled with "borderline personality disorder and antisocial personality disorder." According to News Channel 8, Wuornos claimed to have suffered sexual abuse as a teenager at the hands of her grandfather. The outlet noted that her father was a convicted child molester, although she never met him, as he was in prison when she was born.
At the end of the first episode of The Nevers, Maladie's full backstory isn't known, but there are some hints to mine. According to Entertainment Weekly, she was committed to the asylum by her husband, and after being "touched" by the mysterious spaceship's glowing dots, she developed the ability to derive power from pain. Her character description notes that she was "tortured by doctors" who wanted answers about her power. After being wronged by so many men in her life, Manson said she's not surprised her character took to killing them.
"I don't consider her to be a villain. She's got her objectives, she gets sidetracked at times, but I wonder how much I would fight for justice if I went through what she went through at the hands of the male patriarchy," Manson told Gizmodo. "People will think that Maladie is mad or that she's a terrorist, but I think she's just misinformed. She's just crazed because she just doesn't have answers. She needs to know why [she has this power]."