Is Shiv Pregnant On Succession? This Theory Predicted The Season 4 Twist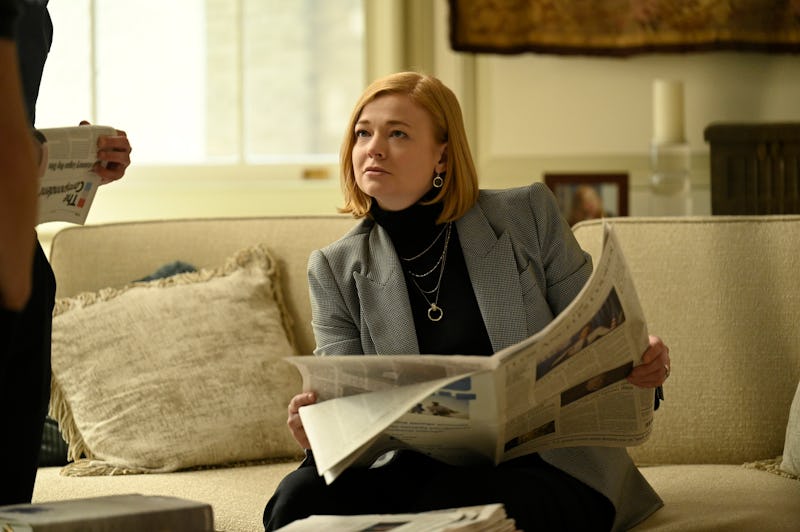 David Russell/HBO
Spoilers ahead for Succession Season 4, Episode 4. Tom and Shiv's relationship in Succession Season 4 is coming to an end. After last season's betrayal (and, well, three seasons' worth of other toxic moments), the pair decided to call it quits in the season premiere, followed by Tom quickly connecting with every divorce lawyer in the city. But some fans think there might be a twist in the legal process ahead — like, maybe, a surprise baby. Is Shiv pregnant on Succession?
As it turns out, this is the rare case of a fan theory coming true! Succession confirmed suspicions minutes into the April 16 episode, showing Shiv answer a phone call from her doctor. As of the latest installment, she's nearly 20 weeks into a healthy pregnancy.
If you've been following Succession fan theories for a while now, you probably saw this one coming. Last season, for example, some viewers wondered if Shiv might be pregnant due to the way she touched her belly after Tom's betrayal in the Season 3 finale. Her mom also told her that she "made the right decision" not to have kids, assuming Shiv decided against that path. "Some people just aren't made to be mothers," she said. Knowing their fraught relationship, it definitely would be Shiv-like to want to prove her mom wrong and, well, become a parent.
But the speculation picked up even more in Season 4, and it had to do with Shiv's alcohol consumption (or lack thereof). While Shiv has definitely been seen drinking throughout the series, she's recently been imbibing less. During the siblings' night out after Connor's rehearsal dinner, for example, she joked about ordering red wine before settling on club soda with a sealed lid. "Nothing from that tainted nozzle," she adds. Minutes later, there's a bottle of San Pellegrino in front of her.
And in Episode 3, Shiv seemed to be drinking water at Connor and Willa's wedding.
Further fueling the theories was Sarah Snook's own real-life pregnancy. She debuted her baby bump at the Succession Season 4 premiere, alongside her husband Dave Lawson. She was 32 weeks pregnant at the time, she told Entertainment Tonight.
Succession Season 4 was reportedly filming as recently as this January, per Time Out. Granted, it's super common for movies and TV shows to work around an actor's pregnancy — so just because Snook is having a baby, didn't necessarily mean Shiv would, too. But fans were suspicious. And looking back, they were right to be!
This article was originally published on