The Succession Season 3 Finale Revealed A Lot More Than Kendall's Fate
There was also one more unsuccessful coup attempt.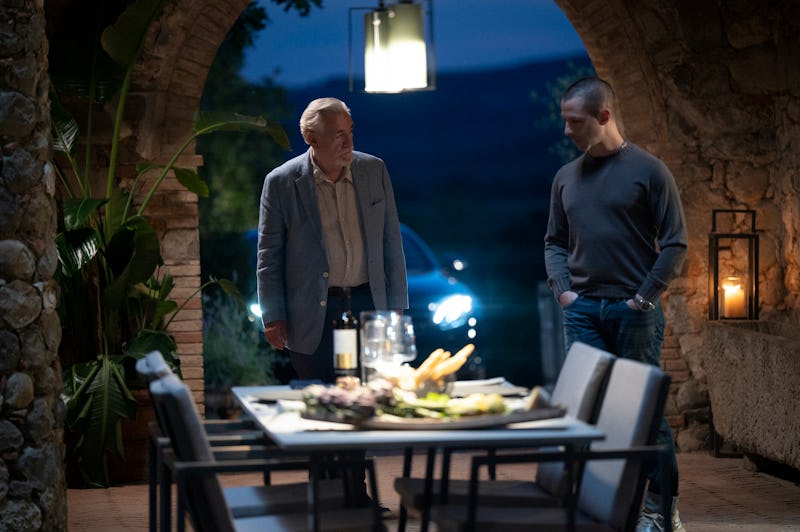 Photograph by Graeme Hunter/HBO Brian Cox, Jeremy Strong
Spoilers ahead for the Season 3 finale of Succession. After a week's worth of speculation, viewers of Succession can breathe a collective sigh of relief with the knowledge that Kendall Roy is alive. We left Kendall (Jeremy Strong) in the penultimate episode facedown and unresponsive in the pool as the credits rolled, but the opening of the Succession Season 3 finale quickly revealed that he was saved offscreen by PR lackey Comfrey (Dasha Nekrasova), and that he stayed overnight in the hospital. Here's everything that happened in the season finale.
Kendall Is Alive
When Kendall did resurface onscreen, audiences were treated to perhaps the most brittle iteration of Kendall in the history of Succession. Pale and limping along the Tuscan gravel, Kendall rejoined his siblings and downplayed his near-drowning the morning after, blaming it on "one too many limoncellos." Despite the Roy siblings' constant, knife-twisting bickering, Shiv (Sarah Snook), Roman (Kieran Culkin), and Connor (Alan Ruck) still made an attempt to appeal to Kendall's vulnerability in the form of an intervention. Unsurprisingly, Kendall shut down his siblings' shaky attempts at earnest concern. "I feel like everything I've done has been with good intentions," he said. "I do feel like this is about all of your sh*t more than me."
Kendall Admits He Killed A Man
Things finally came to a head after word got loose that Logan (Brian Cox) was on the verge of selling the company to Mattson's (Alexander Skarsgård) company Gojo, which would leave the kids' positions in Waystar in jeopardy under the regime of a new boss. In a panicked move, Shiv and Roman seek out Kendall for meeting in a secluded courtyard. But before any actual strategizing could get underway, Kendall sank to the ground and began unravelling. "Something's wrong with me," he said. "I can't get one thing right with another." As he choked through tears, he finally revealed to his siblings that he accidentally killed a waiter during a car accident at Shiv's wedding. "They're going to come for me," he said. "I'm blown into a million pieces." Despite Kendall's clear delicate shape, Roman couldn't help but continuously crack jokes in an attempt to get his older brother to laugh. In fact, the whole stirring scene felt like a microcosm of the Roy siblings' dynamic.
WayStar Royco Gets Sold
With their backs against the wall, the Roy siblings finally decided to join forces. Murmurs began to circulate during Caroline's (Harriet Walter) wedding that her ex-husband Logan was planning a major yet covert move. In an effort to keep up, Shiv, Roman, and Kendall attempted to take the fight to their dad, fearing that they were on the verge of getting squeezed out of the company. When they finally confronted Logan, the siblings were under the impression that they still held sway in the company thanks to a supermajority clause previously agreed upon by Logan and Caroline as part of the terms of their divorce. However, Logan revealed he and Caroline had already reworked the clause, giving Logan the ultimate authority to sell the company. Despite Roman's uncharacteristically emotional pleas to his father and Shiv's continued insistence that they still had a say in the company's future, Logan quickly dispelled any hope. Primed to sell Waystar Royco to Gojo and Matsson, Logan's shrewd business move punctuated the season by essentially locking all three children out of the company — or, if we're being charitable, leaving their futures in the hands of a flighty, disinterested tech founder.
Tom's Big Betrayal
One question remained however: just how did Logan know to rework the supermajority clause ahead of his children's arrival? Enter Tom Wambsgans (Matthew Macfadyen), the man who shivved his wife. Tom spent most of Season 3 fretting about a possible stint in prison, only to have covertly spent the final third of the season sidling up to Logan. The clues were all there: His deteriorating relationship with Shiv, their loveless, sexless marriage, and Shiv revealing her master contingency plans to Tom just before an unfortunate foray into pillowtalk. Tom's motivation to turn on his wife and brothers-in-law serves as the cherry atop the sickening sundae that was the Season 3 finale. Tom even looped Greg (Nicholas Braun) in on his master plan, promising an escape from the "neverending middle." Ultimately Tom's retelling of the Nero and Sporus fable from Episode 4 proved to be foreshadowing, given that Tom did figuratively murder his wife and abscond with his neutered underling. We'll see how all this turns out in Season 4!