This New Marvelous Mrs. Maisel Character Could Change Everything For Midge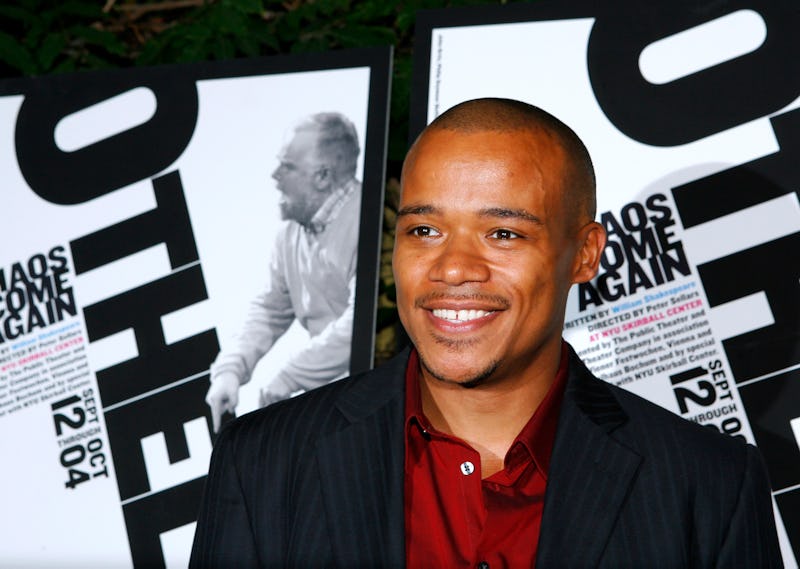 Donna Ward/Getty Images Entertainment/Getty Images
Spoilers ahead for The Marvelous Mrs. Maisel Season 2. By now, fans of The Marvelous Mrs. Maisel likely know Lenny Bruce — the comedian Midge befriended back in Season 1 — was, in fact, a real stand-up. But the latest celebrity the Upper West Side spitfire is rubbing elbows with is a little more difficult to pin down. Is Shy Baldwin on The Marvelous Mrs. Maisel based on a real person? Midge is thrilled to meet him, but who is he supposed to be?
Introduced in the back half of Season 2, Shy is a musician "popular with moms" who invites Midge to open for him on a six-month tour. He's played by Leroy McClain, an English actor you may know from Rubicon or The Adjustment Bureau, as well as non-singing Broadway roles in Cymbaline and The History Boys — but don't hold that against him. He's got the chops, vocally.
Midge meets Shy at a telethon where they're both performing. She wins his respect not only with her stand-up, but after they bond over a mutual distrust of Sophie Lennon's overly performative Queens housewife charade. Midge mentions that her mother (secretly) loves his Christmas album, and he comments that he likes having comedians open for him. He says he often performs with Moms Mabley, a real comedian from the era known for her forthright, boundary-pushing act.
At the telethon, Shy sings "Younger Than Springtime" from South Pacific. It isn't necessarily a clue as to who he's based on, unfortunately. That song was covered by Frank Sinatra and Bing Crosby in later years, but in the late '40s and early '50s by plenty of lesser known crooners like Gordon MacRae, Dick Haymes, and Billy Eckstine. Plus, while stars covering songs from Hamilton and Dear Evan Hanson may seem like a new thing, 50 years ago it wasn't uncommon at all for popular artists to record Rodgers and Hammerstein's soon-to-be-classics and other showtunes as their own.
Shy isn't exactly Ray Charles or Chuck Berry. There is, of course, Paul Anka, who, at the very least, Gilmore Girls fans know creator Amy Sherman-Palladino is a fan of.
One potential analogue is Harry Belafonte, who was instrumental in Mabely's mainstream career by giving her her first television appearance. Most of us in 2018 know Belafonte from "Jump in the Line" and "The Banana Boat Song," and he's actually name-checked by Midge in the episode where Shy Baldwin first appears.
His musical theatre discography is sparse, but not totally empty. He recorded "Try To Remember" from The Fantasticks, as well as an album exclusively featuring the songs of Gershwin's opera Porgy and Bess with Lena Horne.
Another artist who could have inspired Shy is Johnny Mathis, as both Mathis and Belefonte released Christmas albums in 1958.
Whoever Shy is inspired by, when The Marvelous Mrs. Maisel returns for Season 3, we'll hopefully learn more about him — his personal life, his career, his ambitions, and his style. This is a major break for Midge and a fascinating character for her to encounter on this journey.