Is The Daisy Jones Cast Really Singing In The TV Show?
"I sang Elton John's 'Your Song.' Terribly," Sam Claflin said of his audition.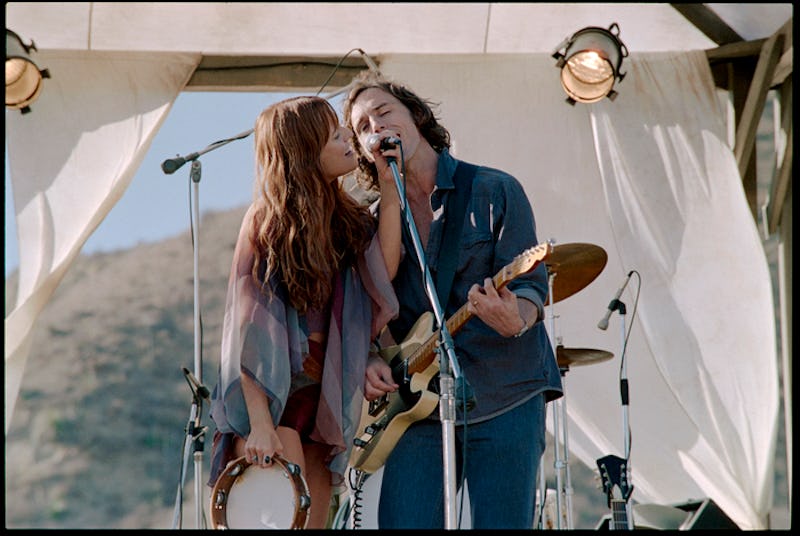 Lacey Terrell/Prime Video
Emotionally charged musical performances are at the heart of Taylor Jenkins' Reid 2019 novel, Daisy Jones & The Six. The fictional oral history of the 1970s, Fleetwood Mac-esque band was acquired by Reese Witherspoon's production company, Hello Sunshine, before it even hit shelves — so naturally, translating the musical charm from page to screen was always going to be crucial. But is the Daisy Jones cast really singing in the TV adaptation that dropped on March 3?
Riley Keough and Sam Claflin portray lead singers Daisy Jones and Billy Dunne. However, both of the actors have been open about the fact that they're not exactly musicians.
Keough said at a panel that she "lied" at her audition, "and told them [she] could sing," per People. Though she's the granddaughter of Elvis Presley, she was hesitant to suggest she's continuing his legacy in an interview with Entertainment Tonight.
"I've listened to music and my whole family are musicians and I've been around this world a lot and been on tour and all that kind of stuff," she explained. "But I'd never really done it myself. So for me, it was more about my personal relationship with getting to play music, which was fun."
Claflin, too, told Variety he was not super comfortable in the music area. "I went into a recording studio for the first time in my life, confronted with a microphone and people watching me in a fishbowl," he said. "I sang Elton John's 'Your Song.' Terribly."
Despite their concerns, both Keough and Claflin were cast — and promptly enlisted professional support. "[Claflin] would get on the Zoom and get on the guitar and he would work with his vocal coach," executive producer Lauren Levy Neustadter told Vanity Fair. "It was nonstop. He was really transforming into Billy, and Riley did the same."
Her husband, Daisy Jones showrunner Scott Neustadter, told Entertainment Weekly that the show "would've looked a lot different" if not for the extended pre-production practice period (a byproduct of the lockdown). "We would've had a little more movie magic involved ... but in this particular case, they were all really doing all this stuff," she said.
Even the onscreen bandmates who came into the project with a little more musical experience — like Suki Waterhouse, who plays Karen — described the challenge of landing the role. "I wore a wig in my apartment, got a really shaky keyboard from the local Target or whatever," Waterhouse told Us Weekly in 2021. "I spent the whole of Christmas learning, learning, learning ... that was the hardest I've ever tried to get something in my life."
Clearly, their efforts paid off. Before filming, the Neustadters had the fictional band put on a very real, live concert for Prime Video employees and their families, per EW. "We got to a place where we were like, 'Wow, I can't believe we can get through the whole set and set and not mess anything up,'" Keough said. "There was a moment in the beginning where we were thinking we were going to have to fake a lot of these things. The fact that we were able to do it for real — we impressed ourselves."
In addition to watching the band's work on the show, you can now listen to the entire Aurora album on Spotify.