Viewpoint Is Based On A Real Life Neighbourhood Surveillance Gone Awry
ITV's new five-part drama follows a plain-clothes police officer as he stakes out a Manchester suburb.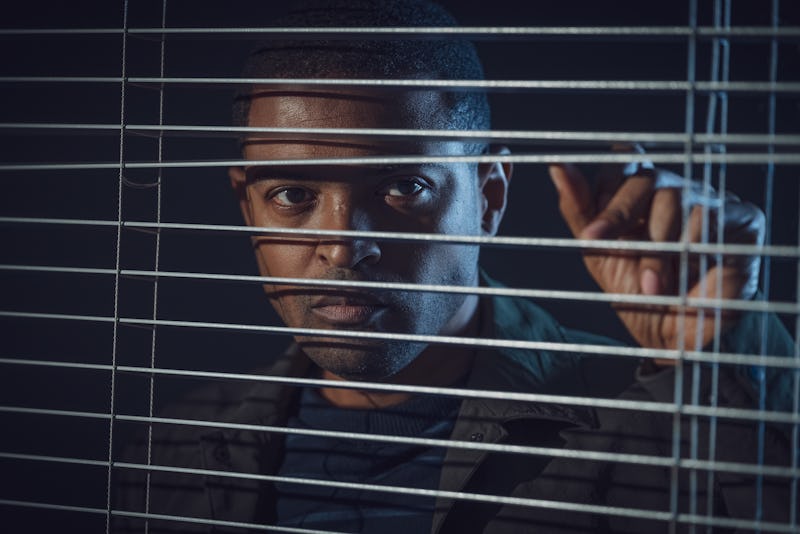 ITV / Viewpoint
If Series 6 of Line of Duty hasn't completely shredded your nerves, then you'll be pleased to know a new detective drama is on its way. Starting April 26, ITV's Viewpoint explores what happens when a police officer sets up a surveillance operation inside the home of a civilian. With Bronagh Waugh and Noel Clarke starring as detectives. The five-part series looks seriously gripping, but is ITV's Viewpoint based on a true story? Clarke and Waugh are a serious dream team but the tactics they use and the case they deal with feels too complex to be true.
Due to the nature of their work, covert police operations tend to remain just that. However, Viewpoint is loosely based on the show's creator Harry Bradbeer's experience of a secret police operation.
The director said in a statement. "[It was] something that happened to a neighbour of mine. One day she had a knock on the door from a plainclothes policeman who wanted to use her spare bedroom to observe "activity" on the street. He was there for a couple of weeks, peering through a [gap] in the curtains, but never revealing who he was looking at. She became intrigued and gradually worked out it was a case of drug dealing in the opposite house but it was odd having this man there. Her husband was away on business — it was both rather tense and erotic having this strange man in her flat. It struck me as a great premise for a TV series."
Viewpoint centres around DC Martin Young (played by Clarke) and DC Stella Beckett (played by Waugh.) They're investigating the disappearance of Gemma Hillman in Manchester. With the help of a parent at the school where Gemma works, the police set up a surveillance operation to find out more about a potential suspect in their neighbourhood. However, as boundaries are crossed the whole operation is put at risk. Per an ITV statement, the series "explores whether it is ever possible to observe the lives of others with true objectivity and zero effect." Prepare to ask yourself some difficult moral questions.
Meanwhile writer and producer Ed Whitmore revealed that Clarke's character was inspired by this idea of intimacy between a civilian helping out the police who are trying to crack a case. He said: "That interface of police work and a domestic environment presented an opportunity to have two planes of action to play out at the same time. That seemed like a fresh way of looking at police work."
You can catch the first episode of Viewpoint on ITV at 9 p.m. on April 26. It will run for the four following nights with the finale premiering on April 30.