Jada Pinkett Smith Hopes For "Answers" After An Arrest In The Tupac Shakur Case
The actor shared her thoughts on a major update in her late friend's murder case.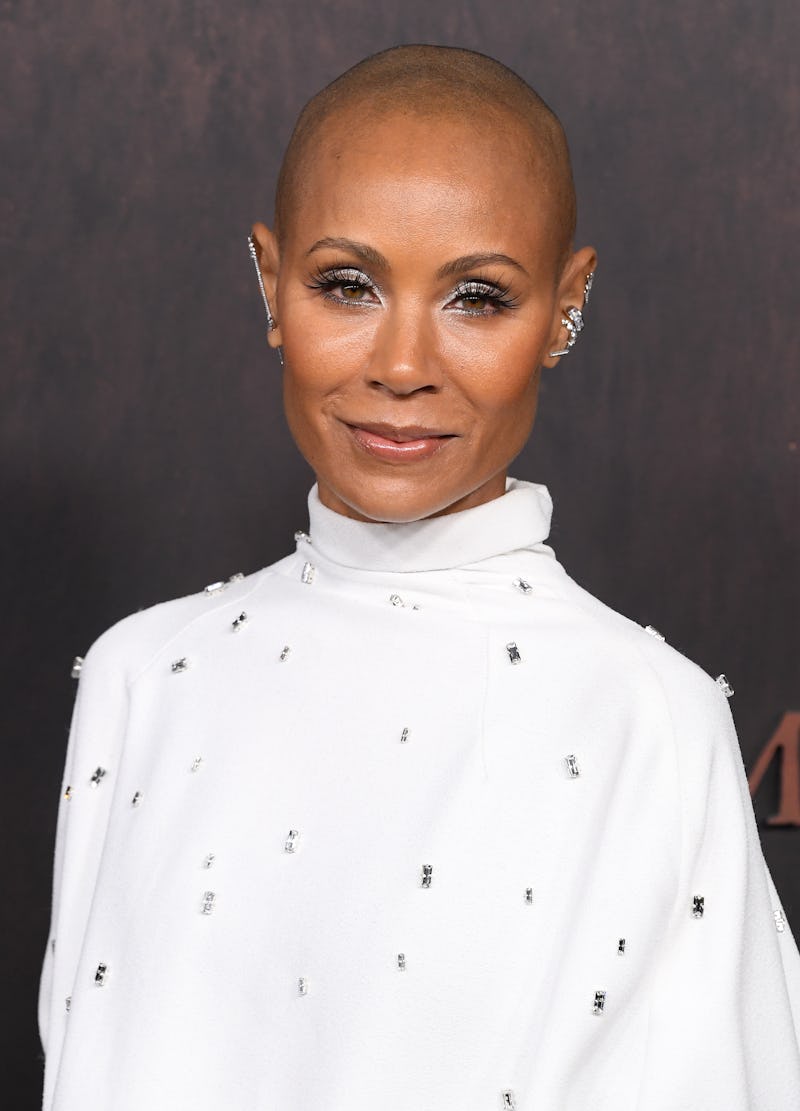 Steve Granitz/FilmMagic/Getty Images
It's been 27 years since Tupac Shakur was killed in a drive-by shooting on the Las Vegas strip, and Jada Pinkett Smith is still looking for closure. The Red Table Talk host was a close friend of the late rapper, so she shared her thoughts after she learned that a suspect had been arrested and charged with Shakur's murder on Sept. 29. In an Instagram story punctuated with a dove emoji, Pinkett Smith wrote, "Now I hope we can get some answers and have some closure. R.I. P Pac."
Las Vegas police arrested Duane "Keffe D" Davis, the last living suspect in the case, on Sept. 29, the Associated Press reported. Law enforcement did not accuse him of firing the gun, but Lt. Jason Johansson described Davis as the "shot caller" of the group of individuals that carried out the 1996 crime. Davis is charged with one count of murder with a deadly weapon for his alleged involvement.
The development in the case was a long time coming. Davis said that he was in the car when the fatal shots were fired during a 1998 BET interview, per CNN. He continued to reveal more about the killing in later years, even going so far as to put his account in the 2019 book Compton Street Legend, including that he put the gun in the backseat before a passenger there used it to shoot and kill Shakur. Johansson said "Davis' own admissions to his involvement" contributed to law enforcement's renewed efforts to solve the case in recent years.
For Shakur's loved ones like Pinkett Smith, the arrest brings a chance for closure. She spoke about their friendship on The Howard Stern Show in 2015, explaining that they were very close after meeting in high school but would "disagree hardcore" at times. They had a falling out over "the direction that he was taking" in their 20s and didn't manage to reconcile before he was killed at 25. Calling his death "really tragic," Pinkett Smith said, "I don't think I was guilty as much as I felt just sadness … for not having, you know, just the opportunity to tell him that I loved him, but I know he knew that."
In 2018, she spoke about his death during Red Table Talk Season 1, Episode 2 and explained that she's still coping with the tragedy. "That was a huge loss in my life," Pinkett Smith said, "because he was one of those people that I expected to be here. My upset is more anger, you know what I'm saying? Because I feel that he left me. And I know that's not true, and that's a very selfish way to think about it, but I really did believe that he was going to be here for the long run. And so when I think about it, I still get really mad. I get mad at God, I get mad at him, I get mad at everybody."