Jake Paul's Fighting Record Has Made Him A Million Dollar Baby
The YouTuber-turned-boxer was defeated by Tommy Fury, but still made bank.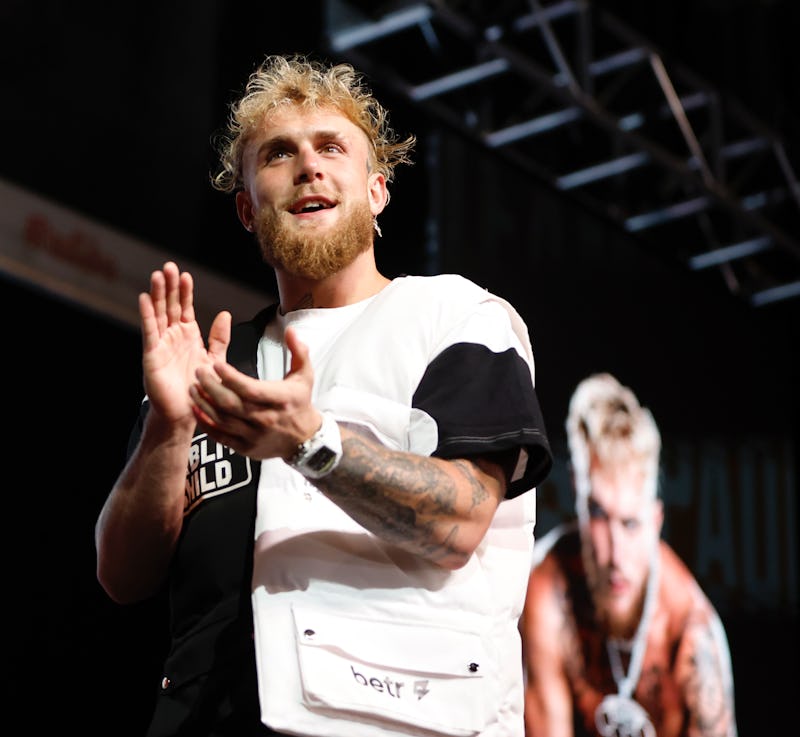 Chris Coduto/Getty Images
After two much debated postponements, YouTuber-turned-boxer Jake Paul finally faced Tommy Fury in the ring in Saudi Arabia on Feb. 26. And it was Love Island alum Fury who won the match, after a split decision from the judges. The pair had been planning to stage a boxing match since 2021, but pushed planned fights back twice due to Fury being hindered by injuries and visa issues. "It is official, Tommy Fury is boxing biggest b*tch," Paul previously said in response to Fury cancelling their planned match due to a rib injury and chest infection. Despite Fury winning the eventual fight, it was a good payday for both boxers. However, it's just a small slice of Paul's overall wealth, so how does he make all his millions?
4 Ways Jake Paul Makes His Money
Social media
Though Paul's since branched out into boxing, he originally rose to fame as a social media influencer on the now defunct video platform Vine. By the time the app closed down in 2016 he had racked up a whopping 2 billion views; while his YouTube channel attracts even greater numbers.There, Paul's videos have been watched 7 billion times, with 20.3m subscribers regularly tuning into his channel.
After posting his earliest videos on Vine and later launching his YouTube channel in 2014, The Mirror reports that Paul was making around $50,000 (£41,618) for sponsored social media posts thanks to his huge online following. He also became a millionaire, aged 17 according to The Hollywood Reporter.
"We started recording videos around our house, like doing dumb stuff," Paul told the latter, recalling his decision to start filming clips with his brother, fellow influencer Logan, in the first place. "Going four-wheeling or whatever. Then we found out about YouTube and fell in love with it and started uploading our videos." Initially "our friends were the only ones watching, but they thought we were hilarious. So it became like a hobby of ours. There's really nothing else to do in Ohio."
Boxing
Paul first began boxing in 2018, winning early fights against fellow YouTubers KSI and Ali Eson Gib. He later beat NBA player Nate Robinson and faced off against former professional mixed-martial artist Ben Askren, Tyron Woodley, and Anderson Silva. Next up, Paul will go head-to-head with professional boxer and former Love Islander Tommy Fury in a long-anticipated match between the two rivals.
According to Forbes, Paul made $38m (£31.5m) from boxing in 2021 alone. As per SportsZion, his fight purse – or payment – for his fight with Fury was $3.2m (£2.6m) with the media star also taking home a 65% cut of the pay-to-view proceeds. Along with sponsorship, the overall figure goes up to $8.6m (£7.1m). However, Paul lost out on the winner's additional million, having lost out to Fury.
"When I moved to Los Angeles to act and make content, it was a great opportunity, but I sort of left sports behind," he told Rolling Stone, speaking about his move towards the sport. "When I got the opportunity to box when I was 21, it brought back the old Jake Paul. It brought back the competitive, athletic Jake Paul. I just fell in love with it. When I won my first boxing match, it was one of the best feelings I've ever experienced in my life."
Acting
Paul has a handful of acting credits in A Genie's Tail and Airplane Mode, but his biggest role was in Disney's Bizaardvark, as Dirk Mann. He landed the regular role for an undisclosed sum, but was reportedly fired by Disney after he continued uploading online prank videos to his own account, and attracted controversy with his talent marketing company Team 10. Based in a house in West Hollywood, the property reportedly became a destination for house parties, fans gathering outside, and other disturbances caused while filming took place at the house. After Paul eventually was filmed jumping on top of a KTLA news van, the two parted ways. "They basically called me and were like, 'Yo, what's going on, what's going on?'" Paul told The Hollywood Reporter. "And I just explained the situation, and they were like, 'OK. We want to expedite this process of weaning you off the show.' And I was like, 'Yeah, that's fine. But it's going to look like you guys fired me.' And they were like, 'We can say that we mutually parted ways and blah, blah, blah.' And that's the reality of the story."
Businesses
As well as Team 10 - which Paul views as an attempt to "replicate what Dr. Dre did in the music industry in the social media business" – the influencer-turned-boxer also owns and invests in several other businesses. From Anti Fund ("venture capital for the pioneers and rebels manifesting the future") and merch company Fanjoy, to his promotion company Most Valuable Promotions and micro-betting app Betr, he has fingers in a fair few corporate pies. The latter, Betr, recently attracted $41.6m (£34.6m) in investments
What is Jake Paul's Net Worth?
Between his enormous online following, boxing earnings, and multiple businesses, Forbes puts Paul's net worth at an estimated $38m (£31.5m)
This article was originally published on