The James Corden Restaurant Ban Controversy, Explained
The talk show host has issued a public apology, but is that enough to save his reputation?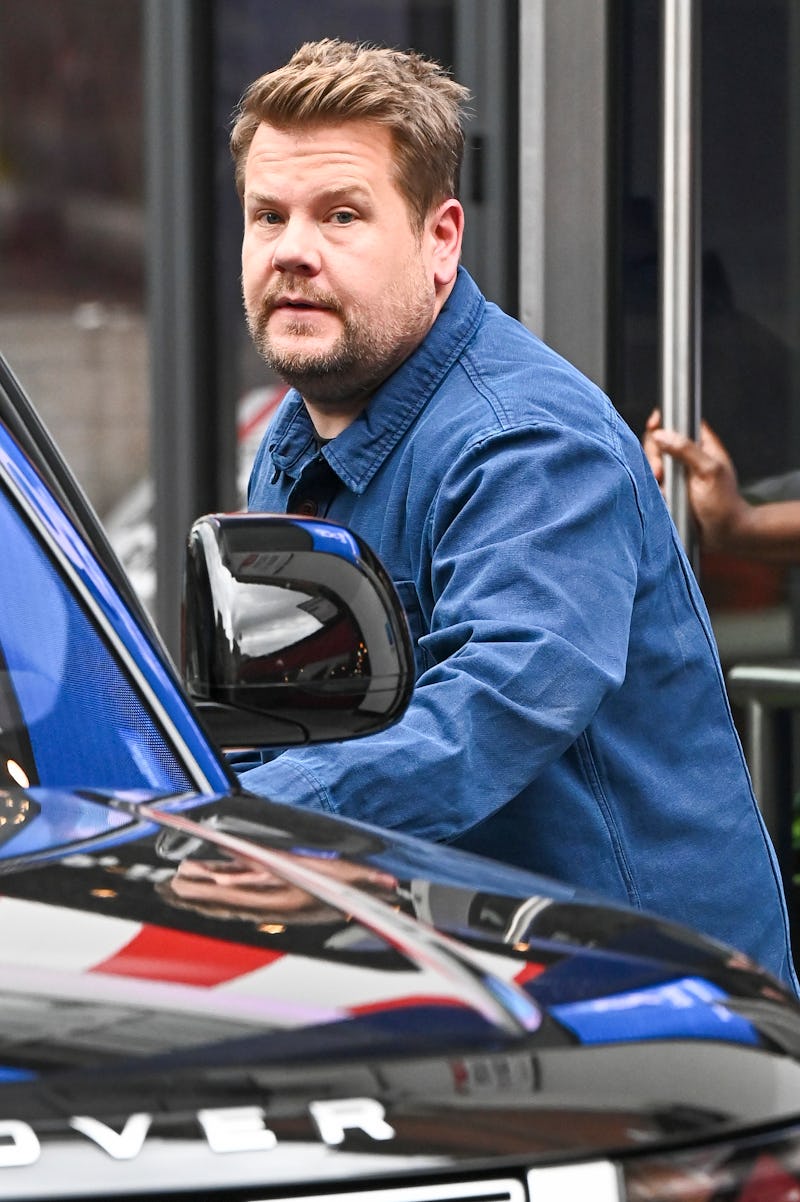 Getty Images/MEGA
The Late Late Show With James Corden is known for putting its guests in the hot seat. However, it was Corden who found himself firmly under the spotlight on Oct. 17 when he was publicly banned from the prestigious restaurant Balthazar in New York City by the owner himself. According to restauranteur Keith McNally, Corden was shown the door after previous trips saw him be rude to wait staff. But in a rather quick turnaround, the ban was lifted, with McNally claiming that Corden had called him and "apologised profusely" over the situation.
After initially, and seemingly reluctantly, opening up about the saga in an interview with The New York Times, Corden went on to address the incident on camera, during the Oct. 24 taping of his talk show. Discussing the most recent incident which took place at Balthazar, Corden admitted to making a "rude" comment to staff. He claimed to have done this after his wife, Julia Carey, was given food she is allergic to, despite having flagged her allergies whilst ordering.
"My wife was given the food she was allergic to. But she hadn't taken a bite of it. No worries, we sent it back, all was good," he recalled. "As her meal came wrong to the table the third time, in the heat of the moment, I made a sarcastic, rude comment about cooking it myself, and it is a comment I deeply regret."
Elaborating on the incident which has prompted mass online criticism of him, he said: "I didn't shout or scream. I didn't get up out of my seat. I didn't call anyone names or use derogatory language. I have been walking around thinking that I hadn't done anything wrong, right? But the truth is, I have." Taking accountability for the moment, he added: "I made a rude comment and it was wrong. It was an unnecessary comment. It was ungracious to the server."
Corden, who had his England-based parents present in Los Angeles for the show, went on to say that he would never intentionally upset someone and that he has the utmost respect for people in the service industry. Corden also acknowledged the fact his popularity has taken a major hit on social media, even going so far as to read some of the milder comments made about him online in light of the restaurant ban. It remains to be seen if his apology will be truly accepted by the public.
Corden's televised apology is in stark contrast to his recent interview with The New York Times, in which he didn't admit to, or apologise for, any wrongdoing in relation to the Balthazar incidents. Sitting across from the reporter in a New York City restaurant, the 44-year-old said: "I haven't done anything wrong, on any level. So why would I ever cancel this [interview]? I was there. I get it. I feel so Zen about the whole thing. Because I think it's so silly. I just think it's beneath all of us. It's beneath you. It's certainly beneath your publication."
After revealing that he may well address the situation on his talk show on Monday (Oct. 24), the dad-of-three then went on to downplay the incident, which has dominated online conversations this past week. He told the reporter: "I promise you, ask around this restaurant. They don't know about this. Maybe 15 percent of people. I've been here, been walking around New York, not one person's come up to me. We're dealing in two worlds here."
Highlighting his point, he added, "If I lived on Twitter, Hillary Clinton is the president of the United States and Jeremy Corbyn won by a landslide."
The saga began on Oct. 17, when McNally issued a very firm, public ban, informing everyone that Corden had been "86'd" (asked to leave) his restaurant. The business owner claimed: "James Corden is a hugely-gifted comedian, but a tiny cretin of a man. And the most abusive customer to my Balthazar servers since the restaurant opened 25 years ago." McNally went on to give two examples of Corden's alleged misdeeds.
The first instance was from June this year, when Corden is said to have been "extremely nasty" to a staff member after claiming he had found a hair in his food. As per the staffer's report, he not only demanded for his table's drinks to be on the house, but also threatened to write a terrible review on Yelp.
The second instance is from October 9, when Corden visited the restaurant with his wife. Having found a little bit of egg white mixed with the yolk in his dish, which was followed by another mistake when his re-made dish was delivered to the table with fries instead of a side salad, the 44-year-old reportedly began yelling.
"You can't do your job. You can't do your job! Maybe I should go into the kitchen and cook the omelette myself," he is claimed to have said. After the manager offered champagne to settle things, Corden was reportedly pleasant to him, but is said to have continued to be unkind to the server.
Taking to Instagram a few hours later, McNally posted another image of the talk show's face, only this time the message was rather less loaded. "James Corden just called me and apologised profusely. Having f*cked up myself more than most people, I strongly believe in second chances," McNally wrote. "Anyone magnanimous enough to apologise to a deadbeat layabout like me (and my staff) doesn't deserve to be banned from anywhere. Especially Balthazar. So Come Back to the 5 & Dime, Jimmy Corden, Jimmy Corden. All is Forgiven."
This article was originally published on