Jennifer Aniston Spoke Out About That Viral TikTok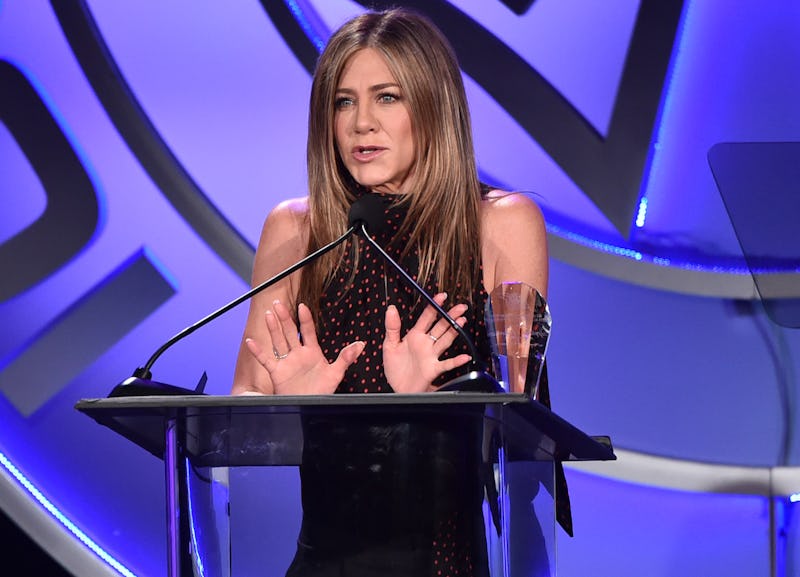 Getty Images
Since May this year, Jennifer Aniston has been credited with inventing a certain viral salad on TikTok. A twist on the traditional Cobb with chickpeas, mint, pistachio, red onion and cucumber, numerous TikTokkers have had a go at replicating the former Friends star's go-to lunch after her co-star Courtney Cox claimed that Aniston loaded up a bowl of the stuff every single day for a decade while filming the much-loved sitcom.
The rumours originally stem from an interview with Cox in 2010. "Jennifer and Lisa [Kudrow] and I ate lunch together every single day for 10 years. It was a salad that Jennifer doctored up with turkey bacon and garbanzo beans and I don't know what. She has a way with food, which really helps," Cox told The Los Angeles Times.
The resurfaced chat inspired @lovelydelites to recreate Aniston's supposed favourite meal of choice, and the dedicated #jenniferanistonsalad now has a whopping 18.2M views on TikTok.
Delicious as it may be, however, the actor has now spoken out to deny her affinity for the pulse-based bowl, setting the record straight on claims that she's partial to a daily dollop of chickpeas. "Well, that salad, dare I debunk that?" she told ELLE. "That's not the salad that I had every day on Friends."
'I feel terrible because it's literally taken off like crazy, and it looks like a delicious salad, by the way, but that's not the one that I had on Friends." she added. "I would never have that much chickpea in a salad, to be honest. Not good for the digestive tract."
And as for the genuine Friends salad recipe? The show's star stayed tight-lipped.