Jennifer Aniston Says Therapy Helped Her Reach A "Really Peaceful Place"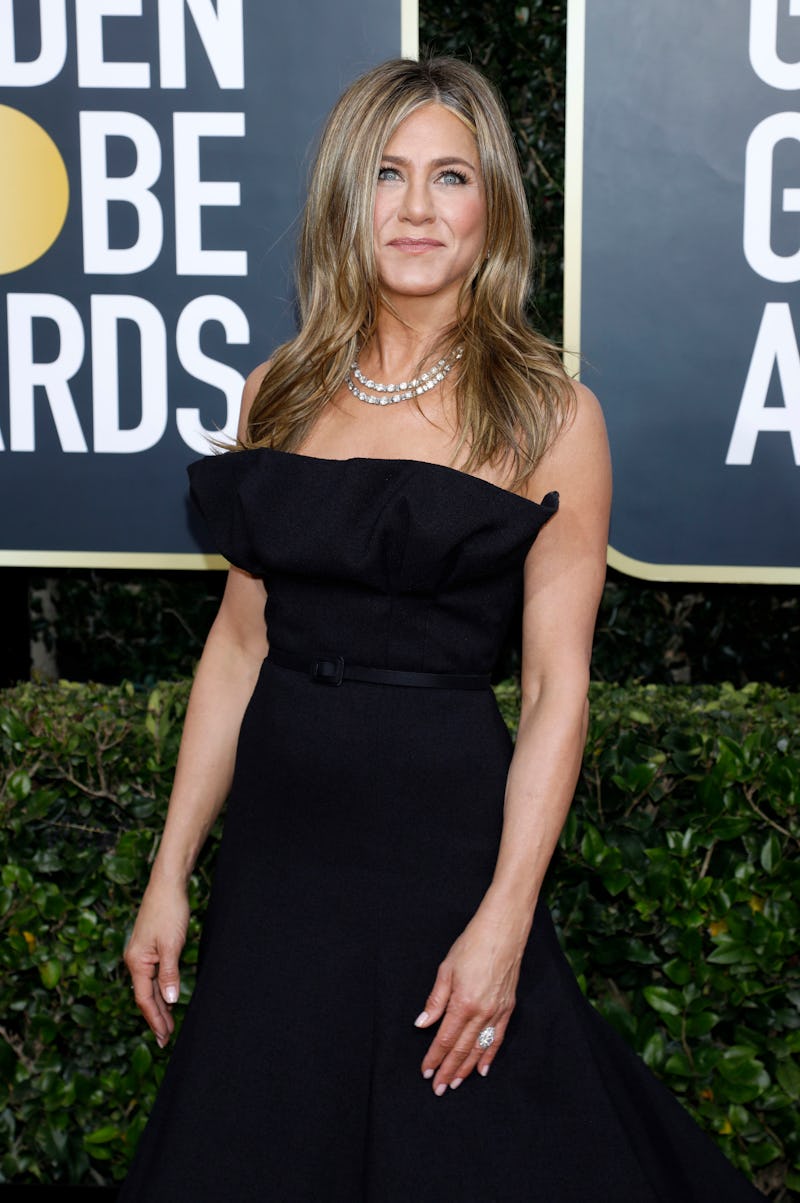 Barcroft Media/Barcroft Media/Getty Images
Jennifer Aniston isn't sweating the small stuff. In a People interview published on Wednesday, June 23, the Friends alum gave the magazine a much-needed life update — and honestly, the 52-year-old actor has never been better. "I'm in a really peaceful place," she told the news outlet. "I have a job that I love, I have people in my life who are everything to me, and I have beautiful dogs. I'm just a very fortunate and blessed human being."
Getting to this place was a long journey, and Aniston credits therapy, meditation, and sunsets for helping her get there. "I've really gotten a lot out of therapy," she revealed, adding that there are many advantages and disadvantages to living life in the public eye. "Just being a public person, there's a lot of amazing things that come with that. But there's also a lot of tough stuff, because we're only human, and we tend to walk around with bulls-eyes on our heads."
In addition to living such a public life, Aniston has a career to maintain. Season 2 of her hit Apple TV+ series, The Morning Show, is set to hit the streaming platform in September. She also recently appeared in the highly anticipated Friends reunion special, which debuted on HBO Max late last month. Even with such a busy schedule, Aniston prioritizes taking time out of every day for herself — preferably as the sun sets.
"It's my favorite moment," she told People. "I wish we could freeze time in that magic hour because there's a lot of taking it all in, the appreciation of the day and what's happening." Meditation has also helped Aniston keep herself centered. "I meditate every day — and sitting quietly, writing," she said. "That's enough. And any kind of yoga practice is my meditation. I just have faith in a bigger picture, I guess. And I believe in humanity, even though there's so much to discourage us from believing in it — but I do."
Although she feels peace about where she's at in life, her family and friends can't exactly say the same. According to the Morning Show star, the people in her life are still eating up tabloid rumors as if they're the truth. "Sometimes you can't help family members or people sending stuff over going, 'What is this? You're having a baby? Are you getting married?' It's like, 'Oh, good gosh, when and how many years will it take for you to ignore that silliness?'"
In the past, Aniston has hit back at dating and pregnancy rumors. In 2016, for example, she wrote an op-ed for the Huffington Post where she slammed tabloids for portraying her as "incomplete" without kids. "The sheer amount of resources being spent right now by press trying to simply uncover whether or not I am pregnant (for the bajillionth time... but who's counting) points to the perpetuation of this notion that women are somehow incomplete, unsuccessful, or unhappy if they're not married with children," she wrote.
Elsewhere in the piece, she said she's tired of the media's obsession with her changing body. "I resent being made to feel 'less than' because my body is changing and/or I had a burger for lunch and was photographed from a weird angle and therefore deemed one of two things: 'pregnant' or 'fat,'" she wrote at the time. "Not to mention the painful awkwardness that comes with being congratulated by friends, coworkers and strangers alike on one's fictional pregnancy (often a dozen times in a single day)."
Two years later, she's no longer letting tabloid rumors get in the way of living a happy and peaceful life. Instead, she's focused on being the best person she can be. "I have a good heart, and I'm a great friend," she told People for the magazine's latest issue, which hits newsstands on Friday, June 25. "I lead with love."