Jennifer Aniston Felt "Heartbreak" While Filming The Friends Reunion
"It was a sucker punch in the heart."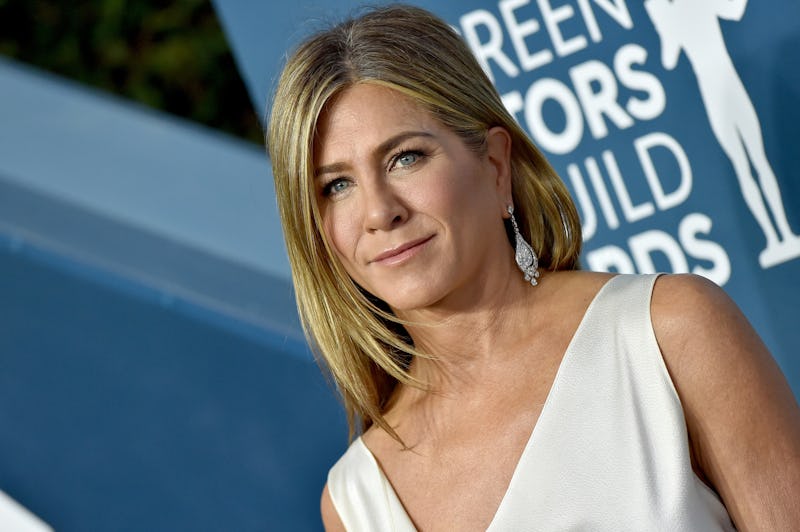 Axelle/Bauer-Griffin/FilmMagic/Getty Images
HBO Max's emotional Friends reunion has come and gone, but it was an experience the cast will always remember. On a recent episode of SiriusXM's Gayle King in the House, Jennifer Aniston got candid about returning to the set 17 years after the finale, calling it a "sucker punch in the heart." Fortunately, she wasn't the only cast member who felt that way. "It was for all of us, I think," the Morning Show star told the host. "Even Courteney [Cox] we got tears out of."
Aniston, who played Rachel Green on the beloved sitcom from 1994 to 2004, admitted that the cast was "very naive" before reuniting at the Warner Bros. studio to film the special. In other words, none of them could've possibly anticipated the emotions that came flooding back when they saw the different sets again in such great detail, down to the "tchotchkes" on the shelves. "We romanticized it, but you also have to remember we haven't been there [since the series finale]," the actor said.
The reunion ultimately sparked emotions that the show's leads — Aniston, Cox, Lisa Kudrow, Matthew Perry, David Schwimmer, and Matt LeBlanc — didn't even know existed. Aniston suspects that a lot of those intense feelings came from remembering what it was like leaving that chapter of their lives behind. "That time was a very specific time, when we were saying goodbye to something that we didn't want to, we cared deeply about, but we knew it was the time to say goodbye," she said. "Our lives were ahead of us. We had our future ahead of us."
"It almost felt like time had stopped and we time traveled," the We're The Millers star continued. "And there's good in that, and then there's heartbreak in that." She's certainly not the only one who felt that way, either. On May 6, Cox appeared on The Ellen DeGeneres Show and spoke briefly about filming the reunion after it was postponed twice due to the COVID-19 pandemic. "It was unbelievable," she said. "It was so emotional. It's an unscripted reunion, but we got to be on Stage 24 for the first time, all of us in, like, I forgot how many years. 15 years? 17 years?"
When the special was released on HBO Max on May 27, longtime fans of the series were treated to a truly nostalgic two-hour event full of table reads, a reimagined version of Ross's trivia game from Season 4, and some of the show's most iconic costumes. Celebrity guests including Justin Bieber, Cara Delevingne, and Cindy Crawford made surprise appearances and modeled everything from Ross's Holiday Armadillo suit to his tight leather pants. Lady Gaga even showed up to perform "Smelly Cat" with Kudrow. The reunion was full of laughs and tears, just as die-hard fans expected.
"There were a lot of surprises," Kudrow said during a virtual visit to The Talk, which is set to air on June 2. "It was also surprisingly really emotional, really emotional for us. We were like dabbing eyes, and you kind of don't know why." In part, it was because they hadn't seen each other in a while. It was also because they recently came out of a year in lockdown due to the pandemic. "We got tested so much," Kudrow continued. "We were allowed to hug. And I felt like it was the first time I was hugging people, much less these people," she explained. "It was great; it was really great."