Jennifer Garner Reveals A 13 Going On 30 Easter Egg In Sex And The City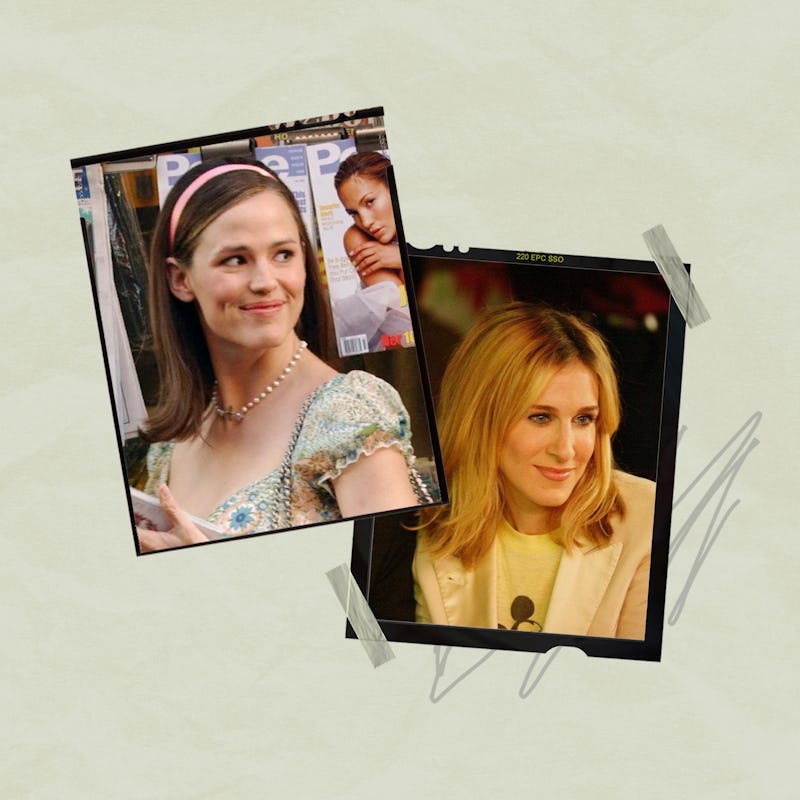 Arnaldo Magnani/Getty Images/HBO
When it comes to famous film dresses, you can't get much more iconic than Jenna Rink's "Thriller" outfit from 13 Going on 30. Nearly two decades after Jennifer Garner sported the dress in the 2004 film, its impact is still very much alive — appearing everywhere from Halloween parties to Ariana Grande on The Voice. Fortunately, Garner doesn't gatekeep: "It's impossible to even tell you how warm and fuzzy it makes me to see that Jenna Rink still has a life," she told People in 2021. "Because that cast, that experience, it was as beautiful as it was to make it. And the fact that it lives on is even more special."
But while you can spot the dress (er, replicas of it) in a wide variety of high-profile homages, there's one place you probably didn't catch it: on an extra in the background of a Sex and the City episode. Garner pointed out the sneaky cameo in a recent interview with Cosmopolitan.
"I did not keep one stitch of clothes from that movie," she said. "The dress just went back to the warehouse and actually showed up on a background player in Sex and the City at some point. And then it just disappeared. Nobody knows where it is. So, somebody has that dress."
Indeed, the dress can be seen on a theatergoer toward the end of Season 6, Episode 5: "Lights, Camera, Relationship." This is the episode where the girls came out to support Smith Jerrod's play — the one where he bares it all on stage, of course. It's also the beginning of the end for Carrie and Berger, where they had that huge fight because he couldn't deal with her success.
The Sex and the City episode actually aired in the summer of 2003, nearly a year before 13 Going on 30 came out. But both titles filmed around the same time and were apparently inspired by the same Versace Spring 2002 Ready-to-Wear Show. As Vogue points out, Jenna's dress had the same cut as Look 5 in the show, with a slightly different color and pattern. "If anyone is perfectly at ease with lime green, magenta, turquoise, yellow and pink, mind-blowing prints, and cuts that go flip-va-boom when a woman moves, it's Donatella," the magazine wrote of the dress' 2002 debut. "All that is her birthright, and with this collection she showed the amateurs how it's done."
And Just Like That... has revisited throwback looks from the original run of Sex and the City, so who knows? Maybe the 13 Going on 30 dress will sneak its way back onto the screen in Season 2 — even if it was just an extra's outfit.