Everything To Know About And Just Like That... Season 2
Plan your viewing party accordingly.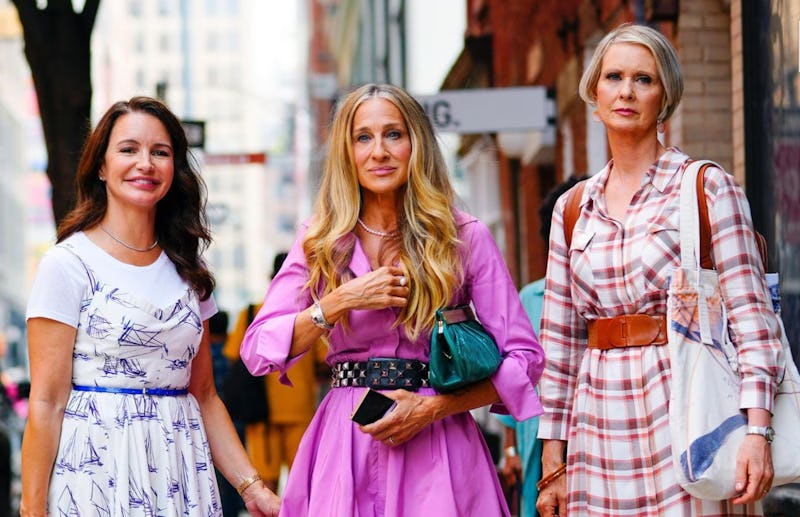 HBO
HBO Max's Sex and the City reboot series, And Just Like That..., has been a hot topic of discussion since its December 2021 premiere for many reasons — not all of which are positive. Between Kim Cattrall's initial refusal to appear as Samantha Jones, Mr. Big's bombshell heart attack and passing, Chris Noth's subsequent sexual assault allegations, Stanford Blatch actor Willie Garson's heartbreaking mid-production death, and the mere existence of stoner comedian Che Diaz (Sara Ramirez), both the Darren Star-created dramedy's script and accompanying press cycle have gone in unpredictable directions. Despite receiving mixed to negative reviews, the premiere episode of And Just Like That reportedly became HBO Max's most-viewed series debut to date.
Though originally announced as a miniseries, And Just Like That will return for Season 2, as HBO Max announced on March 22. A January Page Six report first hinted at this confirmation, with a source claiming, "The creative conversations haven't happened yet, but everyone is feeling good about the show." Another knowledgeable insider added: "They may feel that they want to prove a point that they can make a second season stronger and that it was valid to bring it back for fans." In the press release confirmation, King stated, "I am delighted and excited to tell more stories about these vibrant, bold characters - played by these powerful, amazing actors. The fact is, we're all thrilled. And Just Like That… our Sex life is back."
Meanwhile, in a brief exchange with Page Six in March 2023, Sarita Choudhury, who portrayed the new character Seema Patel in And Just Like That, teased that the second season will be "very different from Season 1." According to the actor, the new episodes will be "funnier." The actor also opened up about John Corbett returning to the series as Carrie Bradshaw's ex, Aidan Shaw. "[The excitement] makes sense … I would also be like that. When you think about it, he's back!" the actor said of the fan reactions. "I'd never met him so I was kind of like a fan as well, you know what I mean? He's great, he's a great guy."
Here's everything you need to know about Season 2 of And Just Like That, including its plot, cast, trailer, release date, and the surprise return of a fan-favorite character.
And Just Like That... Season 2 Release Date & Trailer
The And Just Like That... release date will be June 22, HBO Max announced. Two episodes will premiere that day, followed by nine weekly episode drops. The reveal comes after the streamer shared the first teaser for the season, which includes more Miranda and Che and a glimpse at Aidan's return.
On June 1, Parker revealed the second Season 2 trailer on her Instagram, giving more insight into what Carrie and the gang are up to this year. Miranda runs into challenges in her new relationship with Che, Charlotte is offered a flashy new job (plus coming home hilariously drunk), and Carrie is just starting to get over the loss of Big when Aidan pops into her life once again — and she seemingly made the first move.
And Just Like That... Season 2 Cast & Plot
Considering Carrie Bradshaw (Parker), Charlotte York (Kristin Davis), and Miranda Hobbes (Cynthia Nixon) already lost one friend between Sex and the City and And Just Like That, it's hard to imagine HBO Max would greenlight another season without the three main actors returning to their starring roles. Since the series premiere, Cattrall reportedly liked a tweet referring to the Sex And The City reboot as "trashy" — so it seemed that she would likely not return to the franchise.
But on May 31, a miracle happened: Variety reports that Samantha would appear in a cameo in the Season 2 finale. The context of her brief appearance is reportedly a phone call that Cattrall already filmed, "without seeing or speaking with the stars of the series." But still... it's something! The actor confirmed the big announcement on her Instagram the next day, making it clear that her return was a treat for Pride Month. "Happy Pride," she wrote, linking back to Variety's article.
Reacting to Cattrall's grand return, Evan Handler (aka Harry Goldenblatt) told PEOPLE that he thinks it's "great," adding: "Apparently, [her cameo] was shot in the garage somewhere with no contact with anybody, so the only place I have to welcome her is into my living room when it airs on television." Sex and the City author Candace Bushnell was even more ecstatic, telling Page Six that "a lot of people miss" Samantha. "When I heard the news I was happy and surprised,' she said. "There was a piece missing. She was a major part of that girlfriend circle. I think will be a great season. I'm happy that Kim is going to go on there. I think it's probably the greatest thing for the show."
As for everyone else? Despite his character dying in Season 1's premiere episode, Noth was reportedly set to appear as Mr. Big one last time through a flashback in the season finale. But after several women publicly accused him of sexual assault, which he's denied, Noth's cameo was scrapped and reshot, so don't expect the disgraced actor back on And Just Like That anytime soon. Carrie's longtime confidante Stanford Blatch was also written out of Season 1 following actor Garson's September 2021 death due to worsening pancreatic cancer, so unfortunately you won't see his glasses-wearing, smiling face either.
On August 19, Deadline reported that John Corbett would be returning to the SATC universe for the reboot's second season as Carrie's former flame Aidan Shaw. He was previously expected to appear in And Just Like That... Season 1, telling Page Six in April 2021, "I think I might be in quite a few [episodes]." He ultimately did not, upsetting fans. The reboot's executive producer Julie Rottenberg said that he should apologize to fans for "overpromising his return."
If anyone was doubtful about Corbett's return to the Sex And The City universe, it was confirmed on Jan. 13. Photos of him and SJP filming in New York were shared on the show's official Instagram account.
Parker teased Corbett's "happy" return to the SATC universe in a Feb. 7 interview with Extra, giving fans an idea of what to expect. "He brings a lot of joy," she said. "He's a kind of preternaturally happy person and he's so excited to be back. It's an amazing storyline that [King] and the writers have sorted out, and I think will be really meaningful to the audience who feel a lot of affection for him."
However, she steered clear of revealing exactly what Aidan was up to. "I can't say anything except, it's just really great to be in his company again and to have a storyline that is also happy and fun and familiar, but new because it's been 10, 15 some years," she said.
Parker went on to share new images with Corbett in an Instagram post on Feb. 10, where the two are pictured embracing each other and kissing on a New York street. Actor Gwyneth Paltrow instantly commented: "NO WAY." Meanwhile, paparazzi captured snaps of Carrie and Aidan kissing at the bottom of a stoop.
With Miranda skipping town to join Che in California, her marriage to Steve Brady is essentially over, making it unclear if David Eigenberg would reprise his lovable character. However, Steve makes a blink-and-you'll-miss-it appearance in the second Season 2 trailer. Eigenberg's return is assured, though it's not known how much he'll actually be seen this season.
However, Che Diaz (Ramirez) will be back, according to showrunner Michael Patrick King. "One of my burning passions about Season 2 is Che," he told Variety. "I want to show the dimension of Che that people didn't see, for whatever reason – because they were blinded, out of fear or terror. I want to show more of Che rather than less of Che. Like, really."
Among the other characters likely to return for Season 2 are Anthony Marentino (Mario Cantone), Lisa Todd Wexley (Nicole Ari Parker), and Dr. Nya Wallace (Karen Pittman).
On Instagram, musician Sam Smith seemingly announced a Season 2 guest-starring role. "Up to something unholy on set," they captioned a Feb. 22 Instagram post, which the show's official account also posted simultaneously. HBO confirmed to Entertainment Weekly that Smith will appear in AJLT, but details of their role are currently under wraps.
On May 9, it was announced that Candice Bergen (who played Carrie's Vogue editor, Enid in the original series) will return for And Just Like That... Season 2. Gloria Steinem will play herself, Deadline added.
This article will be updated as more information about And Just Like That... Season 2 becomes available.
This article was originally published on