Exes Jennifer Lopez & Ben Affleck Have Reportedly Been Meeting Up
Bennifer is back in the spotlight after J. Lo's split from Alex Rodriguez.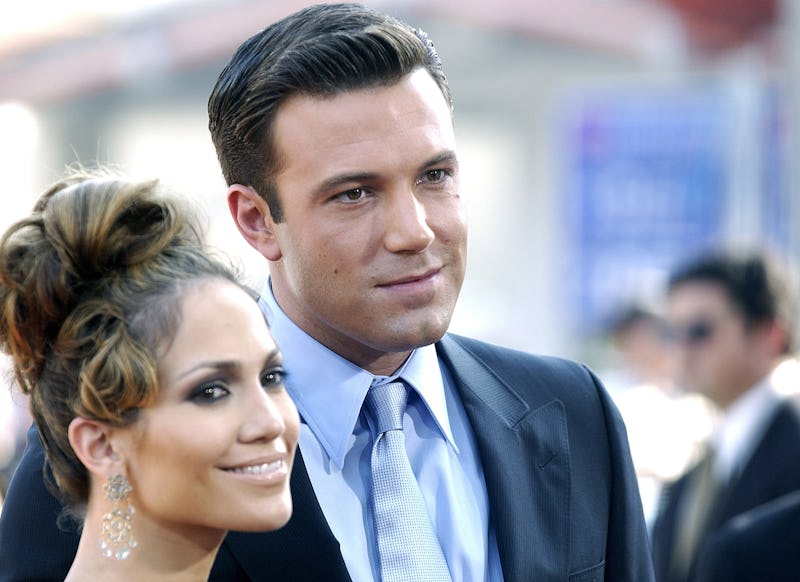 Chris Weeks/FilmMagic/Getty Images
Bennifer rides again — sort of. Exes Jennifer Lopez and Ben Affleck have been spending time together in Los Angeles, following the singer's recent split from Alex Rodriguez, as Page Six reported via a source on Friday, April 30. Although the actor pair, who broke off their own engagement in 2004, has yet to be spotted together, Affleck was recently photographed exiting a white Escalade SUV that reportedly belongs to Lopez, with a source saying that the Gone Girl actor has secretly gone to his ex's Bel Air home three times since April 22.
"Security picks him up at a nearby location and drops him off after spending a few hours at her house," the source told Page Six. However, one insider noted to the outlet that Lopez and Affleck "are friends" and have "never not been."
Soon afterward, People confirmed Affleck's visits, though also cautioned fans not to read too much into them, via their own source: "They are friends. They have always been friends and they have seen each other through the years."
Affleck isn't the only famous ex Lopez has hung out with in recent weeks. After she and Rodriguez announced the end of their two-year engagement in a joint statement on April 15, the pair reportedly had dinner together at Los Angeles' Hotel Bel Air a week later. A source told Entertainment Tonight that they both arrived and left separately, noting that "the dinner did not appear to be a romantic situation."
Meanwhile, an insider recently told People that Lopez had been leaning on ex-husband Marc Anthony, with whom she shares 13-year-old twins Max and Emme, following her breakup with Rodriguez. Their source noted that they "have a great relationship" and that having Anthony around while she recently filmed Shotgun Wedding in the Dominican Republic was "very comforting."
It should come as little surprise that Lopez and Affleck are on good terms. In a cover story for InStyle's May 2021 Beauty Issue, Affleck commented on everything from his ex-fiancée's work ethic to her "J. Lo glow." After co-starring in 2003's Gigli, the Oscar winner said he "was completely humbled and blown away by what she was committed to doing day in and day out, the seriousness in which she took her work, the quiet and dedicated way she went about accomplishing her goals, and then how she would go back and redouble her efforts."
He added, "She remains, to this day, the hardest-working person I've come across in this business. She has great talent, but she has also worked very hard for her success, and I'm so happy for her that she seems, at long last, to be getting the credit she deserves." After Affleck jokingly asked where she keeps the fountain of youth since she looks the same as she did in 2003, Lopez replied, "Ben is funny! He still looks pretty good too."
All things considered, it seems that Lopez has had no issue remaining friendly with some of her most famous exes.