Jessica Barden Faces Her Demons — & Some Haunted Dolls
The 28-year-old actor puts herself through the wringer for her roles.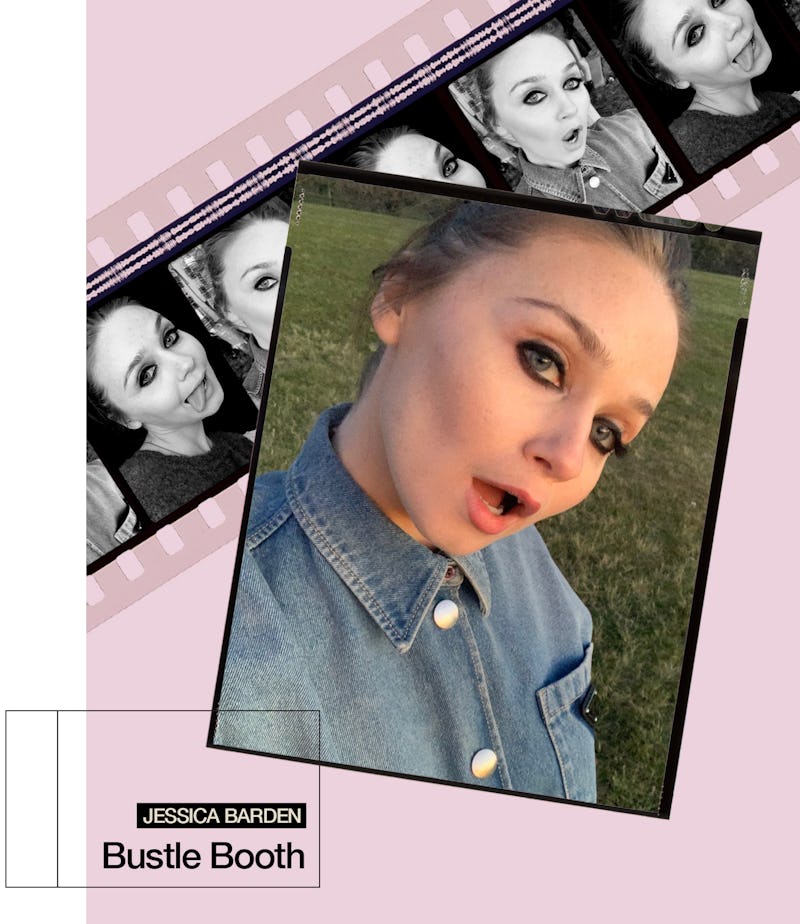 Jessica Barden
Jessica Barden is attracted to projects that are "somewhat autobiographical." Both of the actor's recently released movies, Holler and Pink Skies Ahead, explore issues within working class families — familiar territory for The End of the F***king World star. "I'm a working class person, and I always will be," she tells Bustle.
As a newly-minted producer, the 28-year-old is working to highlight actors from similar backgrounds. "I want to advocate for working class people and talent, because I still don't think we have the same opportunities in the industry as other people," Barden says. "I realized that if I was a producer, I could make sure those people are auditioning."
And of course, she'll continue to tell those stories as an actor — hardly an easy feat, given how Barden throws herself into her roles. In Holler, Barden plays Ruth, a teenager struggling to support herself and her brother (Gus Halper) while their mother (Pamela Adlon) is in prison. Director Nicole Riegel — who loosely based the film on her own youth — had Barden live with Halper for a week as a bonding exercise. Easy enough, except that the house they shared was "absolutely haunted."
"We were in an Airbnb in the middle of Chillicothe, Ohio, and the only person near us was this old man who lived alone on a farm with his dog," says Barden. Every room was themed, and one was filled with old porcelain dolls: "It really felt like those dolls would come to life." At one point, she and Halper were locked out, and the neighboring old man had to break the locks to get them inside. "We thought that this is how he'll break in and kill us in the night. We literally thought we were going to die," Barden laughs.
Pink Skies Ahead, directed and written by Kelly Oxford, offered a different kind of personal challenge. Playing Winona, whose struggles with anxiety mirror Barden's own, gave her the clarity to take her disorder seriously.
"The thing about anxiety is that it works its way into your life so seamlessly," Barden says. "You just think it's part of your personality. Through making this movie, I realized that it's not your personality, and I needed therapy, and deserved to get help."
Get to know more about Barden, including her love for RHOBH's Kim Richards, in her Bustle Booth questionnaire below.
In the Bustle Booth
What's your coffee order?
I don't drink coffee because of my anxiety. I'm very boring.
What are the saved weather locations on your phone?
Coogee, Australia, where I currently am. And also Los Angeles, Paris, Leeds, and Sydney.
What's your sign?
Cancer.
Favorite overused movie quote?
"Don't f*ck with me fellas! This ain't my first time at the rodeo," from Mommie Dearest. I say it all the time.
What was your favorite cartoon as a kid?
Pocket Dragon Adventures.
What's one movie or TV show you're currently obsessed with?
Real Housewives of Beverly Hills. When I'm working a lot, I love to just come home and watch trash.
Who is your celebrity idol?
I have so many. My serious answer is Isabelle Huppert, because I love her acting and career. And my not-so-serious answer is Kim Richards from Real Housewives of Beverly Hills, because she is the greatest reality TV star of all time. And she's also overcome so much.
If you had to be on a reality TV show, what would it be?
Below Deck Mediterranean, because I'd want to meet Captain Sandy Yawn.
Go-to karaoke song?
"Islands in the Stream" by Dolly Parton and Kenny Rogers, in a duet with my best friend Bill. But I sing Kenny's part and he sings Dolly's.
What's something that's inspired you lately?
I had a medical scare not long ago that I won't go into, but I was told that my odds weren't great. It was the most terrifying thing that's happened to me. Every single day I just had to wake up and believe that the universe was going to be on my side. In the end, the odds were in my favor, and it made me think that if I truly believe something and project that energy into the universe, then everything will be okay. That experience inspired me a lot.
What is something you would want people to say about you?
I don't want people to say anything, because they always have a lot to say. Just kidding. I'd want them to say that she was really great. That sounds lame, but I want people to think that I'm a great person.
This interview has been edited and condensed.