Joel's Fate In The Last Of Us Video Game Sparked Outrage
"I knew people would get upset."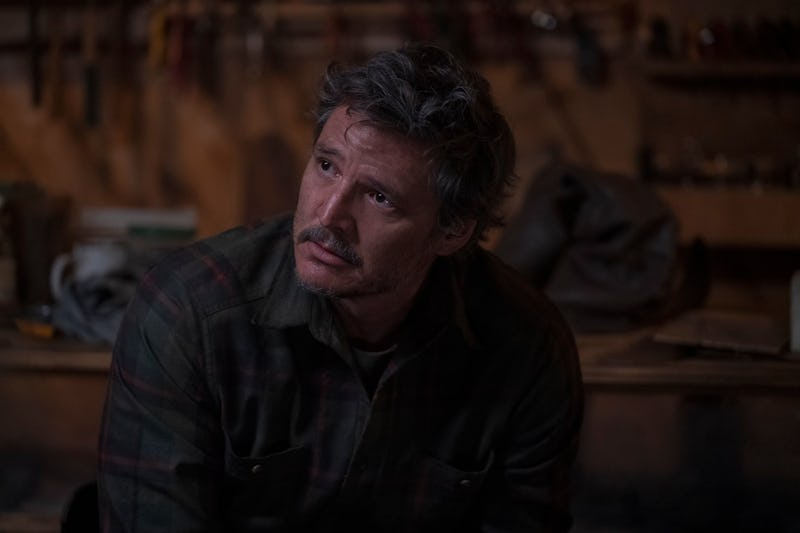 Liane Hentscher/HBO
Major spoilers ahead for The Last of Us video game. Joel and Ellie's perilous journey in The Last of Us finally seems to be heading in the right direction by Episode 6. HBO's promo teases the emotional reunion between Joel (Pedro Pascal) and his brother Tommy (Gabriel Luna) as he and Ellie (Bella Ramsey) reach Jackson, Wyoming on horseback. If the plot of Neil Druckmann's video game is any indication though, the happy moments likely won't last for long. In the adaptation's source material, Tommy tells his brother that he and Ellie could find Fireflies at the University of Eastern Colorado in Boulder. It's there that Joel has a near-death experience when he's impaled during a fight on the abandoned campus.
While he comes close, Joel does not die from the wound. In fact, he will likely survive the entirety of Season 1, which is based on the first game and its Left Behind expansion pack. In the final chapter, Joel safely delivers Ellie to the Fireflies in Salt Lake City, Utah, where Marlene tells him that the scientists will have to kill the immune teen to make a vaccine for the Cordyceps infection that destroyed civilization. After killing Marlene, Joel also takes out every Firefly he sees, including the doctor who's about to operate on Ellie's brain.
If the already announced The Last of Us Season 2 follows the plot of the second game though, Joel's luck will eventually run out. The Last of Us Part II game picks up four years later when he and Tommy rescue a stranger named Abby from a horde of Infecteds. It's later revealed that Abby is a former Fireflies member and the daughter of the lead doctor Joel killed in Salt Lake City, and she's come to avenge her father's death. After she and her friends trick Joel and Tommy into letting their guards down, Abby shoots Joel in the leg and beats him to death with a golf club while Ellie is forced to watch the brutal murder.
Before Naughty Dog even released the game on Playstation in 2020, a leak about Joel's death sparked outrage among shocked fans who'd become attached to the character. Aside from the brutal slaying itself, some players also had a hard time believing that a hardened survivalist like Joel, who trusted nobody, would have made himself so vulnerable in the first place, according to Game Rant. Others added that the ambush seemed to happen too easily, and that the manner of Joel's death was a bigger offense than the death itself.
Online hate towards the developers, voice actors, and others, included review-bombing, boycotting threats, and even grew to include death threats. "I knew people would get upset at a character they loved dying. I never thought it would reach this kind of hate," Druckmann said on a Kinda Funny Games podcast episode at the time. "We've never shied away from the fact that we said there was going to be fans of the first game that don't like this game, and this is the reason why, because we killed Joel in this fashion."
Appearing on a July 2020 episode of The Official 'The Last of Us' Podcast, Druckmann, who co-created the HBO series, also explained that he'd decided Joel's fate during the final days of production on the first game. "In my mind, Joel's arc was pretty much done — I didn't know where else to take that character," he added of his reasoning to focus on Ellie and Abby in Part 2. "It felt at least at the time it was going to be right for all these other stories."