Chrissy Teigen's Pregnancy Loss Taught John Legend An Important Lesson
"We felt a real sense of community by sharing it with other people."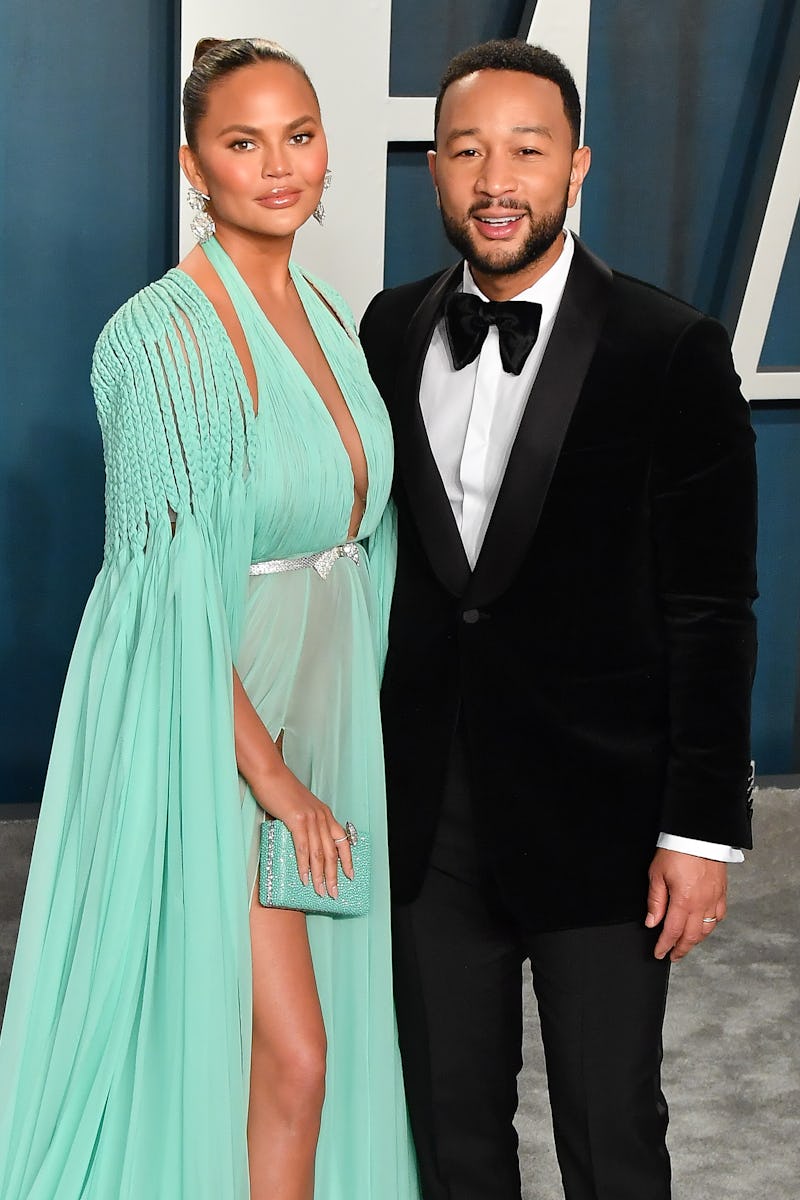 Allen Berezovsky/Getty Images Entertainment/Getty Images
Chrissy Teigen loves sharing her life on social media. And while some people may argue that the Cravings author often overshares, her husband John Legend has come to appreciate her vulnerability — especially in the wake of her pregnancy loss last September. On Wednesday, April 28, the singer opened up to CBS This Morning about what he learned from sharing their pain with the world and why he's grateful that Teigen decided to go public with their heartbreaking story.
"You know, Chrissy always is more sharing than I am. I'm a bit more private," Legend said, explaining that he was more skeptical about whether sharing the loss of their son was the right move. "But what I've learned through that process is, first of all, how often this happens to so many other families around the world." The "All of Me" singer also added that opening up their story to the public ultimately allowed them to connect with so many other couples who have been through the same thing.
"We felt a real sense of community by sharing it with other people," Legend continued. "They felt seen by us, we felt seen by them, and I think it helps everyone deal with their grief when they know there are other people out there feeling it too." Despite being hesitant about sharing their pain, Legend told host Gayle King that, in hindsight, he's "so glad Chrissy's instinct was to share this because it was really the right thing to do."
"I think it helps us get through it, and I think it helped other families going through the same thing get through it," the singer-songwriter added. "People feel such shame and they feel lonely, and I think we helped people feel less lonely." Of course, this was Teigen's goal all along; in October, she shared a series of emotional black-and-white photos from the hospital in an effort to be as honest and real with her followers as possible.
"We are shocked and in the kind of deep pain you only hear about, the kind of pain we've never felt before," she wrote alongside the images on Instagram. "We were never able to stop the bleeding and give our baby the fluids he needed, despite bags and bags of blood transfusions. It just wasn't enough." Unfortunately, the photos were met with mixed reactions. While many fans were appreciative of Teigen's honesty, others heavily criticized the 35-year-old for sharing such a deeply personal experience.
"I cannot express how little I care that you hate the photos," Teigen wrote in an essay shared on Medium in late October. "These photos aren't for anyone but the people who have lived this or are curious enough to wonder what something like this is like. These photos are only for the people who need them. The thoughts of others do not matter to me." Legend also made it clear that he supported his wife's decision to share such a gut-wrenching moment. "You amaze me," he commented on Instagram. "I love you."
Elsewhere in the essay, Teigen thanked her friends, fans, and followers for their support amid such a difficult time. "Jack will always be loved, explained to our kids as existing in the wind and trees and the butterflies they see," she wrote. "Thank you so much to every single person who has had us in their thoughts or gone as far as to send us your love and stories. We are so incredibly lucky."