Kim Kardashian & Lil Nas X Reached Out To JoJo Siwa After She Came Out
The 18-year-old singer received support from the LGBTQ+ community and beyond.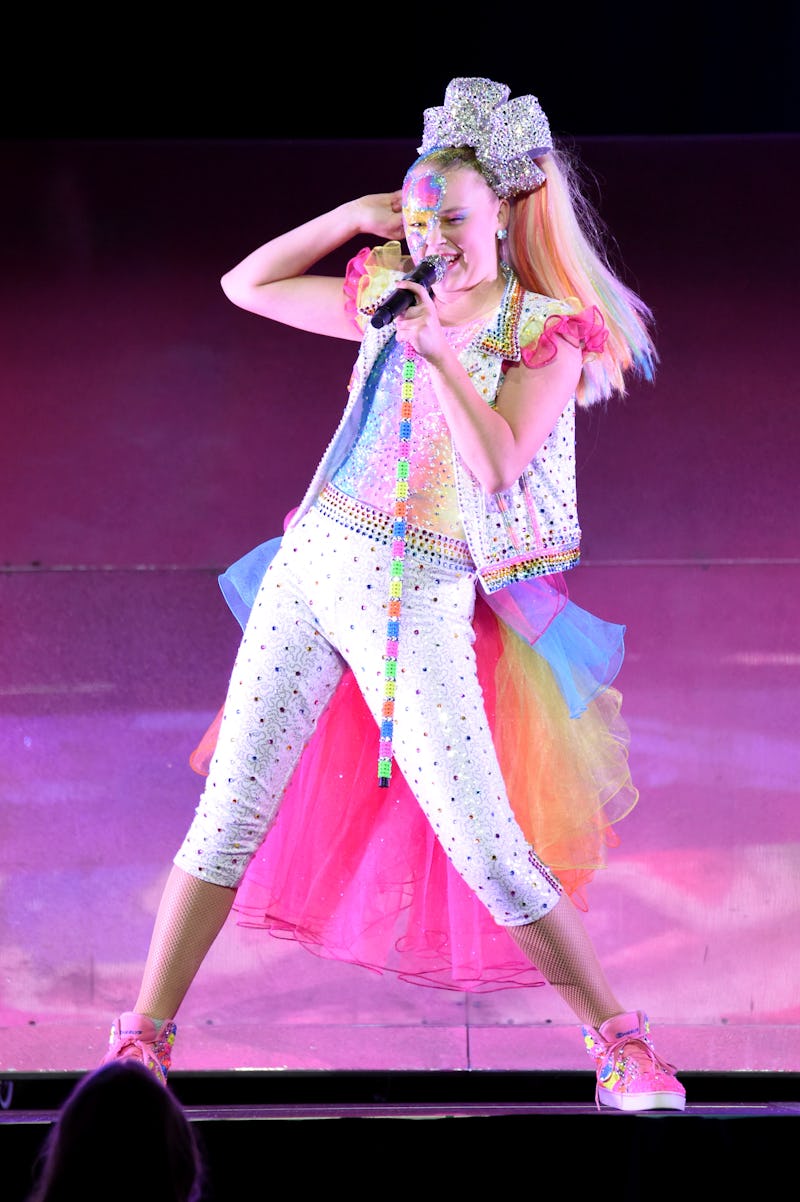 Stephen J. Cohen/Getty Images Entertainment/Getty Images
JoJo Siwa garnered a lot more support from the world than she initially thought she would receive after coming out as part of the LGBTQ+ community in January 2021, and some of that support came from unexpected places. Siwa just revealed that Kim Kardashian and Lil Nas X reached out after her coming out, among other surprising celebs. In a Pride interview with Entertainment Weekly, published on June 1, the singer opened up about her decision to come out, which was inspired by her girlfriend Kylie Prew. The night she made her big announcement, she heard from out-and-proud Lil Nas X as well as celebrity allies like Kardashian, Lil Uzi Vert, and Iggy Azalea.
"The night that I came out, Iggy Azalea actually texted me," Siwa recalls. "She was like, 'Oh, my God, I'm so happy for you. This is amazing.' It was like 3 a.m. at this point. This was before Kylie and I were on FaceTime every single night sleeping. We talked for a while and I got to tell her everything. It was really sweet. She was there as a friend."
Siwa turned heads in January when she made a video with The Pride House, a collective of LGBTQ TikTok creators. In a separate TikTok, Siwa lip-synced the bridge to Lady Gaga's "Born This Way," specifically the lyrics, "No matter gay, straight, or bi, lesbian, transgender life, I'm on the right track, baby, I was born to survive." Days later, she posted a photo on Twitter sporting a T-shirt that read "Best Gay Cousin Ever," leading fans to speculate that it was her way of coming out. And indeed, it was. "I was like, 'I don't care. It'll be fine'," she told EW. "It was never scary to me to put out to the world that I was happy or I was in love."
At the time of her coming out, Siwa received online support from many celebrities, including Paris Hilton, Joe Jonas, and Ellen DeGeneres. "I'm so proud of you sis," Hilton wrote on her Instagram Story, which Siwa reposted, while DeGeneres commented on Siwa's T-shirt post with a red heart emoji.
Initially, Siwa was hesitant to put a label on her sexuality, simply identifying as LGBTQ. Now, the Dance Moms alum has said that she's "technically" pansexual, but she is also comfortable simply calling herself gay, queer, or a label inspired by her loved one: "I have this joke. Her name is Kylie, and so I say that I'm Ky-sexual," she told PEOPLE in April. "I always just say gay because it just kind of covers it or queer because I think the keyword is cool."