This Contestant Is All Of Us Watching The Bachelorette
If only there were a rose for best facial expressions...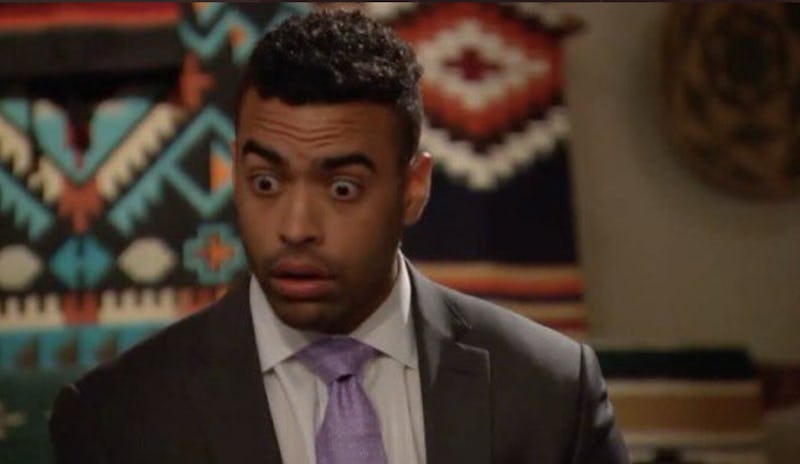 ABC/screenshot
Katie Thurston has the correct opinion about watching The Bachelorette. "I don't know how anyone can watch #TheBachelorette without also glancing at Twitter. You could be watching alone and yet feel like you're with a group of friends," she tweeted during Monday night's episode. And she's right: it's wonderfully communal to know other people are feeling the same way you do while watching each episode, and it's even nicer when those feelings are shared by a contestant. In Peter Weber's season of The Bachelor, that contestant was Mykenna Dorn. This season, it's Justin Glaze.
Now, it certainly helps that Justin is already handsome, but when he contorts that gorgeous face of his into disbelief, confusion, or outright shade, we as the audience are right there with him. Watching Justin has become a little bit like watching Jim from The Office, where you can always expect a reliable and knowing look at the camera following something absurd or cringeworthy. Except in Justin's case, sometimes it's a little less knowing. In fact, his outlandish reactions not being aimed directly at the camera make them all the more believable — and more relatable.
"Hot take: Justin would never make it as a professional poker player," wrote one viewer alongside screenshots of Justin's face. Added another, a bit more enthusiastically: "I CAN NOT BREATHE HIS FACES ITS LIKE HES ON HIS OWN VERSION OF THE OFFICE."
In short, Justin has become the audience's avatar. We are Justin. Justin is us. We have morphed into one collective being eyebrow-raising our way through the other men's drama.
So far, we haven't gotten to know as much about Justin as some of the other contestants. But, as a consolation prize, we have his *chef's kiss* facial expressions, and for that you can be grateful.