Twitter Has A Lot To Say About Justin Timberlake's Beat Ya Feet Dance
The singer went viral for all the wrong reasons.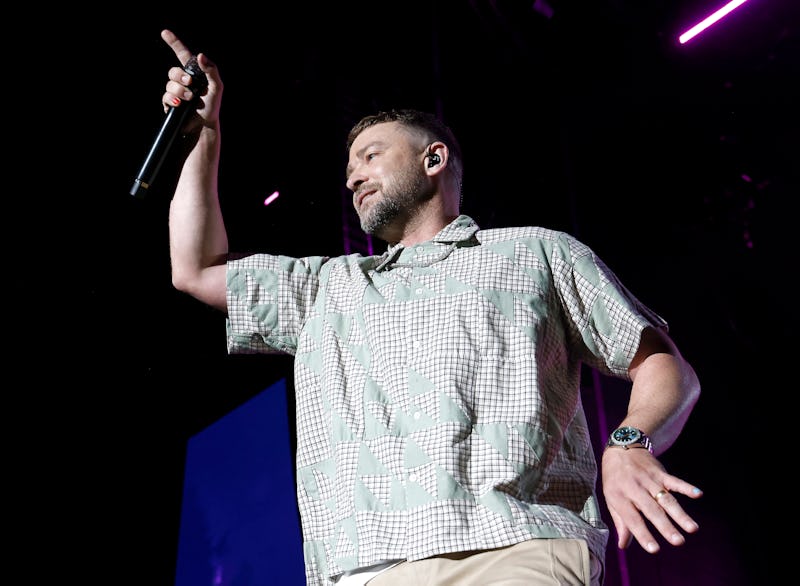 Paul Morigi/Getty Images Entertainment/Getty Images
Throughout his two-decade-long career as one of the world's biggest male solo artists (and as one-fifth of '90s boyband *NSYNC), Justin Timberlake has been responsible for a string of dance-friendly bops. "Sexy Back," "Rock Your Body," and "Like I Love You" are just a few examples of Timberlake's impressive back catalogue, all of which have earned the former Mickey Mouse Club star a reputation as being quite the shape thrower. Although, a recent clip of Timberlake performing the popular Beat Ya Feet dance has gone viral for all the wrong reasons.
As per the Daily Mail, the 10-time Grammy Award-winner performed the famed dance at the Something in the Water Festival in Washington D.C. on June 18. As KQED notes, the Beat Ya Feet dance first came to prominence back in the '90s, originating with Marvin 'Slush' Taylor in the D.C. area. The dance reportedly was inspired by go-go music, a genre described as being a "mixture of relaxed funk, gospel, jazz, call and response, and Afro-Caribbean beats."
Shortly after a video of Timberlake's Beat Ya Feet attempt surfaced online, fans were quick to offer their opinions on his moves - and they did not hold back.
Writing on Twitter, one user compared the singer's take on the classic dance to the "hokey pokey," while others joked that Timberlake was "completing his evolution into Mr. Schuster from Glee." Meanwhile, some users likened the "Cry Me a River" hitmaker's on-stage moves to a classic dad dance. "Tik Tok is out here roasting Justin Timberlake and I'm like 'Isn't that just what a Dad in his fourties dances like?'"
However, other fans were quick to defend Timberlake's widely-criticised performance, with one user commenting, "Wow one bad dance video of Justin Timberlake and y'all just forget what he's accomplished as a dancer and singer since he was a kid."
You can find some of the very best reactions to Timberlake's Beat Ya Feet dance below.