Katherine Heigl Revealed The Grey's Anatomy Scene She Would Do Differently Today
"I don't think I would put myself in that headspace again to achieve that."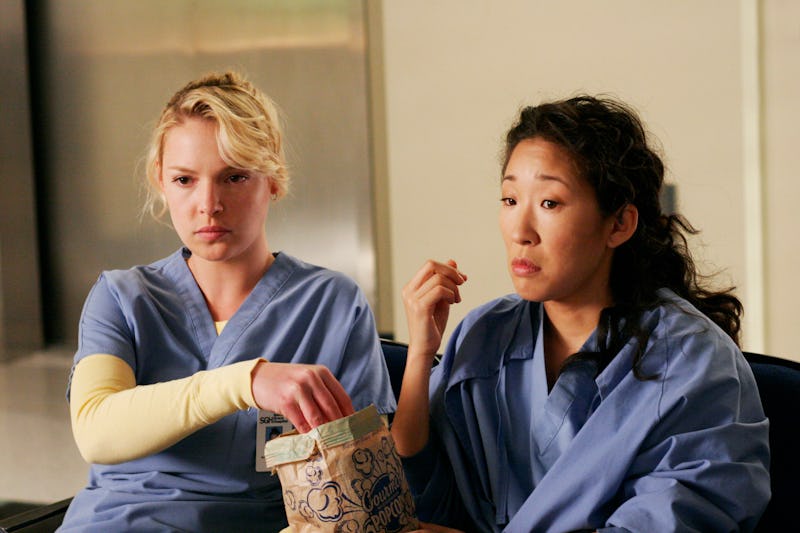 Ron Tom/Disney General Entertainment Content/Getty Images
When it comes to iconic Grey's Anatomy moments, there's one Season 2 scene that has to be near the top of every fan's list: Izzie (Katherine Heigl) saying goodbye to Denny (Jeffrey Dean Morgan) on hospital prom night. Between the surgeon's beautiful dress and the intro of Snow Patrol's "Chasing Cars" (which would become one of the all-time great Grey's songs), watching Izzie be carried away from Denny's dead body is sure to make you cry every time you rewatch.
This scene was heartbreaking for Katherine Heigl, too, albeit for a very different reason. As she revealed in a recent Variety interview with Ellen Pompeo, the actor actually channeled a real-life tragedy to get into Izzie's headspace.
"When it got to the point where he dies and she's laying in the bed with him, I wanted so badly to nail that scene," Heigl said in the conversation, which was published June 6. "I wanted it to feel the way it was written on the page. I don't like to do that whole 'Go into the dark place and listen to the music that's going to tear my soul apart' thing. And the worst was that I really went there. I was 7 when my brother died, but we were in the hospital for a week. I don't enjoy thinking about that much or that week in the hospital or him in that bed, but I chose to do that for that scene."
Heigl's brother, Jason, died in a car accident as a teenager. As the actor explained in a 2021 Instagram post, she doesn't often talk about Jason's death — but wanted to share the memory of his organ donation to "implore" others to do the same.
Today, Heigl told her former Grey's co-star, she would have approached the scene with Denny in a different way. "I don't think I'd do it again," she explained. "I don't think I would put myself in that headspace again to achieve that. I think I would try harder to just act it."
Though the Firefly Lane star wouldn't do the scene the same today, she still has fond memories of Izzie and Denny's arc. "That whole storyline was so intriguing to me," she said. "And Jeffrey Dean Morgan is a dream to work with."
Morgan has spoken highly of his time on Grey's, too — and was sad to say goodbye. "It was a grim day, let me tell you," Morgan told the Los Angeles Times upon his exit in 2006. "A dark, grim day. I'm still not over it. It broke my heart to leave that show."