Katie Thurston Previewed Her "Intense" Bachelorette Season
The season kicks off June 7.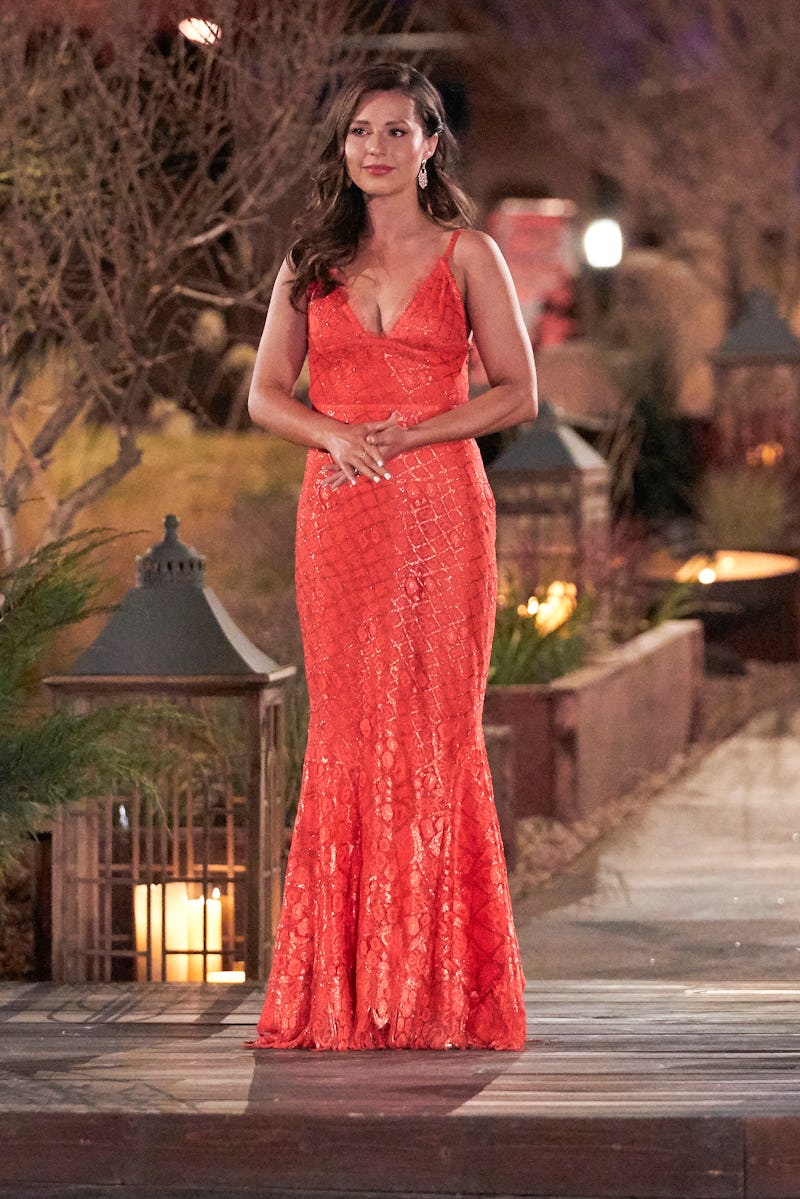 ABC/Craig Sjodin
In its 25 seasons, The Bachelor has seen plenty of out-there limo entrances, but none have caused quite as much (literal) buzz as Katie Thurston's. During Matt James' season, she arrived at the Nemacolin Woodlands Resort with a sparkly purple dildo in hand, naming it MJ in Matt's honor. It was a bold move, but one that endeared fans to Katie and — along with her propensity to cut through the BS and call out drama — ultimately won her a spot as the next Bachelorette.
"It was the perfect statement for 2020," she told Bachelor Happy Hour podcast hosts Becca Kufrin and Rachel Lindsay of the decision. "If 2020 could be a meme for women, it's that." Rachel asked if she was at all nervous, but Katie knew she had to go for it. "Our time is so short and I could do nothing but be myself. I knew Matt is religious, I know I don't know him personally, so I knew it could very well send me home night one," she said. "[But] it really summarizes who I am as a person, my sense of humor, my confidence, [and] my sexual empowerment."
That candidness translates well online, where Katie is either advocating for sex positivity, dancing with her cat, or telling brutally honest stories about life — like the time she pooped herself at work. Ahead of her Bachelorette premiere, reacquaint yourself with the 30-year-old Seattelite below — and what to expect from her season.
Katie's Instagram Is Equal Parts Sincere & Funny
Thanks to a viral TikTok (yes, the poop one), Katie had a considerable amount of Instagram followers before The Bachelor. Recently, she's been posting about her vacation to San Diego (curious, since a few of her contestants are from the area), hiking and lake trips, and sex positive affirmations (including a photo in which she's wearing a "No Fake Orgasms" t-shirt.) Of course, Katie has also been promoting her Bachelorette season.
"As I reminisce about my journey to find love, I can't help but get in my feels. You all are about to meet an incredible group of men with fascinating stories to tell. The vulnerability and strength these men show throughout our time together is something I'll cherish forever," she wrote in a May 26 post. "That all being said, I am protective of them. I remember being on their side of this journey. Being in the public eye for the first time. Reading what people thought. Please remember to stay kind in this. You'll only get to see a glimpse of how extraordinary they really are. I can't wait for you to meet them!
Katie's Job Is Surprisingly Conservative
Despite her unfiltered social media presence, Katie has a surprisingly conservative job as a bank marketing manager. In a December 2020 Instagram Story, she shared that she saw her co-workers for the first time since leaving to film The Bachelor and it was "super awkward" knowing they'd see a very different side of her on TV.
Katie Is Active On TikTok
Katie posted her first clip since returning from filming for Matt's Bachelor season in January 2021 and has been sharing frequently since then. She's uploaded videos about getting the COVID vaccine, writing fan mail to Robert Pattinson, and the benefits of dating 30 men on reality TV.
Katie's Bachelorette Journey Will Be Full Of Ups & Downs
In an interview with People, Katie teased that her season "got intense and crazy" and that a lot happened that she "couldn't have ever predicted." In fact, she told Us Weekly that she almost quit the show entirely. "At that moment, I was at my lowest and really wanted to leave," she said, referring to a scene in the promo in which she declares she's "done" and asks that producers book her flight home. However, Tayshia Adams and Kaitlyn Bristowe — who filled in for Chris Harrison as co-hosts after he took a hiatus from the franchise amid last season's racism controversy — helped her through it. "If it wasn't for the amazing women who have been Bachelorettes before helping me navigate that, I probably would have [left]," Katie said. Ultimately, Tayshia told her to just "surrender to the process" and "trust the journey."
See how it plays out when The Bachelorette premieres on June 7.
This article was originally published on