Bachelorette Katie Thurston Has Some Advice For Sexual Assault Survivors
"It's taken me a long time to get to where I am now."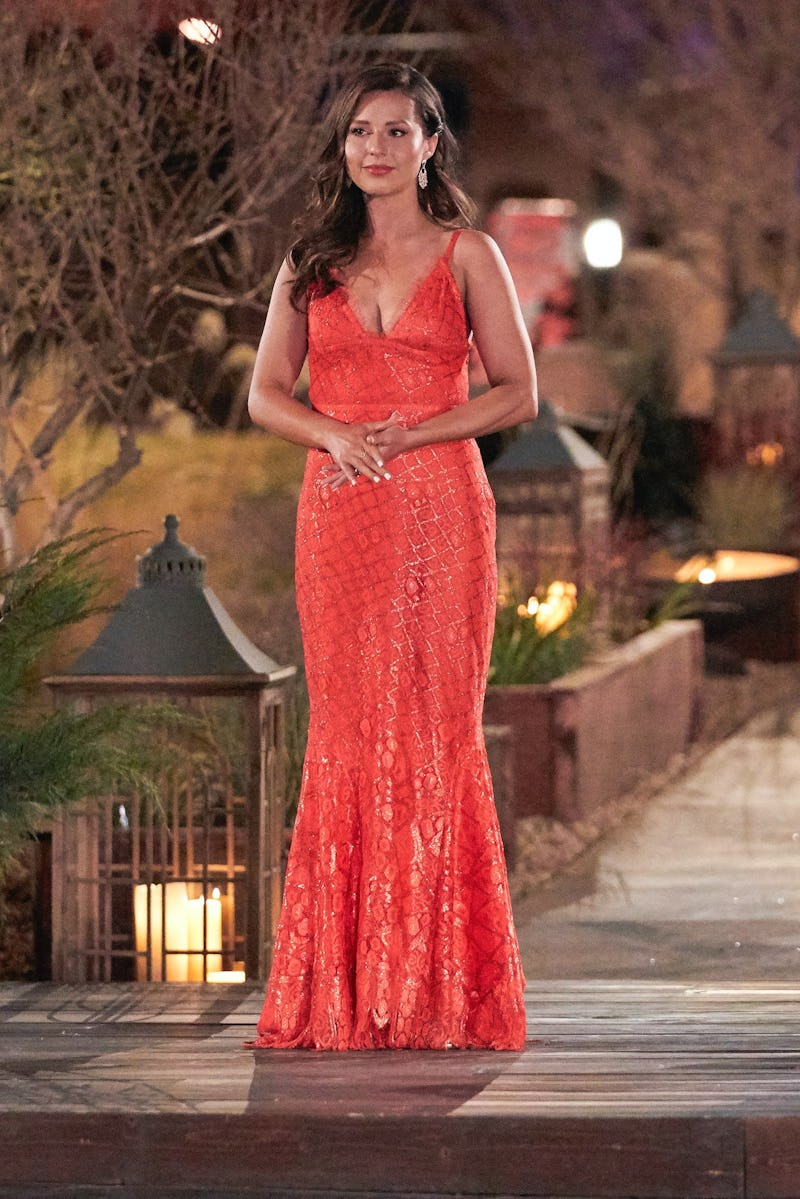 ABC/Craig Sjodin
This week's episode of The Bachelorette took an unexpected turn when Katie revealed something that her own mother didn't even know: She is a sexual assault survivor. The Season 17 lead shared her emotional story on a group date after the men competing for her heart revealed intimate details from their past relationships. But according to Katie, the date — which was co-moderated by former Bachelor Nick Viall — was never supposed to be that intense.
"The date was initially going to be about spilling the tea, finding out what's in the DMs, what's the gossip about these men, what exes are coming forward, etc. But the whole date shifted completely," the 30-year-old reality star told Glamour. During the date, several contestants shared personal stories that brought the room (and those of us watching) to tears. Hunter admitted to feeling like he "failed" as a father after his divorce; Connor confessed to verbally abusing and cheating on his ex.
Ultimately, it was the guys' vulnerability that inspired Katie to open up about her sexual assault from 10 years ago. "Going into it, I was probably going to share something surface level," she told the magazine. "I don't really have dark relationship secrets like that. I date pretty seriously in long-term so I was like, 'I don't know what to share.' But as each guy opened up more and more, I felt compelled to be vulnerable with them and share that story."
After the men had a chance to speak, Katie revealed that she was "involved in a situation where there wasn't consent." "That is not something I wish upon anybody," she said. "I was in denial about what happened, so much so that I tried to form a relationship with him, because I didn't want to believe what actually had happened." The experience left her with an unhealthy relationship with sex, something many survivors can relate to. "I didn't want to have sex, she said. "I didn't like talking about sex, and it's taken me a long time to get to where I am now."
Having gone through it herself, Katie also shared advice for other survivors who are navigating conversations about sex with their partners. "What people need to remember is that if you're uncomfortable having that conversation, then you're probably not ready to be having sex with that person to begin with," she told Glamour. "If you have a good relationship with this person where, even if it's casual, romantic, whatever, you should be comfortable to say, 'Are you okay having sex? Do you want to have sex? Should we have sex?'"
Still, the Bachelorette star knows that these conversations — especially ones about assault — don't look the same for everybody. "If you are a victim of sexual assault and you're getting into a relationship, I think before you start to engage in a sexual relationship with that new partner, it's important to figure out the right time to explain what you've been through," Katie explained on the June 21 episode of Mike Johnson and Bryan Abasolo's Talking It Out podcast. "If you're keeping that in like I was early on, then your partner's not going to understand what's happening and you're just never really going to sync up. It's all just about communication."
Katie went on to say that survivors need to do what feels most comfortable to them, and sometimes that's not a face-to-face conversation about past trauma. "There are other ways to communicate what you need to say," she said. "If talking about it live in front of someone is not your style or you're just not at that place, write it out, journal, share that with your partner later. If texting is just easier because you can read it and delete what you need and get your words organized, do whatever you need to do to communicate however you need to communicate."
Although it took her roughly a decade, Katie just recently figured out how to effectively communicate her sexual assault to her mother. "It was only two weeks ago that I told my mom because I knew this episode was coming up and I didn't want her to find out on TV," she told Glamour, explaining that it was really hard for her mom to feel like she missed the warning signs. "A lot of parents, I think, are uncomfortable talking about sexual experiences with their teenagers," she continued, "and if you don't, then you're going to have problems going forward."
Now that her mom knows her story, it opened doors for more honest conversations between them. "It's a weird thing to navigate because it happened so long ago, so there's nothing we can do to resolve it," Katie said. "We just talked about it. But that allowed her to open up about her experiences growing up. I think what's going to happen with this episode is so many people are going to come forward with their own stories. Hopefully we can all learn from it and just be better as individuals when it comes to consent and sexual experiences."
If you or someone you know has been sexually assaulted, you can call the National Sexual Assault Telephone Hotline at 800-656-HOPE (4673) or visit hotline.rainn.org.