Kelly Clarkson Changed The Lyrics To "Since U Been Gone" For Tom Brady's Retirement
The former QB's recent thirst trap came into play.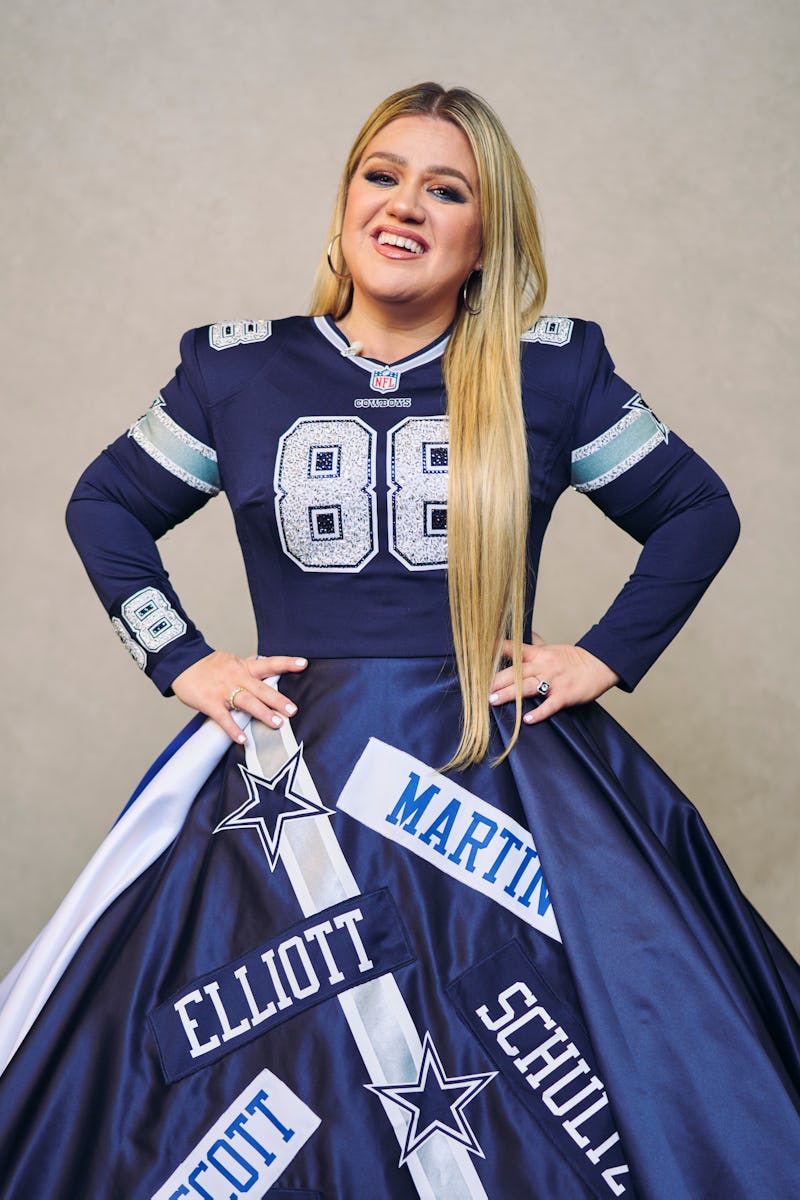 Cooper Neill/Getty Images Sport/Getty Images
"Since U Been Gone" has been a beloved anthem since Kelly Clarkson released the breakup bop in 2004, and it just got a 2023 update. The new version debuted during the annual NFL Honors, which Clarkson hosted on Thursday, Feb. 9. A duet, it features Minnesota Vikings quarterback Kirk Cousins, whom Clarkson was shocked to learn "can really sing," and it playfully roasts longtime National Football League star Tom Brady.
Clarkson was onstage already, in a Dallas Cowboys-inspired gown, when Cousins came out, saying he "wanted to sing one quick tribute song to Tom Brady on behalf of all the other quarterbacks" in the NFL. His fellow QB had announced his re-retirement on social media on Feb. 1 ("for good," Brady told fans), so it was the perfect occasion to both celebrate and troll him. And that's exactly what Cousins and Clarkson did, with new "Since U Been Gone" lyrics.
"Tom's won seven times, went to 10," Cousins sang of Brady's Super Bowl dominance. "Now Tom's on some beach, so maybe Kirk can win."
Clarkson had to pause there to compliment his vocals, and then clear up that this wasn't so much of a tribute as a celebration of what Brady's retirement means for other players. "I think Brady's retirement is good for him, great for us," she said. Then she really got into the spirit and sang her new Brady lyrics: "'Cuz now that he's gone, teams have hope for the first time / Brady's moving on, yeah, yeah / For the goat, that's a wrap / Now he just posts thirst traps, now that he's gone."
The show producers didn't miss out on the chance to show Brady's since-deleted thirst trap in question. As Clarkson sang about the recent post, an image came up on the massive screen behind her of the veteran quarterback in just a pair of briefs, legs spread, hand covering only what absolutely had to be covered. Meanwhile, a camera in the audience offered the hilarious reaction of Derwin James of the Los Angeles Chargers.
Many viewers on social media enjoyed the moment. "Kelly Clarkson singing with Kirk Cousins, singing about Tom Brady with a picture of Tom Brady on the jumbo screen in his underwear … This is incredible," one fan wrote. Another person called it "the tribute song to Tom Brady we all needed," and still another thought it was "well-parodied" and praised Cousins' "pipes."
After the show, Clarkson — who roasted plenty of other players, too — shared what a fun night she'd had. "Thank you so much @NFL honors!" she wrote on Instagram. "I had such a good time hosting tonight. See you at the Super Bowl!" On top of that, she had a separate post showing her with Cowboys legend Emmitt Smith and the team's current top quarterback, Dak Prescott. Appropriately, the Cowboys' Instagram replied with the best comment: "A moment like this."