Kendall & Kylie Jenner's Resurfaced Music Video Brought Back Their Swiftie Era
TikTok hasn't forgotten that the Jenner sisters were once huge Swifties.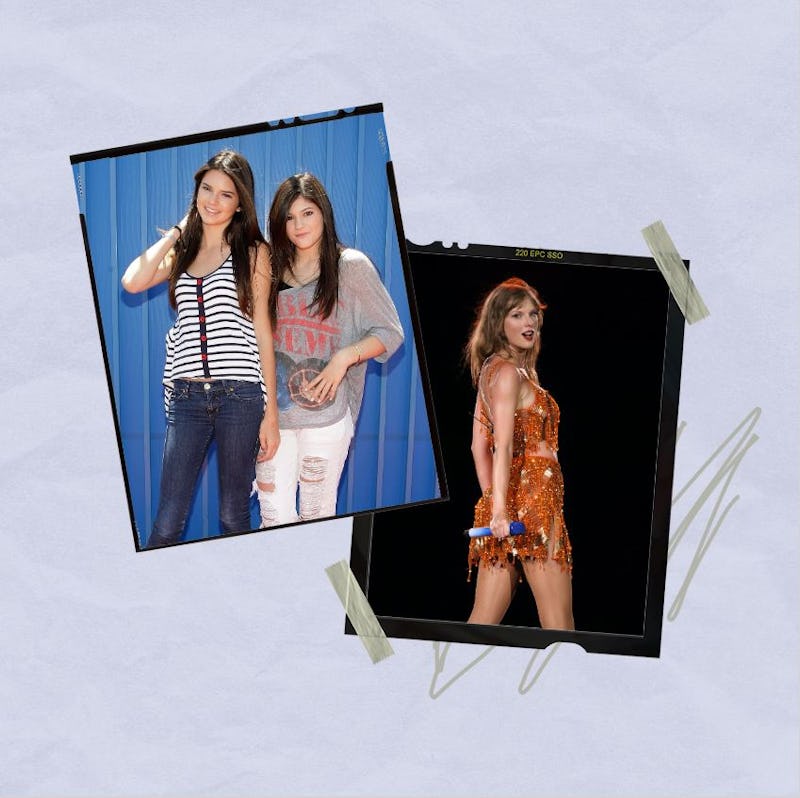 Noel Vasquez/Getty Images; John Shearer/TAS23/Getty Images for TAS Rights Management
There's been bad blood between Taylor Swift and certain Kardashian-Jenner family members over the years, but TikTok remembers a different era: In 2010, Kendall and Kylie Jenner were such big Swifties that they used her track "Better than Revenge" to make their own music video with friends. Their teenage creation is going viral again amid the release of Speak Now (Taylor's Version).
User Pickypistachios recently shared a 53-second clip from their video, writing that the Jenner sisters "were swifties back in 2011," alongside two kissing-face-with-closed-eyes emojis. The Kardashians stars posted the original video to their old MsKendallandKylie YouTube account on Nov. 27, 2010. "Just made this video for fun with some of our BEST friends!! :)" they wrote. "do u remember them from our 'Party in Wyoming' video? hope u guys like it!"
Apparently, fans did like it — or at the very least, they were willing to watch it. The Jenners' "Better than Revenge" music video has racked up more than 2.9 million views in the nearly 13 years since it was first posted. Meanwhile, the much more recent TikTok already has 2.2 million views.
The video is much what one would expect from young teens. Kendall, then 15, and Kylie, then 13, along with their two friends, wear a variety of outfits throughout their music video, and the homemade creation is filmed in sites that appear to include mom Kris Jenner's closet, a candlelit bathroom, a playground, and a construction site, among others. In dramatic fashion, Kylie jumps over a fence, Kendall kicks a dirt pit, and all four girls lip-sync straight into the camera. There are even coordinated outfits and slow-motion shots.
One fan applauded it in 2021, commenting, "this is the funniest video on the internet i hope they never delete it." More recently, a TikToker shared a similar sentiment, writing, "Never let Kris erase this." Others described the vintage video on TikTok as "just normal teenage girl things" and "a canon event."
As the video shows, the Jenner sisters were indeed big Swift fans when she came out with Speak Now. The two later seemed to become friendly with her, and Kendall once was even considered to be part of her infamous "squad." Not long thereafter, though, fans began to speculate they had a falling out over Swift's ex Harry Styles. Next came the well-publicized drama between Swift and the Jenners' sister Kim Kardashian and their then-brother-in-law Kanye West. Kendall and Kylie reportedly sided with their family rather than the 12-time Grammy winner.
Though the Jenner-Swift friendship was ultimately short-lived, the sisters' "Better than Revenge" music video lives on, thanks to the internet and TikTok enthusiasts.