Kid Cudi's SNL Outfits Had Special Meaning Behind Them
The rapper paid tribute to two entertainment industry legends.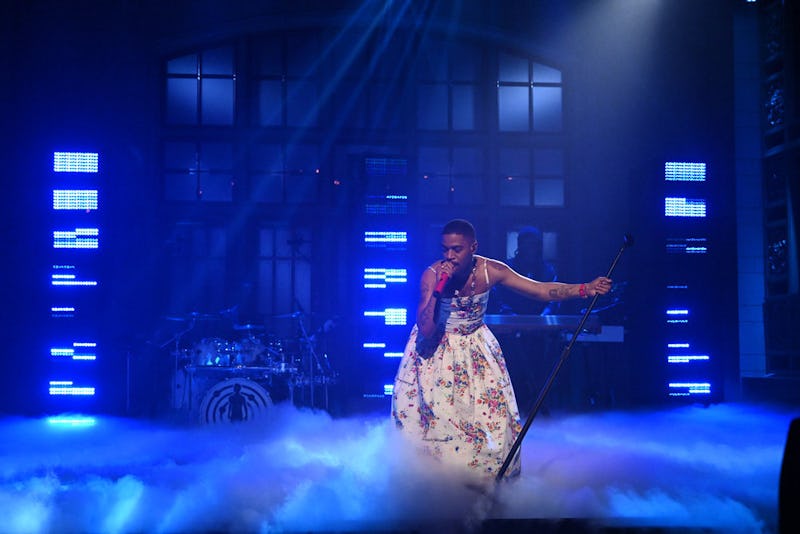 Will Heath/NBC
In a night full of meaningful fashion statements, Kid Cudi's SNL outfits honored Kurt Cobain and Chris Farley. The two-time Grammy winner donned a green cardigan, floral dress, and a T-shirt printed with Farley's portrait as he performed his tracks "Tequila Shots" and "Sad People" from his new album, Man on the Moon III: The Chosen. Cudi chose his looks intentionally to pay tribute to Cobain, his longtime musical inspiration, and to Farley, who was an iconic Saturday Night Live star.
On Twitter, many fans noted that Cudi's green cardigan and flower-print dress were both reminiscent of two of Cobain's most memorable outfits. The ensembles also appeared to celebrate the late Nirvana singer following the recent anniversary of his death. On April 5, 1994, Cobain died by suicide in his home in Seattle, Washington, at the age of 27. This year marked the 27th anniversary of the influential songwriter's death, which many fans have been commemorating online by sharing photographs, stories, and revisiting his music.
Cudi was among those celebrating Cobain this year. The "Pursuit of Happiness" singer layered the green cardigan, which echoed the look Cobain wore for Nirvana's MTV Unplugged performance at Sony Studios in November 1993, over a Chris Farley T-shirt. Farley, who was a cast member on SNL from 1990 to 1995, is considered a comedy pioneer. He tragically died from an overdose in December 1997, at the age of 33.
The "Day N' Nite" rapper's clothes on Saturday were not his first tribute to Cobain. In August 2020, Cudi got a tattoo portrait of Cobain and posted a photo on Instagram, showing the inked image of the grunge rocker wearing a Daniel Johnston shirt. He captioned the photo: "4 Kurt and salute to Daniel." Previously, he had said that Cobain has "always been an inspiration" to him in a GQ interview. He added, "I try to use him as my muse whenever I can." Later, on his 2018 release Kids See Ghosts with Kanye West, they sampled Nirvana's "Burn the Rain."
Over the years, Cudi has also tweeted about Cobain several times, writing in 2011, "Im obsessed with Kurt Cobain. I wish he was still here, so he could teach me guitar tricks." In 2015, he tweeted that he's "never not thinkin' about Kurt Cobain." With his second SNL appearance on Saturday, he's used fashion to once again honor his longtime idol.