Kim Kardashian Teases New Mystery Man After Breaking Up With Pete Davidson
"Oh, he so meets the standards."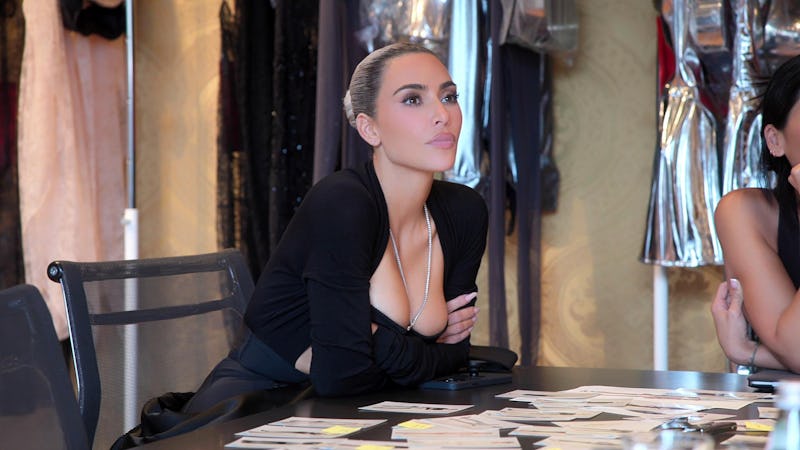 Hulu
After breaking up with Pete Davidson, Kim Kardashian has learned to keep her dating life a bit more private. On the June 8 episode of The Kardashians, the SKIMS founder teased a mystery man that she was newly dating while at dinner with Scott Disick — and even he didn't know his identity. Instead, Scott came up with using the codename "Fred" to talk about the man in front of the cameras.
During her outing, Kim told Scott that her friends wanted her to hook her up with someone in New York, so they met at a place whose name was censored from the episode. "That's like my spot, because there's a private room downstairs," she explained. But when outlets like OK! Magazine became aware of her outing at this place, they claimed that she was reconciling with Davidson. "On the internet, it was like, 'Kim reconnects with Pete at this place,'" she said, leading Disick to ask if he was there. "No. But it was the place where I would go and have my secret dinners with Pete," she answered. "He's probably like, 'Oh, I know what she's up to.'"
No matter what Davidson thought, Kim's secret rendezvous went well. "Does he meet the standards?" Scott asked. "Oh, so meets the standards," she responded. She's then seen texting in a confessional with a glowing smile on her face, confirming producers' suspicions that it was "Fred." However, when one producer called Kim's bluff about her promise to stay single for two years, she doubled down. "No, I'm going to be," she cheekily answered.
Fred's identity has not yet been unveiled, and it's not known whether she's still seeing whoever he is. On May 30, US Weekly reported that Kim was interested in someone new. "Kim isn't officially dating anybody, but there is somebody who she's interested in," an insider told the outlet. However, it's probable that this person isn't Fred, as they "haven't gone out yet" and "there have only been subtle flirtations between them," which wasn't the case with this mystery man.
In a separate confessional, Kim revealed what she learned from her relationship with Davidson, who she split from in August 2022 after nine months of dating. "You obviously learn from every situation, and the thing I learned from my last situation was like, the media made me feel like I was in a very serious relationship so quickly," she said. "I just wanna sneak around a little bit, there's nothing wrong with wanting to sneak."
Kim went on to discuss her new dating goals with Scott, telling him that she doesn't "just wanna date one person." Naturally, Scott made a reference to Sex and the City, noting how Carrie, Samantha, Miranda, and Charlotte were "catching sausages all over town" on the HBO show. "You gotta find your Mr. Big. And hope he doesn't die on a bike one day," he quipped. "You gotta find like an older Italian businessman... that looks amazing." However, Kim does have limits when it comes to age. "They can't be too old, I don't like the old thing," she said. "But I don't like the really young thing either."