Kim Kardashian's Statement On Kanye West's Mental Health Asks For Compassion
"I kindly ask that the media and public give us the compassion and empathy that is needed so that we can get through this."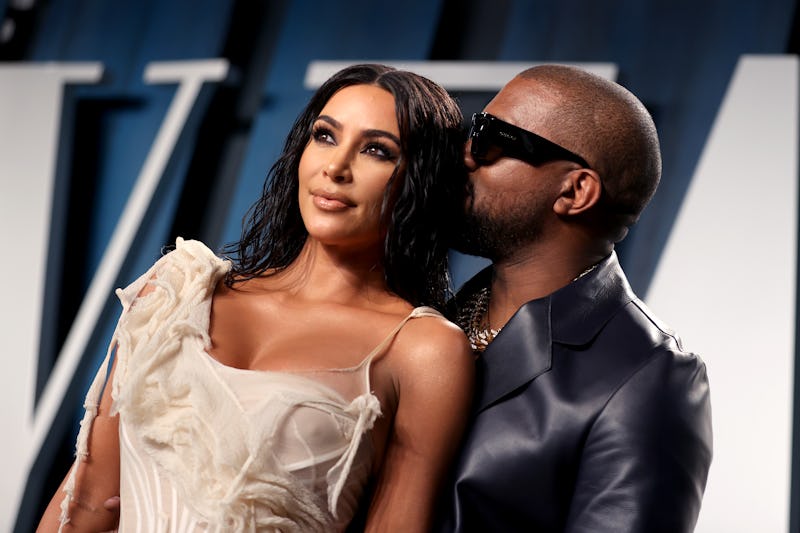 Rich Fury/VF20/Getty Images Entertainment/Getty Images
After days of public speculation about Kanye West's mental health, focusing on his erratic behavior on Twitter and the presidential campaign trail, his wife has finally broken her silence. Kim Kardashian released a comment on Kanye West and bipolar disorder on July 22, asking for compassion during this difficult time. West has been open about his diagnosis in the past, even referencing it in his lyrics, and though neither he, nor anybody close to him, including his wife, has commented on his current state, many online have speculated that he might be in the midst of a manic episode.
"As many of you know, Kanye has bi-polar disorder," Kardashian began. "I've never spoken publicly about how this has affected us at home because I am very protective of our children and Kanye's right to privacy when it comes to his health." However, she continued, saying that she felt the need to speak out now "because of the stigma and misconceptions about mental health." Kardashian went on to explain how "powerless" families can feel when it comes to getting help for a person who experiences mental health issues as an adult, which could be read as a response to critics who demanded she get West help.
"People who are unaware or far removed from this experience can be judgmental and not understand that the individuals themselves have to engage in the process of getting help no matter how hard family and friends try," she wrote. While West may be "subject to criticism" as a public figure, Kardashian explained that the "pressures of being an artist and a [B]lack man" — exacerbated by the loss of his mother, Donda West — are all factors that can heighten West's disorder.
Citing her husband's "genius" and the fact that his bipolar disorder "does not invalidate his dreams and his creative ideas," Kardashian ended her note with a call for "compassion and empathy" from the media and public. "Thank you for those who have expressed concern for Kanye's well being and for your understanding," she concluded.
Kardashian's public statement comes after West shared some unexpected comments about their marriage in a series of now-deleted tweets. After the rapper's tweetstorm, many people on Twitter reacted to his comments by making light of the situation — something that did not sit well with other celebrities, such as Halsey and Demi Lovato. Citing her own experiences with bipolar disorder, the "Without Me" singer said she was "disturbed" by the reactions and made it clear that a "manic episode isn't a joke." Like Kardashian, Halsey called for bipolar disorder awareness and compassion.
If you or someone you know is seeking help for mental health concerns, visit the National Alliance on Mental Illness (NAMI) website, or call 1-800-950-NAMI(6264). For confidential treatment referrals, visit the Substance Abuse and Mental Health Services Administration (SAMHSA) website, or call the National Helpline at 1-800-662-HELP(4357). In an emergency, contact the National Suicide Prevention Lifeline at 1-800-273-TALK(8255) or call 911.