Kanye Calls Bipolar Disorder A "Superpower" In A New Song & Fans Are Seriously Divided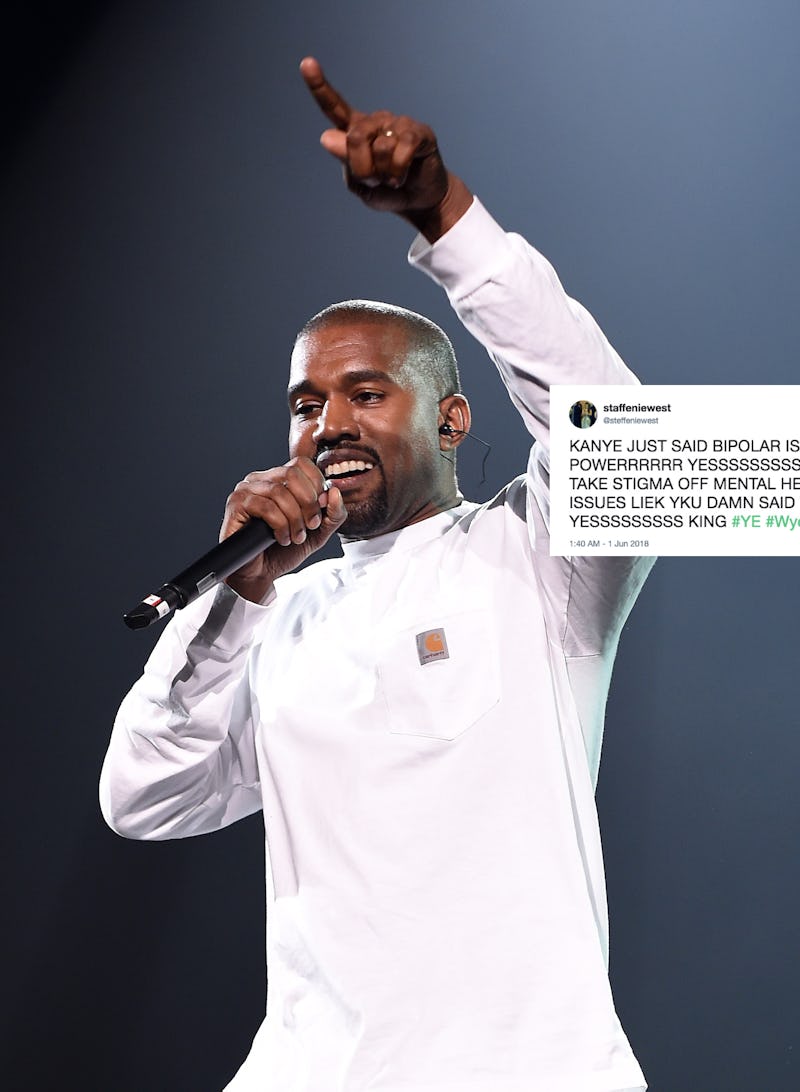 Dimitrios Kambouris/Getty Images Entertainment/Getty Images; steffeniewest/Twitter
Many of Kanye West's recent tweets and public statements have left fans with some questions, but when his highly-anticipated new album YE came out on Friday, the record was rife with revelations. But one song in particular has garnered attention and left listeners divided. On "Yikes," West calls bipolar disorder his "superpower," and while some fans found the comment inspiring, others noted that it could be problematic, potentially discouraging those struggling with the illness from seeking treatment.
West's mental health has been the subject of speculation in recent weeks, since he made a series of provocative and erratic statements on and offline, as he voiced his support for President Donald Trump, revealed he had been addicted to opioids, and suggested that slavery was a "choice." While his behavior may have been puzzling to some, it is unfair to draw conclusions about someone else's mental health.
That point ties into how Dr. Todd Hutton, MD, Chief Medical Director of Southern California TMS Center, told Bustle in April that a doctor could not diagnose a patient without examining them in person. "In diagnosing a public figure from afar, the purpose is usually not to help them, and in fact may be just the opposite, which is why it is considered unethical," he said.
West's wife, Kim Kardashian, also denounced coverage of the rapper's behavior, tweeting on April 25,
"To the media trying to demonize my husband let me just say this... your commentary on Kanye being erratic & his tweets being disturbing is actually scary. So quick to label him as having mental health issues for just being himself when he has always been expressive is not fair".
However, West seemingly confirmed a diagnosis when he dropped YE on Friday. On "Yikes," he raps about his "bipolar sh*t" stating that it's his "superpower" and that it "ain't no disability," and listeners took to social media to share their mixed reactions to the lyrics.
1. An Empowering Message
One user felt empowered by West's confession, and was able to see their own diagnosis differently.
2. Potentially Discouraging
Another user noted that by framing bipolar disorder as a superpower rather than an illness, West might discourage some listeners from seeking treatment from medical professionals.
3. Owning His Truth
One listener expressed their happiness for West as he opened up maintained a positive perspective.
4. Destigmatizing Mental Illness
Another user shared their enthusiasm at West helping to break the stigma surrounding mental health issues.
5. Newfound Sympathy
Meanwhile, this person found renewed sympathy for West in light of his struggle with bipolar disorder and forgave his recent inflammatory comments.
6. It's About Perspective
One person celebrated the way West was able to look at a potentially negative diagnosis positively, and see his illness in a different light.
7. Potentially Irresponsible
Another user argued that West's admission was "misguided," and said that nothing positive would come from the musician presenting his diagnosis the way he did.
8. An Explanation
One person wrote that while they still took issue with West's statements regarding politics, after he revealed his diagnosis, they were able to understand his behavior in a way they hadn't before and wished him the best.
9. Breaking New Ground
One user said that regardless of whether West chose to wear a "Make America Great Again" hat or not, they applauded his choice to speak openly about his diagnosis, particularly as a black man, and cited the importance of his voice.
10. Separating Him From His Diagnosis
Another user wrote a reminder not to conflate West with his diagnosis, and noted that not every statement he makes or thing he does is necessarily connected to his disorder.
While West describing his diagnosis as a "superpower" was met with mixed reactions, there's no denying the artist sparked an important conversation about the way people discuss mental health.