The Story Of Leigh-Anne Pinnock's Stolen Engagement Ring Has A Happy Ending
The £40,000 piece of jewellery has been on quite a journey, but the case isn't closed yet.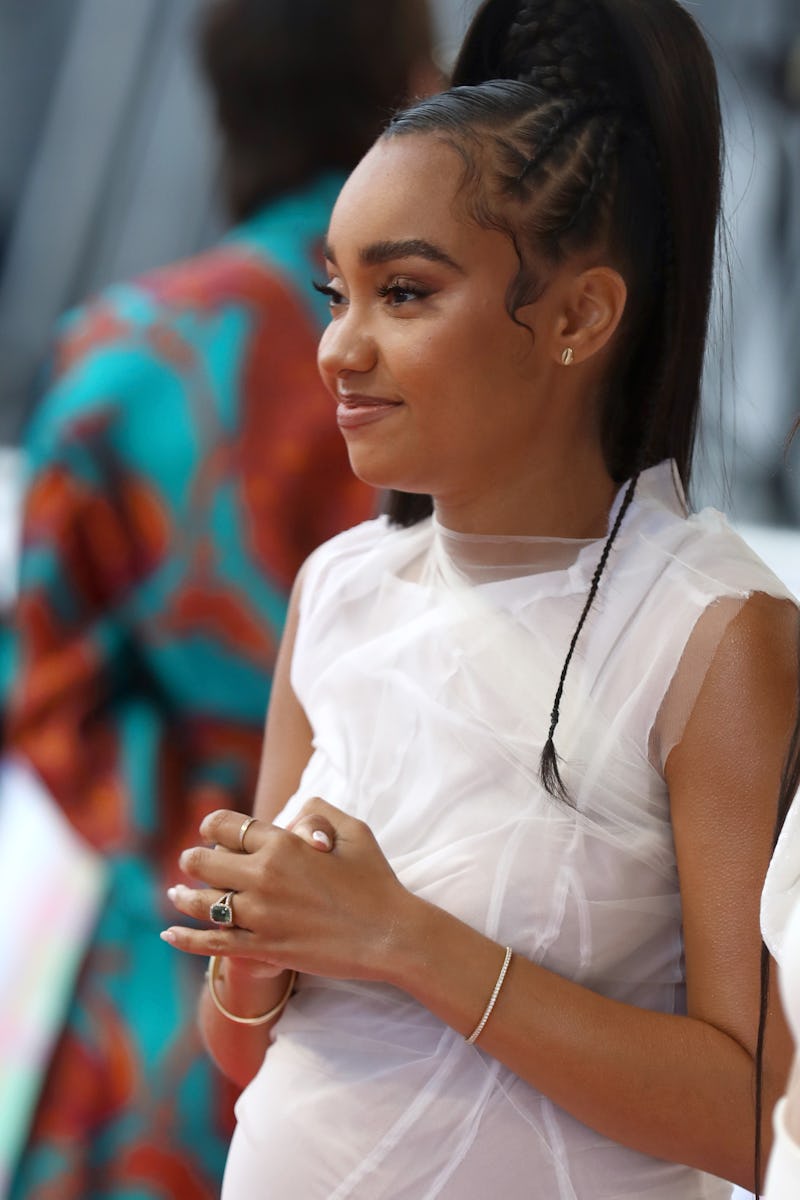 JMEnternational/Getty Images Entertainment/Getty Images
Little Mix's Leigh-Anne Pinnock has tracked down her stolen engagement ring and bought it back after it was located in a pawn shop.
The estimated £40,000 emerald and diamond-crusted ring was thought to have been snatched from the Surrey mansion the singer shared with fiancé Andre Gray as they were in the process of moving home. The theft was first reported by The Sun back in May, whose sources claimed the pregnant singer was "furious" and "distraught" because the ring has "huge sentimental value."
"The ring is a symbol of their love, so she was super careful about what she did with it during the move," said a friend to the tabloid at the time of the burglary. "Leigh-Anne and Andre both feel gutted, properly betrayed, of course you would."
Luckily, according to new reports, a pawn-broker contacted the "Sweet Melody" singer after realising the unique jewellery belonged to her. It's a wonder how the extremely valuable ring ended back in Leigh-Anne's hands as, per The Sun, the ring had changed hands seven times before ending up with the trader.
Surrey Police Officers have confirmed that they are still investigating the burglary and a spokesperson said: "The ring has been returned to its owner. No suspects have been identified or arrested. Inquiries remain ongoing."
One of Leigh-Anne's friends told The Sun it was "never about the money" for the star and described the efforts it took to get the precious ring back.
"It's amazing really, but they actually managed to get the ring back," they confirmed.
"It had gone through seven different pawn shops before the final one realised what it was and called Andre. He went round and sure enough it was her ring, so he bought it back. It was never about the money for them, it was all about the sentimental value."
They added: "The main thing is Leigh-Anne has her ring back. Nothing could replace that bit of her fairytale."
From photoshoots to her recent BBC documentary Race, Pop & Power, Leigh-Anne was seldom seen without her sparkly emerald ring following Andre Gray's extremely romantic proposal back in May 2020.
After four years together, the couple got engaged when Andre got down on one knee and popped the question in their back garden during lockdown. Leigh-Anne shared a series of snaps of the moment, with the caption: "Guys.. wtf has just happened... He bloody did it, and I said yes I'm marrying my soul mate, the man of my flipping dreams... I am lost for words, so I think I'm just going to go cry some more @andregray_ I love you so much My world is literally complete"