Leigh-Anne: Race, Pop, & Power Finally Has A Release Date
The one-hour documentary will explore how racism impacts people working in the UK's music industry.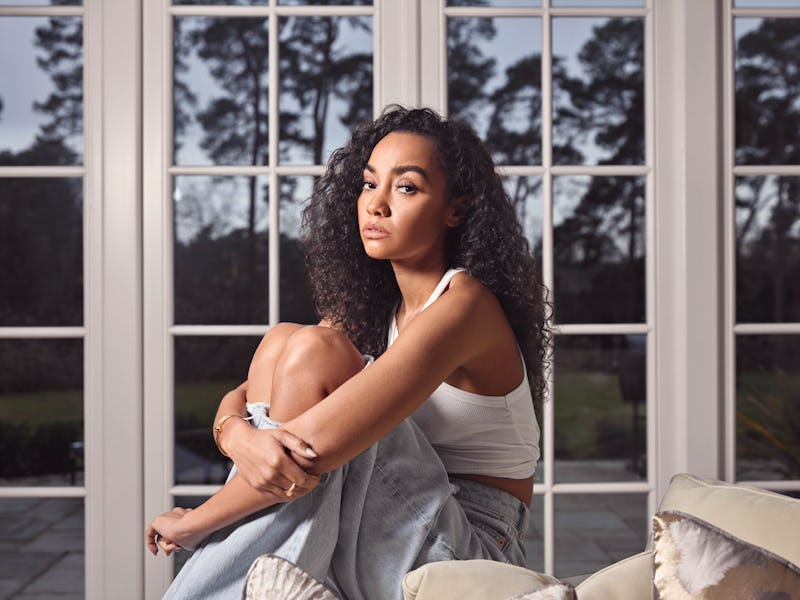 BBC/Dragonfly/Richard Ansett
Over the last year, Leigh-Anne Pinnock has spoken publcly about the racism and discrimination she's experienced during her time in Little Mix. Now she's making a film with BBC Three exploring her experiences as a Black woman in the music industry, taking viewers behind the scenes with her Little Mix bandmates, her fiancée Andre Gray, and her parents to talk about the complexities of racial stereotyping and colourism.
It was first announced that Pinnock would be fronting her own documentary in April 2020, after the success of former band mate Jesy Nelson's film with the BBC, Jesy Nelson: Odd One Out.
In Leigh-Anne: Race, Pop, and Power, the singer will explore how systemic racism has affected her personal life and her career. The BBC writes that, since winning the X Factor, Pinnock "has often felt like she is treated differently, and now she's wondering whether years of feeling ignored at signings, not hearing her name cheered at events, and fans walking past her in favour of the other girls in the band may be down to her race."
Pinnock has used her platform over the last 12 months to raise awareness about the Black Lives Matter movement and, in June 2020, she shared a video on Instagram where she said she felt like the "least favoured" in Little Mix.
She also appeared on The Talk, a Chanel 4 documentary in which famous people and their parents spoke about the conversations they had growing up around race. During The Talk, Pinnock said: "I just wish that I was more educated on this and I knew that, yeah, your race will hold you back a little bit. I just wish I knew that so I could prepare myself."
Speaking about Leigh-Anne: Race, Pop, and Power, Pinnock said:
"I want to make this film because I have always been passionate about rights for Black people. Conversations surrounding racism and colourism are something I constantly have with my boyfriend and family, and as I have a platform, I want to use that platform to bring this conversation to a wider audience and stand up for my Black and Brown community. Systemic racism is complex; through making this documentary I want to learn how I can best lend my voice to the debate so that the young people who look up to me won't have to face what me and my generation have had to."
During the one-hour documentary, Pinnock will speak with Dawn Butler about how the MP has handled intense public scrutiny and abuse. She will also have a candid conversation with her fiancée Andre Gray about a series of offensive tweets he wrote about Black women in 2012.
Pinnock organised a roundtable with other Black artists and creatives in her industry for the documentary, too. Here, she'll speak to Alexandra Burke, NAO, Raye, and Keisha Buchanan. She will also chat to Frank Gatson, Beyoncé's creative director who Little Mix have previously worked with. During the band's first video rehearsal almost a decade ago, Gatston told Pinnock, "You're the Black girl, you have to work ten times harder." Pinnock says those words have "stuck with her" ever since.
In a particularly moving scene during the documentary, Pinnock asks her parents how they felt when she came to them, struggling with the fact that she was the only Black member of Little Mix. "I was carrying a lot. Never, ever feeling good enough. I feel like it ruined a lot of my experience which should have been the best time of my life. It's just f*cking frustrating," she says in the documentary.
While there is much anticipation around the documentary, there has also been some hesitance. The discussion of colourism is expected to play a big part in Leigh-Anne: Race, Pop, and Power and some have questioned whether Pinnock is the right person to be tackling the topic.
Leigh-Anne: Pop, Race, and Power will be available from 6 a.m. on May 13 on BBC iPlayer and will be broadcast on BBC One on May 13 at 9 p.m.
This article was originally published on