Twitter Can't Get Over This One Part Of Lily Allen & David Harbour's House
"The greatest thing I've ever seen."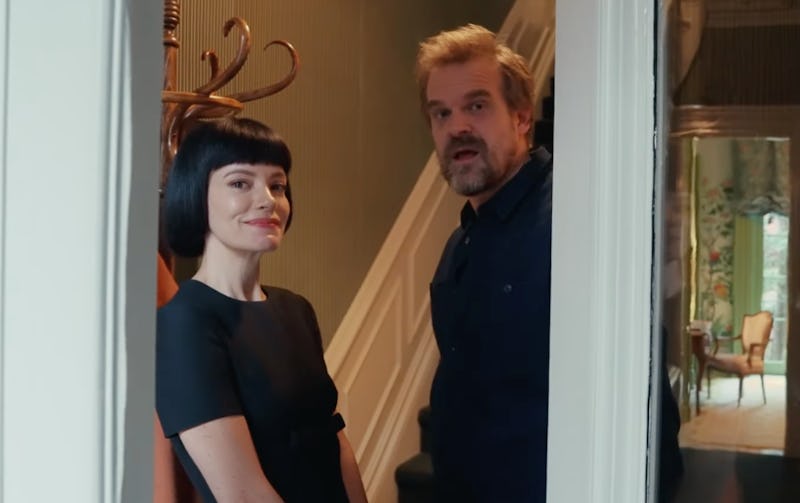 YouTube/Architectural Digest
Let's face it, getting to snoop around celebrities' swanky pads is great fun. From Julia Fox's surprisingly modest Manhattan apartment to Gigi Hadid's weird, rainbow pasta cupboards, there's a surprise around every painstakingly designed corner — and Lily Allen and David Harbour's place in Brooklyn is one of the boldest abodes we've seen yet.
The Stranger Things actor and musician/actor met back in 2019 on the exclusive celeb dating app Raya, and got engaged right before lockdown hit. After tying the knot in a low-key Las Vegas wedding – featuring an Elvis impersonator and budget catering by In-N-Out Burger – the couple moved to their current townhouse in Carroll Gardens. And if you're curious about how the pair's styles have meshed together, it's your lucky day – the duo have conducted a guided tour of their maximalist pad for Architectural Digest.
The dreamy vision of "budget-unconscious designer Billy Cotton," the couple explain that their overall feel of their townhouse was "based a little bit on the Godfather movies… this particular neighbourhood in Brooklyn is an old Italian neighbourhood, and we liked the idea of incorporating that aesthetic." In the video, which sees the couple showing cameras around their house, Harbour reveals Allen spoke about wanting a "plain English kitchen" on a very early date. Elsewhere, in an accompanying interview with the publication, Allen admits that her two children (to whom Harbour is step-dad) call it the "clown house."
"The façade was badly deteriorated, and the interior was...well, let's say it was very lived-in," explained architect Ben Bischoff. "But after we peeled away decades of renovations and lots of faux-wood paneling, we found a surprising amount of original moldings and doors, which gave us a good starting point to rethink the architecture. Harbour and Allen were not interested in formality, especially with Allen's kids in the house. They wanted to preserve the details and character, but they also wanted to live in it in a casual, family-friendly way."
Highlights of the tour include Harbour's baby-pink bathroom fridge (what on earth must he keep in there?) an aesthetically pleasing but ultimately quite useless kitchen lamp, a garden sauna and cold-plunge pool, Harbour's Hellboy photo, and Allen's embroidery tribute to sexually-transmitted diseases.
It's certainly got heaps of personality, and fans on social media are predictably going wild for it.