David Harbour Was Lily Allen's First-Ever Date
The couple met on a dating app.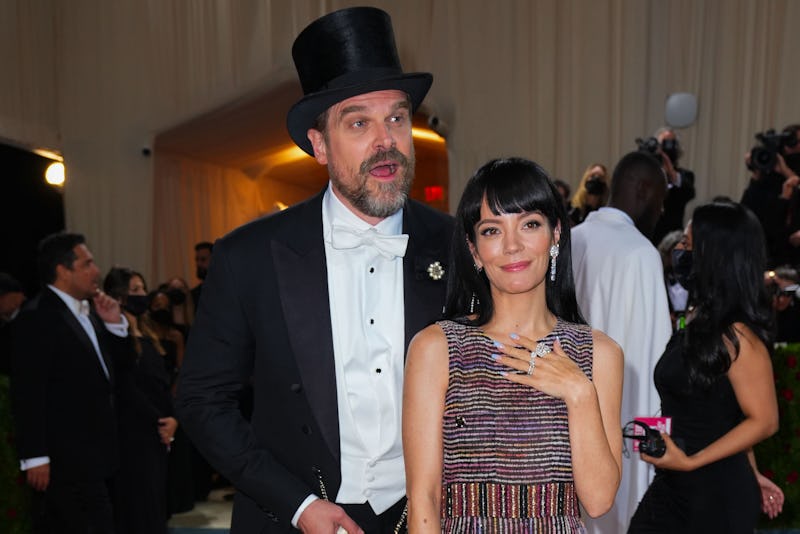 Gotham/Getty Images Entertainment/Getty Images
Some good news for anyone trawling the depths of the dating apps right now: sometimes, they do work. Just ask Lily Allen and David Harbour. After getting married in September 2020, Allen revealed in an interview with the Sunday Times that the pair actually met on celebrity dating app Raya. So maybe for every man on Hinge proudly holding a fish, there's a Netflix movie star just around the corner? A girl can dream.
Allen was previously married to businessman Sam Cooper, with whom she shares two daughters. The couple wed in Cranham, Gloucestershire in June 2011. Allen wore a couture Chanel gown and veil, complete with matching headpiece. Allen is Harbour's first wife, but he was reportedly engaged to Maria Thayer, of Forgetting Sarah Marshall fame, whom he dated until 2011. He also dated Julia Styles and Alison Sudol before meeting Allen.
Despite looking like the picture-perfect celebrity couple, Harbour recently told the New York Times that his wife "fell for me at my worst, physically and hair-wise." He was preparing for his role as the Red Guardian in Black Widow and had a long beard when they matched on the app. But, that didn't stop Allen from saying yes to the dress and tying the knot in Las Vegas in September 2020.
Let's look back at their relationship so far.
April 2019: Their First (Ever) Date
As Allen revealed in her Sunday Times interview, the couple matched on Raya, the celebrity dating app of choice. They had their first date at The Wolseley, a high-ceilinged art deco restaurant in central London. It also happened to be Allen's first ever date: "I had never been on a date! I was so anxious," she told the publication.
August 2019: They're Papped At A Play
For their first public outing, the pair hit London's West End to watch a matinee performance of The Lehman Trilogy. But, it seems like they were more interested in each other than the play, as they left the theater after the first act. Look, I'm all in favour of leaving an event early, especially if you're equipped with an airtight excuse.
March 2020: David Proposes
In an interview on Jimmy Kimmel Live in June 2021, Harbour told the host that he'd popped the question "right before the pandemic." He said that Allen's eldest daughter actually propelled him to propose when she referred to him as "just some guy in our lives." According to Instagram, the pair then proceeded to isolate together in London with the two girls. They even whipped up some dinosaur cupcakes and went all-in with the balloons for Harbour's birthday in April 2020.
September 2020: The Pair Wed In Las Vegas
There was an Elvis Presley impersonator, a white Dior dress, and In-n-Out burgers. It's ticking all the Vegas boxes. Other notable celebs to get married in Vegas are Britney Spears, Kim Kardashian, Billie-Ray Cyrus, and most recently, Kourtney Kardashian and Travis Barker. Although, that was just a practice wedding.
Harbour and Allen say they hadn't intended to publicise their wedding. But, Clark County, Nevada, Tweeted Allen and Harbour's marriage certificate from their official Twitter account and outed the couple. As Habour said in his June 2021 Jimmy Kimmel Live! interview, "what happens in Vegas clearly doesn't stay in Vegas." Lots to unpack here and I'm going to be honest, I had to Google Clark County. Turns out that Clark County is the part of the state of Nevada that covers Las Vegas, and they have their own official Twitter account. If I had an official Twitter account, I'd probably use it to tweet about celebrity weddings too.
October 2020: Allen talks having children with Harbour
Allen has been open about wanting more children, although not immediately. She told the Sunday Times: "I'm in a really good place. I don't know if I'd mess with my hormones, at this particular point." Her two daughters with ex Sam Cooper are Ethel, 10, and Marnie, 9.
May 2022: Allen attends the Stranger Things Season 4 Premiere
She did and she took the kids with her. The premiere is Allen and Harbour's most recent public appearance, with the family of four rolling up to the red carpet together, all fabulously-dressed. They posed for photos ahead of Stranger Things Season 4 arriving on Netflix at the end of May. Allen captioned her photo "You guys are in for a treat ! #strangerthings4 SLAYS almost as much as our outfits. #staytogetherslaytogether". I couldn't agree more.