The Author Of Three Women Explores Sex & Trauma Once Again, This Time In Fiction
"Overlooking painful stories is still part of the problem," says Lisa Taddeo.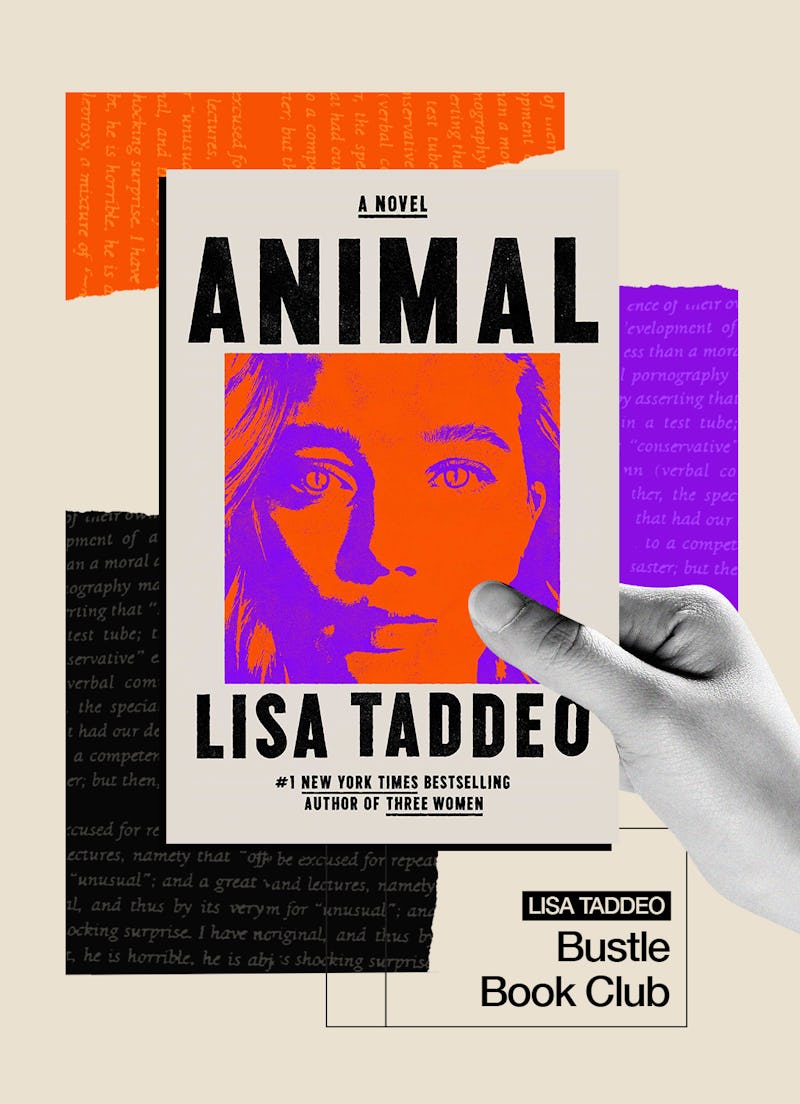 Lisa Taddeo feels at home in the gloom. "I'm a fairly dark-thinking individual who has had something of a dark path," the author tells Bustle. Taddeo's father died when she was 23, and over the course of the next seven years she lost her mom, aunt, uncle, and dog. "I've been through a lot and there's something to be said about showing other people your own scars." Taddeo has yet to commit these experiences to a memoir, but they color her debut book, Three Women, and are omnipresent throughout her new novel, Animal.
Three Women, which debuted at number one on the New York Times Best Seller list in 2019, examined the sexual lives of three disparate women, offering a raw, unrepentant look at extramarital affairs, threesomes, and the lasting effects of sexual assault. But as much as some reveled in the nonfiction work's brutal candor, others weren't ready for such a radical reflection. "So many people [were] like, 'Why are you telling those stories? They're so sad,'" Taddeo says. "I found it so weird — with #MeToo and everything — that we should be looking more towards tales of victory than decimation." In response, Taddeo dug her heels in deeper, turning to fiction to further explore women's complex interior lives.
"[Animal] was born out of hearing from people who were both titillated by the sad stories [in Three Women] but also angry at them and not wanting to explore what their own feelings were," she says. "Overlooking painful stories is still part of the problem."
Animal stares straight at the pain. The novel opens with the line, "I drove myself out of New York City where a man shot himself in front of me." What follows is protagonist Joan's self-imposed exile to Los Angeles, where she seeks out the one person who can help her reckon with her violence-stricken past. Joan teeters over with rage, hurting those close to her, and conducting countless affairs. But even as many readers felt ambivalent about Three Women's real-life heroines, they've embraced Joan. "I always find it remarkable when people have a true wild empathy towards a fictional character, then the exact opposite [feeling] towards an actual person," she says. Below, Taddeo reflects on her writing process, her love of color-coded lists, and her Jersey pride.
On the importance of reading nonfiction while writing fiction:
When I'm writing fiction, I read nonfiction to ground me more. I have a tendency to be a little bit out there, and I think one of the beautiful things about nonfiction is knowing that it happened. It's an incomparable thing to have that [as a base]. It's sort of this beautiful piece of emotion, [knowing that] words like this happened ... Right now, I'm reading Girlhood by Melissa Febos, Diary of a Young Naturalist, and The Secret Lives of Church Ladies.
On her go-to writing drink:
Joe's peach tea is my favorite thing in the world. I drink a lot of them and they're like 800 calories a bottle. Snack-wise, I just eat everything, there's nothing in particular [I go for]. But the peach tea is my real go-to.
On the figurines that reside on her desk:
I work at a desk that's halfway in between my bedroom and my daughter's room, because she demands to be able to see me at all times. It's like having a sniper. The desk looks out at our backyard from a window and there's a little forest area. It's very calming.
[On the desk there's] a miniature unicorn because my daughter really likes unicorns. There's also a special little polar bear guy. [Sweetbitter author] Stephanie Danler gave him to me and it was such a sweet present. I keep him there and he's my little writing spirit guide. Then I have a miniature shrine around a picture of my parents, who have passed away.
On the order Sharpies bring to her chaotic world:
I use Sharpies [for] my to-do list and I color code things. Stuff that has to do with my daughter is written in pink. Work meetings are in a different color. When I'm procrastinating, I'll use my Sharpies to make a new to-do list that looks even more threatening than the one that came before it, and I'll write everything in red.
On her enduring love for her fellow New Jersey native, Bruce Springsteen:
I like total silence when I'm writing. But I have an occasional need to hear this Bruce Springsteen song 75 times, "Human Touch." I have a lot of Jersey pride.
This interview has been edited and condensed for clarity.