Lizzo's Flute Sasha Is The Star Of An SNL Orchestra Sketch
"The only way I can play the flute is by twerking."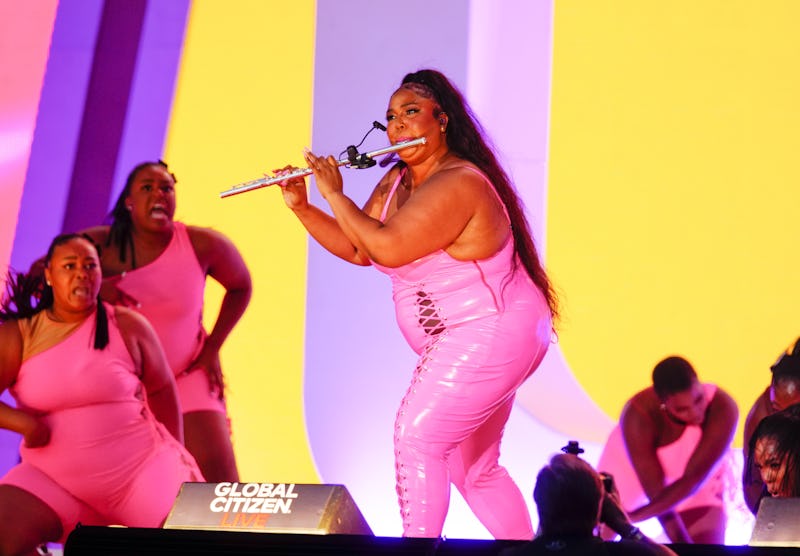 Gotham/WireImage/Getty Images
As all Lizzo fans know, the true star of her concerts is her flute, which goes by the name Sasha Flute and even has its own Instagram account. So it's only fitting that Sasha was given a starring role in one of Lizzo's Saturday Night Live sketches when the singer hosted the April 16 episode. In an orchestra-themed sketch, Lizzo played a flutist on the DeVry Institute Symphony Orchestra who couldn't help but insert her own flair into their performance of Beethoven's Ninth Symphony.
While auditioning for the missing flutist spot, Lizzo twerked while playing the flute, mirroring her shows in real life and impressing the other players. But when she couldn't stop twerking during rehearsal, specifically on the bassoonist, the conductor was far from pleased. "This is a traditional symphony, one where you sit down and play," SNL star Mikey Day said, to which Lizzo asked, "Oh, you want me to sit down on the twerk? Got it." When he said, "Nobody wants that," Kenan Thompson's character responded, "I mean, I wouldn't say nobody," speaking for all of her fans.
After a hilariously bad solo, Lizzo told the inspiring story on why she kept twerking during practice. "The truth is the only way I can play the flute is if I'm twerking," she said. "You see, two years ago, I couldn't play any instruments, then one day last summer, the ice cream truck pulled up and I heard that jingle. That beat had my body moving in ways that made me feel powerful, like I can do anything, even play the flute."
When the conductor said her twerking would be too distracting, Aidy Bryant's violinist saved the day with a brilliant idea. "Why don't we all twerk?" she asked. "We make music together, and if that means I gotta pop this booty for Beethoven, then so be it." Now that's an orchestra people would pay to see.