There's More To Know About Claudia Fogarty Than Her Famous Father
The latest Love Island bombshell is ready to find "the one" in the villa.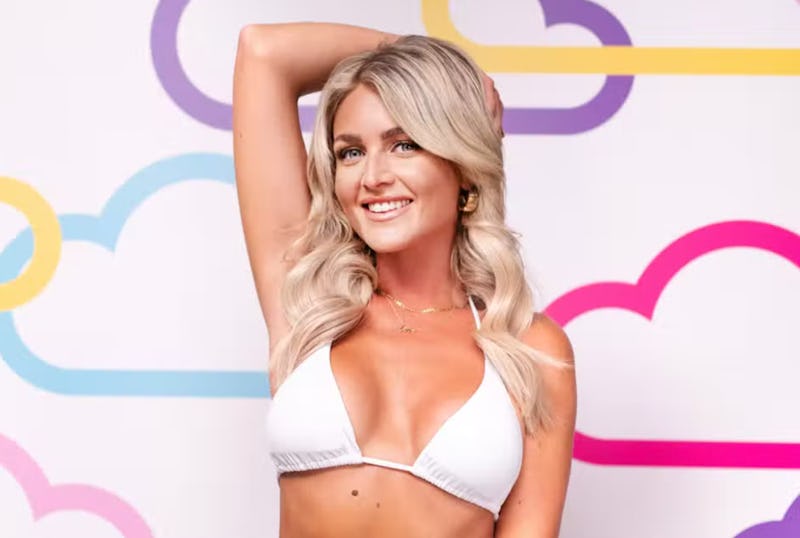 ITV2
In true reality TV fashion, all Love Island bombshells make a pretty grand entrance, but Claudia Fogarty quite literally left the boys' hearts thumping. As the couples engaged in a feisty heart rate challenge, Claudia entered in a red ensemble and angel wings. Speaking to ITV, the latest bombshell said she's "hoping to find the one" and will bring her "Northern charm" to shake things up in the villa. She also revealed the two Islanders who have caught her eye: this series' first bombshell Tom and recently single Casey.
Those who are well-versed with the world of celebrity may be aware that this isn't Claudia's first rodeo with fame, though. And on that note, here's everything you need to know about the bombshell and who she's related to.
Who Is Claudia's Dad?
Claudia's father is Carl Fogarty, a world-famous super bike racer. At 57, he has the second highest wins in super bike racing across the world. And it runs in the family as Claudia's grandfather George Fogarty was also an established motorcycle racer.
Back in 2014, Carl participated in the 14th season of I'm A Celebrity…Get Me Out Of Here! Similar to his conquests on the track, the racer was crowned the King of the Jungle when he won the reality show. Speaking of her dad's reaction to her going on Love Island, Claudia revealed to ITV, "He was really for it. My dad said he was really proud and to take the opportunity to find someone that's not a d**khead, that's exactly what he said to me."
However, the former racer also has some rules for his daughter: "Absolutely no sex on TV... He hasn't really watched it before so it's going to be a bit of a shock. I just said get a blind fold on, shut your eyes, if you don't like it, turn it off," she said.
What Is Claudia's Job?
The 28-year-old from Blackburn has an eye for fashion, if it wasn't clear enough from her first day in the villa. Claudia and her sister Danielle run a clothing boutique called Sister Stories in their hometown. The brand's Instagram has over 16,000 followers and comprises of track suits and street wear in earthy, muted tones and a field of accessories such as quoted caps and tennis socks.
What Is Claudia's Instagram?
The new bombshell already has a sizeable fanbase on social media with 47,000 followers on Instagram, and counting. You can find her at @claudiafogarty where you'll find a feed full of photos promoting Sister Stories, attending friends' weddings, and doing glamour 'fit checks. In her highlights, Claudia has also shared moments from her holidays in Mykonos, Monaco, and Dubai.
What Else Is There To Know About Claudia?
The boutique owner told ITV she's ready to settle down and is heading into the reality dating show with serious intentions. "It's come at the perfect time in my life. I'm 28, I'm not getting any younger and I've been single for eight months, so I feel ready to settle and find 'the one.' I'm done with the bad boys. I just want to find my person and now is the right time," she explained.
While Claudia's unafraid to step on people's toes, she also hopes to make friends in the villa. "I think I'll spice things up a bit, I'm a confident person, I can be fiery when I want to be, but I'm a girls' girl so I know I will get on well with all of them all."