Love Island May Have Just Lost Its Main Character
Jason Okundaye's biggest frustration with the reality TV series is presenting serious issues this week...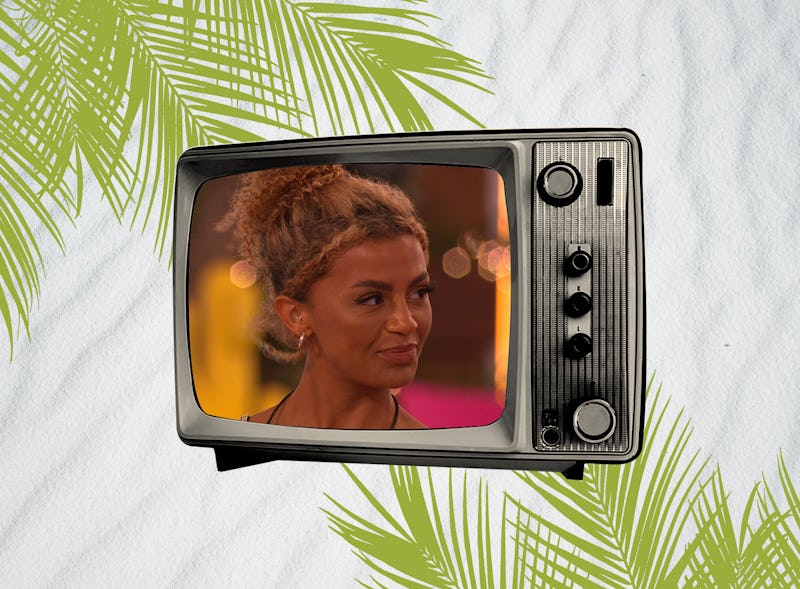 ITV
Week three has been a curious outing for Love Island, starting off with a set of explosives and featuring a rotation of couplings and connections which has had all the passion of a corporate restructuring. Cast your mind back to the end of Week Two, and Tom and Ellie's clandestine kiss on the terrace had been cinematically set against Olivia gushing about her second chance with Tom and how she feels she may really be about to pursue things with him. Opening up this week's episode, we then see the talk of Tom's infidelity (it's not that, but we'll call it that because it's exciting and dramatic) travel through the villa. You think that the info is due to gradually move through the villa like a game of Chinese whispers but when Will tells Tanya who tells Zara, Zara abandons the entire game running straight to Olivia with the intel, dragging Zara behind with her and yelling "girl power". It's not about "girl power" of course, she just wanted a front row seat to viewing her enemy crumble, and who can blame her? If I was in her position, with how Olivia's treated her in the villa, I would've summoned everyone to the fire pit to announce it to as big an audience as possible.
What followed was easily the strongest set of scenes we've had all season. Zara delivering the "bad boy piece of information." Tom red and flustered, insisting he'd done nothing wrong and downplaying the kiss. Olivia confronting Tom and watching him twist himself in knots. Shaq giving Tom a much needed dressing down. Zara labelling Tom "community p*nis" and telling him she hopes his parents are proud. Zara. Zara. Zara. There's been a consistent theme here, which draws me to what's perhaps been my biggest frustration with Love Island in a while.
With Zara providing easily some of the strongest scenes, one-liners, and movement of drama, why on earth did the producers let her be dumped so early in the season? Putting it in Tom's hands at the recoupling, considering that he skipped making amends with her during his apology tour of the villa, was unforgivable and it makes you question when and why producers choose to save certain contestants and when they don't. Everyone knows that the show is manipulated for certain outcomes, and Zara, with her divisive but incredibly popular presence on screens, had delivered scene-stealing performances equivalent to bombshells of the past like Maura Higgins and Ekin-Su Cülcüloğlu. In the past producers had protected them from the axe (even in situations where they were clearly vulnerable to being dumped) because they recognised the extent of audience buy-in and entertainment they provided. It's a great mistake that they didn't extend the same favouritism to Zara – and to be honest, the rest of the show this week has suffered from her absence.
In the past producers had protected them from the axe (even in situations where they were clearly vulnerable to being dumped) because they recognised the extent of audience buy-in and entertainment they provided.
And with the loss of Zara, it appears that Olivia has found a new target to scrutinise and police in the form of Tanyel. One thing about me is I'm going to stick behind my London girls, and Tanyel, an early favourite of mine, has shot up straight to the top in my rankings this week. When she attempted to communicate her feelings toward Kai brushing her off for new bombshell Samie, she refused to rise to him shouting over to escalate the situation for an easy buy-out clause. And when Aaron (yes, I know, who?) tried to get his own swing in at her, she easily put him in his place, chastising him for constantly being in women's business. She's quickly emerged as one of the strongest women in the villa who's able to hold herself down, so it's no surprise that she's now attracted the evil eye of Olivia, a contestant whose self assuredness seems to rest entirely on whether or not she's picked. Tanyel is the antithesis – refusing to force connections, and making clear that she'll neither settle nor degrade herself for the sake of a man, but with Olivia and Kai suddenly making a go of things (oh yeah, that situation with Tom just fizzled into nothing with little explanation) she seems keen to mark Tanyel out.
First she attempts to turn the girls against Tanyel by exaggerating her kiss with Ron in the kissing challenge, warning Lana about the danger of close female friends and then when Spencer, who Tanyel had been getting to know for approximately a day, is dumped from the villa, Olivia won't let her catch a break then either. Tanyel jokes about being single, wondering if there'll be a new bombshell in and once she leaves Olivia says to the girls "Why was she so worried about new men when Spencer hasn't even left yet?" What's it to you, Olivia? Particularly when Spencer and Tanyel hadn't even formed a connection? And considering that in the elimination Kai was saved for Olivia's sake, despite the fact she's now had chances with Haris, Tom, Spencer and now Kai, lording over her power to manipulate odds and decisions in her favour doesn't seem to be enough, she also needs to throw dirt on Tanyel's name as well. Anyway, I'm certain that Tanyel will rise, hopeful that a bombshell will come in for her, and that she'll make it all the way. I just hope that she doesn't find herself isolated, as increasingly seemed to be the picture from this week's scenes.
The centre of the narrative this week has of course been the will they, won't they trope played out between Ron and Lana. Having not been in an official couple since the first week following a series of last minute twists and steals, relations have been strained by Ron's wandering eye and his lack of commitment to Lana, who has more openly pined about not being able to sleep in the same bed as Ron. Ron seems to want a medal for the fact that he keeps "finding his way back to Lana" after being tempted by anything that walks into the villa, and seems to only get serious about his intentions with Lana when she takes a fancy to bombshell Casey who both proves himself a perfect gentleman, and has the grace of a clean slate with her. At first, it does seem as if Lana is simply getting to know Casey out of a kind of revenge instinct, knowing that her heart is really with Ron and she'll go back to him. And she looks st*pid for it.
Bombshell Samie, who Ron's head had turned for, quickly deduced that Ron talks too much and will say anything to any girl so long as it leaves a favourable impression. Lana, however, seems to be falling for every word. But in the final scenes of Sunday night's episode, common sense prevails and, thankfully, Lana chooses Casey in the recoupling with Ron's grating cocky assurance that he'll easily win her back immediately shattered.
It's not too late, of course. People on this show have gone back over worse transgressions, and are rewarded with positions as finalists. But for now seeing a woman on Love Island signal to their first romantic interest that the constant "testing" isn't something that needs to be tolerated feels genuinely refreshing. I can only hope that Lana and Casey go the distance, and that Ron doesn't work his way back in.