The Most Emo MGK Lyrics, Ranked By How Badly They Make Me Want To Go To The Mall
Machine Gun Kelly's new pop-punk album makes me want to tear an Auntie Anne's pretzel limb-from-limb.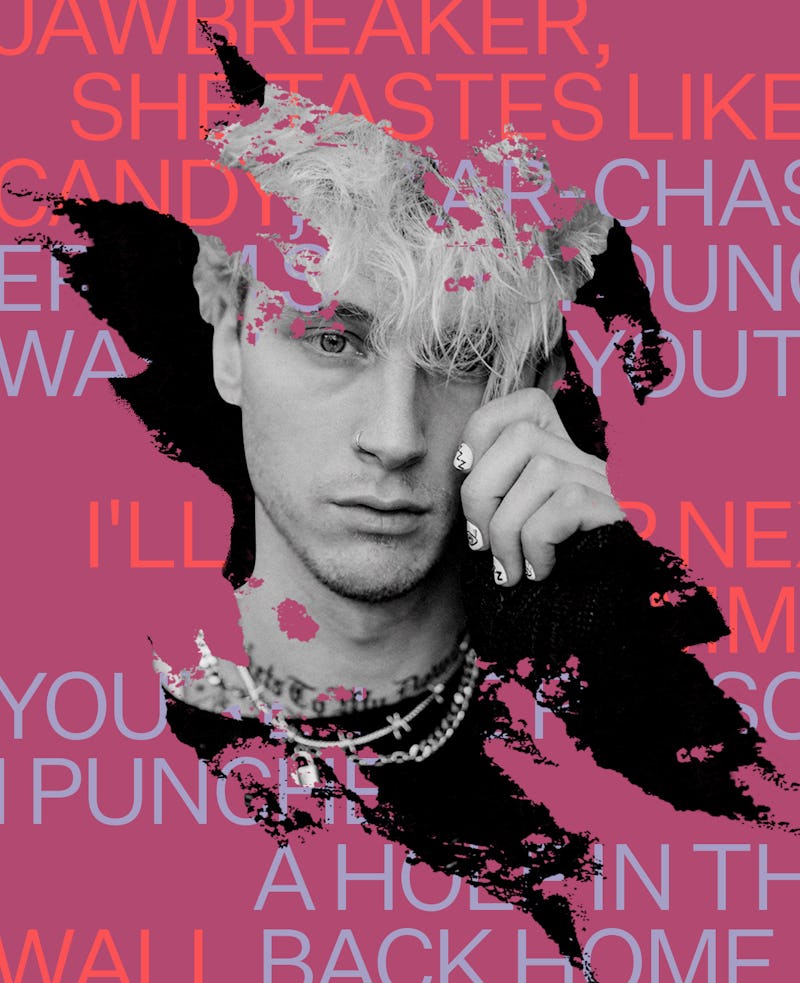 Reader, I am gay. The only men I know are my father and Joe Biden. So I'm not well-versed in Men Culture, which means I certainly didn't know there was a man named "Machine Gun Kelly" until very recently. But around May of this year, this "man" bulldozed his way into Bisexual Twitter with a landmark accomplishment: He started dating bi-con Megan Fox. A few months later, a friend of mine told me that Megan Fox's boyfriend released a new album, and despite his history as a hip hop artist, the album paid homage to 2000s-indebted emo music. As a gay emotional basket case, the combination of phrases like "Megan Fox's boyfriend" and "Travis Barker on the drums" are actually quite appealing to me. And now, apparently, I'm a Machine Gun Kelly fan — which is the straightest thing I've ever said.
The album, Tickets to My Downfall, feels torn from the MySpace pages of emo teens. It's brimming with "I hate my parents" energy and toxic male behavior, which, as 2000s teens know, were fundamental tenets of emo music.
Listening to TTMD makes me want to do everything I did when I was a MySpace-dwelling emo teen, like write the phrase ~*bEaUtiFuL di$a$tEr*~ in my away message despite never having experienced any emotional hardships. These lyrics are forcing me to regress to when I was 14 and desperate for attention. So, in order to rank the best lyrics from Tickets to My Downfall, I returned (mentally) to the old haunt of emo teens across America: The mall, a jungle of black eyeliner, facial piercings, sweet treats and hormonal warfare.
As American mall trash myself, I can say confidently that malls were essential to the emo teen experience. Where else would you go to smoke cigarettes for the first time, meet MySpace friends from neighboring towns, and remark on "consumerism" or "the machine" while willfully participating in it? Oh, to be 14, tearing an Auntie Anne's pretzel limb-from-limb and pretending to be "broken."
Here are the most emo lyrics on TTMD, ranked by how much they made me feel like I needed to go to the mall with my friends.