Megan Fox & Machine Gun Kelly's Relationship Timeline: Are They Broken Up?
Fox addressed all the speculation about their relationship status.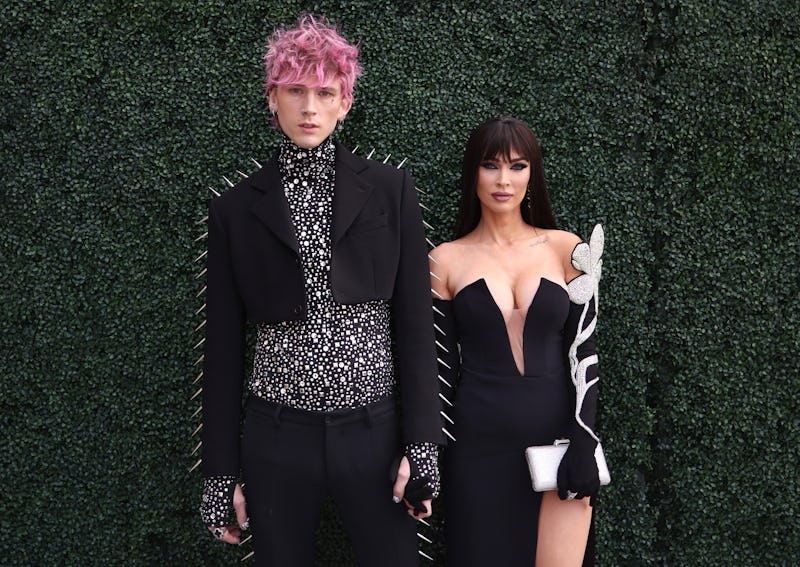 Matt Winkelmeyer/Getty Images Entertainment
Along with 2020's many unexpected events came one of the most random celebrity couples of our time, and almost two years later, Machine Gun Kelly and Megan Fox got engaged. Machine Gun Kelly got down on one knee and proposed to Fox on Jan. 11 with a two-stone ring, the couple announced in two separate Instagram posts on Jan. 12. "And just as in every lifetime before this one, and as in every lifetime that will follow it, I said yes.…and then we drank each other's blood. 1.11.22," Fox wrote at the end of her caption.
The couple fell in love fast and hard. They were first romantically linked in May 2020, sparking rumors that Fox had separated from her husband of over a decade, Brian Austin Green. Fox and Green's split was confirmed just days later, and from then, the Transformers actor and the rapper's unlikely relationship quickly blossomed into a complicated romance.
Now in 2023, fans are wondering if their relationship may be over. On Feb. 12, Fox made some big changes to her Instagram account that sparked breakup speculation, including deleting all of her photos with MGK and posting a pointed Beyoncé lyric. (Bustle reached out to Fox and Kelly's reps for comment but did not hear back at the time of publication.) She took down her account, too, but then returned a week later to address the stir. To get you caught up on their love story, here's Machine Gun Kelly and Megan Fox's relationship timeline to this point.
March 2020
Fox and Kelly reportedly met for the first time on the set of their upcoming film Midnight in the Switchgrass in Puerto Rico. Production on the film was shut down just over a week after it began due to uncertainty surrounding the global COVID-19 pandemic. However, according to E!, Fox and Kelly continued to hang out and get to know each other after the shutdown while quarantined in Los Angeles. "The down time has been good for them," a source told the outlet in June 2020. "They are intrigued by each other and having a lot of fun."
May 2020
The pair was first spotted together on May 16, when Fox and MGK grabbed takeout in Calabasas, California. This strengthened existing speculation that Fox had split from Green after both were seen in public without their wedding rings on. Green hinted at the breakup by posting a cryptic message to Instagram on his wife's birthday. Finally, on May 18, Green confirmed that he and Fox separated in December 2019 during his ...with Brian Austin Green podcast.
"She said, 'I realized when I was out of the country working alone that I feel more like myself and I liked myself better during that experience and I think that might be something worth trying for me,'" he recalled during the episode. "I was shocked and I was upset about it, but I can't be upset at her because she didn't ask to feel that way. It wasn't a choice she made. That's the way she honestly felt."
Despite the split, Green said he remained on good terms with Fox, calling her his "best friend of 15 years" and saying he didn't want to lose that. And though he hadn't even met Kelly yet and Megan didn't need his approval, Green gave the metaphorical green light for their friendship to continue. "Megan and I have talked about him," he said. "They're friends at this point, and from what she's expressed, he's a really nice, genuine guy, and I trust her judgment." From there, it seems that Fox and Kelly pressed fast-forward on their relationship.
On May 20, two days after Fox and Green's breakup was confirmed, MGK released a new video for his single "Bloody Valentine," starring none other than Fox as his bad*ss girlfriend. The twosome almost share a kiss in the video, which stoked even more speculation that they were much more than friends.
June 2020
On June 17, Us Weekly reported that Fox and Kelly were officially dating after months of public speculation. The news came two days after they were captured holding hands and kissing at a Sherman Oaks bar in photos published in the Daily Mail. The couple was seen together in public once again later that month, but they had yet to officially confirm or comment on the news themselves, with Kelly only posting photos of his and Fox's matching manicures from the "Bloody Valentine" video.
July 2020
Fox and Kelly finally confirmed their relationship during their first joint interview on Vanderpump Rules star Lala Kent's podcast, Give Them Lala... With Randall. Lala's fiancé, Randall Emmett, was their director on Midnight in the Switchgrass, which resumed production in Puerto Rico in June.
During the revealing interview, Fox said that she knew she and Kelly were more than soulmates two days into filming. "I knew right away that he was what I call a twin flame," she recalled. "Instead of a soul mate, a twin flame is actually where a soul has ascended into a high enough level that it can be split into two different bodies at the same time. So we're actually two halves of the same soul, I think. And I said that to him almost immediately because I felt it right away."
The talk led into a live reading from astrologist Susan Miller, who said Fox and Kelly appeared destined to get married one day. Fox clarified that they were "not engaged or anything like that," to which Miller responded that Kelly would marry someone who is happy. How specific. Kelly then conceded, "Megan is already really happy."
Just a week after the podcast premiered, they became Instagram official on July 28. Kelly was the first to share a photo of the pair, captioning the post, "Waited for eternity to find you again..." He even tagged his location as "The Universe" to hammer home the "twin flame" thing.
August 2020
Fox made it Insta official on her own page a week later, sharing a snapshot of her and Kelly on Aug. 5. She captioned the post, "Achingly Beautiful Boy... My heart is yours," which Green later dunked on by posting pics of his kids and copying her caption.
Just in case you needed even more confirmation that Fox and Kelly were now a thing, the rapper said as much during an appearance on BuzzFeed's "Thirst Tweets" series. When reading out a tweet from a fan who asked if he was free to go on a date, Kelly commented that he was "locked in" already. "No dates for me, probably ever," he said. The same went for another fan who said they would let Kelly "suck my toes maybe," in which he had zero interest. "Like I said, I'm only sucking one pair of toes," he explained. Ah, true love.
September 2020
During a Sept. 23 interview on The Howard Stern Show, the Cleveland rapper revealed that this relationship is the first time he's been in love. "I didn't know what [love] was until me and her made eye contact," he said. "That's when I was like, 'Whoa.' After I made the big chunk of the album, I did fall in love for the first time. That was my first experience with being open to love and stuff like that."
Days later, MGK released the video for "Drunk Face," which features clips of them kissing and boarding a private jet.
October 2020
On the heels of his 27 Club coffee shop opening in Ohio, Kelly appeared on the cover of NME and opened up about how being with Fox influenced his album. He told the magazine, "Tickets is essentially my diary, because I did fall in love during the making of this record, and I did become a better person. It's interesting." And speaking of his and Fox's favorite topic, Kelly added, "I think the universe caught on to me wanting to make a change. It was like: 'Maybe we won't make this a reality; maybe we'll make this ironic.' Instead of the downfall, go ahead and have the biggest rise of your f*cking life."
November 2020
MGK was on a roll with his cover stories. This time, he and Fox spoke to Nylon about their headline-making relationship. As Kelly gushed about how Fox makes him feel safe and took him out of the fast lane, she compared their love to natural disasters — in a good way. "Loving him is like being in love with a tsunami or a forest fire," she started. "The intensity of merging with him is just overwhelming, and the threat it poses is so powerful but so beautiful that you have no choice to surrender with reverence and with gratitude."
On Nov. 22, they took things to the next level and made their red carpet debut as a couple at the American Music Awards. While walking the carpet, eagle-eyed viewers caught a glimpse at some new ink on Fox's collarbone, which said "el pistolero" and means "the gunman." Reportedly, the script tattoo represents MGK's nickname and signifies that she's committed to this relationship. The couple also sported matching nail art that night, showing they're in sync.
Just days after she and Kelly made their red carpet debut, Fox filed to divorce Green on Nov. 25 in Los Angeles County Court, according to court docs obtained by The Blast. The Beverly Hills, 90210 star filed his response the same day, per the outlet, which also reported that custody and spousal support agreements were unclear at the time.
The lovefest continued when Kelly opened up about his battle with drug use in a profile with Dave Franco for Interview Magazine on Nov. 27. While he's still "early" in the process of recovery, Kelly revealed that both therapy and Fox have been instrumental in his sobriety. He said of Fox, "When you have a partner, mine being Megan, sitting there with you on those dark nights when you're sweating and not being able to figure out why you're so in your head, to help you get out of your head and put it in perspective, that really, really helps."
January 2021
The duo sparked engagement rumors at the beginning of 2021 when Fox was spotted wearing a huge ring on her left hand. But alas, it turns out MGK never popped the question. Fox took to her Instagram stories to shoot down the rumors with a photo of a ring that said "F*ck you" alongside an eye-roll emoji, making it clear that she and the musician had no intention of getting married — at least not in the near future.
March 2021
You know what they say: The couple that attends boxing matches together, stays together. At the end of March, Fox and Kelly attended the UFC 260: Miocic vs. Ngannou 2 event in Nevada together. However, their appearance at the event came on the heels of some drama. During an interview on Logan Paul's Impaulsive podcast earlier that month, MGK's ex-girlfriend and model Sommer Ray accused the singer of cheating on her. "I don't really feel bad saying that because he did kind of cheat on me with Megan Fox," she said.
April 2021
Despite Ray's comments, Fox and MGK's relationship appeared to continue as normal. The following month, the couple celebrated the rocker's 31st birthday with a dinner at Nobu on April 22. Two days later, the actor supported her man at his concert in Florida and shared a PDA-filled photo of her wrapping her legs around him backstage. "Happy Birthday blonde angel baby," Fox captioned a couple's photo to cap off his birthday.
That same month, the pair attended yet another UFC fight and hung out with another frequently buzzed-about celebrity couple, Kourtney Kardashian and Travis Barker. MGK included a photo of the two couples in an Instagram slideshow he posted in honor of his birthday. "I'll grow up next summer," he captioned the post. "SINcerely, birthday boy."
May 2021
In May, MGK appeared on The Ellen DeGeneres Show and explained why he wears a necklace with Fox's blood. "Well, she was actually going out of town to film a movie. This was really new in our relationship," the musician explained. "I didn't have a passport either. So, she was going out to Bulgaria so I was kind of freaking out, like, 'You're going to leave and I can't even come see you.'" Fox's solution to this problem was to gift Kelly with a pendant of her blood. "Some people give, like, a handkerchief to their partner or whatever. She gave me her DNA," he said.
Fast-forward to the Billboard Music Awards on May 23 and the pair certainly did not hold back when it came to showing PDA on the red carpet. The couple was all over each other, and MGK even gave her a shoutout, calling her his "twin soul" while accepting the award for Top Rock Artist. Later that week, the pair hit up another red carpet, attending the IHeartRadio Music Awards in coordinating pink outfits.
One week later, MGK revealed an intimate detail about their relationship on Twitter. "She said 'I love you' one year ago today," he wrote. A few days later, Fox shared a photo of her in her pink jumpsuit from the IHeartRadio Awards. "Daddy issues Barbie," she captioned the post. The musician cheekily responded in the comments with "Daddy loves you."
Apart from their many red carpet appearances, Fox and MGK also hit up Barstool Sports' party at Grand Park in Westfield, Indiana, during Indy 500 weekend. "She came out after everyone was chanting 'Megan' for some time," a source told E!. "Then she did stay on the stage in the background for the whole song."
June 2021
A few weeks after being spotted kissing while out in Los Angeles, reports surfaced that Fox and MGK were seriously considering marriage. "MGK would love to start a family with Megan someday, but right now doesn't seem to be the time in terms of scheduling," a source told Entertainment Tonight. "As far as engagement goes, it is likely that this will happen sooner than later, and it has been a topic of conversation without question."
On a less serious note, Fox recently revealed some pet names she has for her boyfriend while promoting her upcoming movie Till Death during an appearance on Fox 5 New York. He might be MGK to us, but to Fox, he's "Cookie," "Buddha," and "Booby."
July 2021
If there's one thing about Fox and MGK's relationship that the actor is tired of, it's the criticism of their four-year age gap. "You want to talk about patriarchy?" she said in an interview with InStyle. "The fact that he's four years younger than me, and people want to act like I'm dating a younger man. He's 31, and I'm 35. Granted, he's lived like he's 19 his whole life, but he isn't 19." Fox added that "no one would blink twice" if it was George Clooney dating someone four years younger.
Their love was strong enough to weather the negativity. "She's like the earth," Kelly said when asked what his girlfriend is like. "When it's summer, it's the hottest summer. When it's winter, it's the most amazing chill. In the fall and spring, it's a beautiful transition. She is unlike any person I have ever met in my life. I just want people to understand this is real. I don't think people get the opportunity to believe in real, great love, and that's what we have together."
Fox opened up about literally matching their outfits during a mid-July appearance on Jimmy Kimmel Live. "That's something I started with him just because he's such a flamboyant dresser that I can't really pull off just the sweatpants and the yoga gear anymore," she confessed. "I have to elevate myself to his level." She also spoke about their recent trip to Costa Rica, where they did ayahuasca, a psychedelic brew that's used socially and medicinally.
Later, Fox gushed over her boyfriend in the July edition of Who What Wear. "It was definitely a vehicle — I'll be honest — for me to meet Colson," she said of their film Midnight in the Switchgrass. "I knew he was gonna be in the movie, but the universe was just like, 'Go do this. There's something about this experience that'll be really rewarding for you.'" She was right. And even though she hesitated to pursue a relationship for "101 reasons," she knew that he was the one. "When I met [MGK], I knew instantly that this is a soul I've traveled with before, that this was a soulmate connection, and that there was a purpose here," she said.
August 2021
If we've learned anything from Blake Lively and Ryan Reynolds' relationship, it's that couples who troll together, stay together. Fortunately, MGK and Fox got the memo. At the end of August, for example, the This Is 40 star shared a series of photos from her latest supermarket run. "I like your lock screen," the "Bad Things" crooner wrote in the comments. Sure enough, when you zoom in on the image, Fox's phone background is a photo of MGK. But what else would you expect from these "twin flames"?
September 2021
Music fans got a lot more than they bargained for at the 2021 MTV Video Music Awards. In the midst of the ceremony, the pair exhibited a very public display of affection, bringing their tongues together for the cameras. And yes, Twitter had opinions.
At the end of the ceremony, Fox took to the stage alongside Kourtney Kardashian to introduce their respective boyfriends, Machine Gun Kelly and Travis Barker, ahead of their performance. "Give it up for our future baby daddies," Fox and Kardashian told the crowd.
October 2021
If you thought Megan and MGK were done talking about "twin flames" and "spirit guides," you thought wrong. The couple posed for the cover of British GQ and revealed some intense details about their relationship, including the very strange thing that happened the night they first met.
"This weird thing happened," Megan told the magazine. "We didn't see each other. I don't remember [his] face. I just remember this tall, blond, ghostly creature and I looked up and I was like, 'You smell like weed.' He looked down at me and he was like, 'I am weed.' Then, I swear to God, he disappeared like a ninja in a smoke bomb."
"We weren't supposed to run into each other that night, so our souls, our spirit guides, were luring us away from each other, because you literally had no face, like that thing from Spirited Away," Fox added. "It is hard to see his face in general, but really he had no face that night."
While their relationship might appear perfect from the outside, things aren't always peachy. "This is a very intense relationship," Fox said. "Our souls chose this to absolutely have to face our shadow selves; to face things about ourselves we didn't want to have to know, that we tried to push away. It should be light, but also we go to hell with each other." MGK called their romance "ecstasy and agony." "I don't want people to think anything's perfect with us," he said. "I didn't say it was the darkest fairytale for no reason."
On Oct. 13, GQ shared a video of the pair taking "The Couples Quiz," where they tested their knowledge of one another with 40 questions. The quiz began on a rough note, with the rocker guessing that Fox has a total of eight tattoos when she really has nine. He also misquoted the tattoo on her back and claimed that it was written by Oscar Wilde when it was actually written by Shakespeare.
Fortunately, MGK redeemed himself later on when he correctly said that Fox's bucket list item is to be "abducted by a UFO." He also correctly guessed that her biggest pet peeve is loud chewing and that her favorite movie that she's done to date is Jennifer's Body. The musician was also very confident when it came to guessing his girlfriend's favorite movie of all time. "It's like an eight-series piece. We're talking about Harry motherf*cking Potter," he said, adding that The Prisoner of Azkaban is Fox's favorite installment.
Later on, the tables turned and Fox answered questions about her boyfriend, including what animal he looks like and how many tattoos he has. "That's literally impossible to calculate," she said. "You've tattooed on top of your tattoos, on top of your tattoos." She also said that her boyfriend closely resembles a meerkat. "You can literally Google any Machine Gun Kelly photo and then if you also Google any meerkat photo and you split-screen those, you cannot tell the difference," she said. "No one has ever looked more like an animal."
Elsewhere in the interview, the Papercuts artist gave fans insight into the couple's first date, which was a picnic in Los Angeles. "Our first date was epic," he said. "I picked you up in an old-school Cadillac and I had thousands of roses bedded on a hill looking over Topanga Canyon. We ate sushi and we shared a kiss."
November 2021
In a report from Entertainment Tonight published on Nov. 3, a source claimed that the rock star had "been telling friends that he is planning to propose." "They're very in love and beyond obsessed with each other," the insider told the outlet. "They are ready to take this next step in their relationship." Fox and MGK's reps did not respond to Bustle's request for comment at the time.
December 2021
MGK once again proved that he was "obsessed" with Fox when he appeared on the Dec. 1 episode of Late Night with Jimmy Fallon wearing a T-shirt with his girlfriend's face on it. But early on in their relationship, the rocker said that he had to play it very cool. So cool, in fact, that when a knife pierced his hand, he had to act like he was totally fine.
According to the musician, Travis Barker gave him an engraved knife as a gift when he first started dating Fox. After a beer pong game with Post Malone and an unfortunate incident in which he bruised his coccyx (aka his butt), MGK went home to Megan and threw the knife up in the air to show off. But alas, it went right into the top of his hand. "The next morning, as soon as she left, I was like, 'Yo, I need stitches real quick,'" he recalled. "I've got a bruised coccyx and a knife in my hand."
Fortunately, the incident didn't turn Fox off at all. In fact, she and MGK were literally inseparable. No, really. On Dec. 4, the couple physically chained themselves to one another for the UN/DN LAQR launch party. One week after MGK launched his genderless nail polish line, the duo debuted nail art that connected their pinkies together with a silver chain. Now that's commitment.
January 2022
Machine Gun Kelly and Megan Fox took their relationship to another level when they announced on Jan. 12 that they got engaged on Jan. 11 with two separate Instagram posts.
Fox got quite the ring to show their love. "beneath the same branches we fell in love under, i brought her back to ask her to marry me," MGK revealed in his caption. "i know tradition is one ring, but i designed it with Stephen Webster to be two: the emerald (her birth stone) and the diamond (my birth stone) set on two magnetic bands of thorns that draw together as two halves of the same soul forming the obscure heart that is our love."
Afterward, it was clear that marriage was on their minds. As revealed by Billboard, the couple had a sign hanging in their house reading, "Two halves of the same soul meet again. I love you in all lifetimes. Now let's get married!"
February 2022
While sitting courtside at the NBA all-star game, the freshly engaged couple got a shoutout on the jumbotron. "Please welcome Machine Gun Kelly and his wife, actress Megan Fox," the announcer said in a clip captured by SportsCenter. Fox smiled before turning to her rock-star fiancé and laughing. "I'm not your wife," she said.
March 2022
The jumbotron announcer wasn't the only one who had a slip of the tongue. Per Daily Mail, Machine Gun Kelly accidentally referred to Fox as his wife during a March 6 appearance on The Ellen DeGeneres Show. According to the rock star, it happened when his massage therapist diagnosed him with a gassy gut in front of his fiancée. "My wife is right there! No, no, no," he recalled saying.
During the show's "Burning Questions" segment, MGK also spoke about the pair's upcoming nuptials. When asked which boyband he would choose to perform at their wedding, he was able to narrow it down to two options. "Which boyband am I going to know the most songs of? For sure, NSYNC," he said. "But which boyband do I surprisingly know all these facts about? BTS. I met them at the Billboard Awards and they were like stoked to meet me. I think I have a better chance of getting BTS to come."
Regardless of who performs at their wedding, it's very clear that the couple can't wait to tie the knot. In a Billboard cover story published on March 23, the writer revealed that MGK and Fox have a wooden sign hanging in their house that reads, "Two halves of the same soul meet again. I love you in all lifetimes. Now let's get married!"
Marriage plans aside, MGK reflected on doing ayahuasca on the couple's July 2021 trip to Costa Rica during a March 29 appearance on Jimmy Kimmel Live. Fox previously spoke about their experience, but the rocker offered a different perspective. "Going [into] the third night, Megan was like, 'I can't, I can't do this. I can't go back,'" Kelly said. "Her first night, [it was] rainbows [and] unicorns. It was great. Her second night, she was like, 'I don't ever want to see that again.'"
"We were exorcising some things out of us that we needed to get rid of," he continued. "The plant was a medicine that really went inside — you could feel it working inside your body. Even after you left, it stayed there. So it was interesting." He also drank the most tea out of everyone because he was told there was a "big shadow of darkness" following him. While the experience may sound strange, MGK told Kimmel that it was "one of the most important things that happened to me in my life."
The next day, the rock star told Howard Stern that he and Fox were inspired to try ayahuasca because of the challenges they faced at the beginning of their relationship. He revealed that they were in a "dangerous place" and that their relationship was "the first true intense relationship" he's ever been in. Elsewhere in the conversation, he addressed the violent nature of some of his lyrics, including the ones in his song "Sid & Nancy," and confirmed that he doesn't have a "death wish."
"That was actually a text that Megan had sent me, it was something along the lines of 'if we have to live a life where we have to see each other with different people then we should just go out murder/suicide,'" the singer said. Fortunately, the two didn't rely solely on hallucinogenic tea to solve the intensity of their relationship. MGK told Stern that he also sought therapy to deal with abandonment issues he had from his mother when he was a child.
May 2022
At the 2022 Billboard Music Awards, MGK performed "Twin Flame," which was written for his love and featured on his 2022 album, Mainstream Sellout. Onstage, he dedicated the song to his "wife," which is surprising as the two are only engaged. He also said the song is for their "unborn child," which immediately started the rumor mill. The statement stunned fans, as neither MGK or Fox had announced a pregnancy before this televised moment.
Notably, in September 2021 at the MTV Video Music Awards, Fox alongside Kourtney Kardashian introduced MGK and Travis Barker onstage as "our future baby daddies," so all signs seemed to point at a future pregnancy, at the very least.
February 2023
The couple was very much still together at the 65th Annual Grammy Awards on Feb. 5. Fox showed up alongside Kelly, who was nominated for Best Rock Album for Mainstream Sellout. Although he didn't win, Fox praised him on Instagram on Feb. 8, saying in part, per NME magazine, "You have handled this process with a grace and maturity that I haven't seen from you before."
Days later, fans noticed something interesting: Fox had deleted all posts with MGK. On top of that, she posted a new set of photos with the caption, "You can taste the dishonesty/ it's all over your breath." It's a quote from Beyoncé's "Pray You Catch Me," whose lyrics deal with a cheating partner. Shortly thereafter, she deleted her account entirely. Bustle reached out to Fox and Kelly's reps about breakup speculation but did not hear back at the time of publishing.
Fox returned to Instagram a week later with a post addressing the speculation. "There has been no third party interference in this relationship of any kind," she wrote in a statement. "That includes, but is not limited to…actual humans, DMs, AI bots or succubus demons." Though she did not specifically say the couple was still engaged and planning a future together, she did call out "random baseless news stories" and called for people to "let this story die."
This article was originally published on